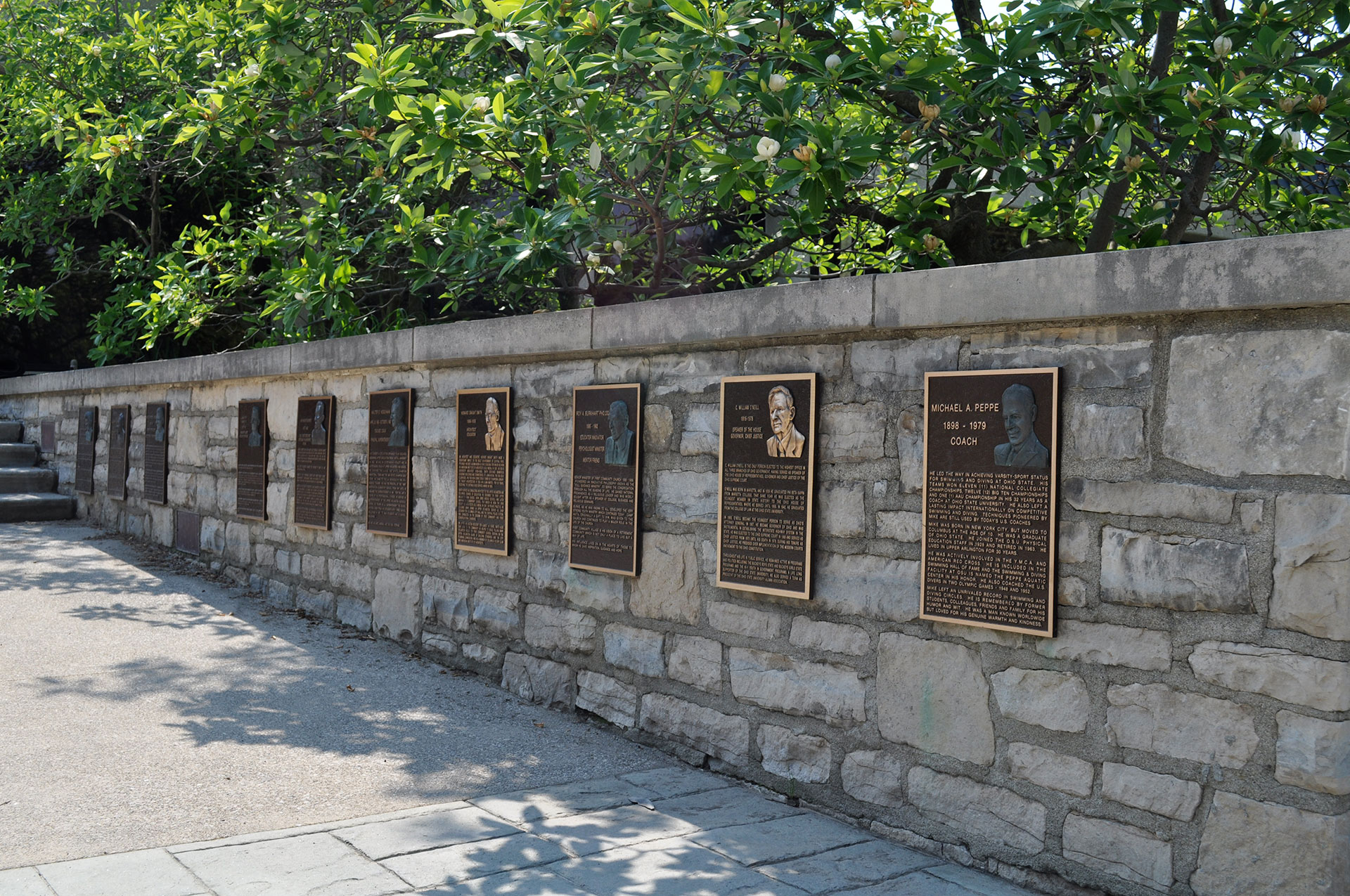 2019 Wall of Honor Ceremony
The City of Upper Arlington and the Upper Arlington Historical Society invite the community to the 2019 Wall of Honor Ceremony, scheduled for 3 pm, Sunday, May 19 at the Municipal Services Center, 3600 Tremont Road. At this year's ceremony, the lives and accomplishments of Lawrence E. Hughes and Blaine T Sickles will be celebrated at they are inducted onto the Wall of Honor.
Lawrence E. Hughes was an Upper Arlington resident for 16 years. He served in the Ohio House of Representatives from 1969-1982, for the 66th House District and the 58th House District. He was the lead sponsor of a bill that created State Route 315, which contributed to the development of Northwest Franklin County and Upper Arlington along Lane Avenue. While a Representative, Mr. Hughes was also the lead sponsor of a bill that created the handiapped placard in Ohio, which was later used as model legislation by other states as they recognized the importance of providing accommodations for individuals with disabilities. A Veteran of World War II, Hughes served in the U.S. Navy, Air Corps. He participated in many civic and fraternal organizations, including the Downtown Capital Square Commission for Columbus, the Christian Athletes Association, the American Legion, Clintonville Conservation Club, and the Downtown Civitan Club.
Blaine T Sickles was an Upper Arlington resident for 58 years. He served as a member of City Council from 1966-1985, including as Vice President from 1974-1985. In his 34-year career in community relations for Nationwide Insurance, Mr. Sickles' service extended to participation on the Development Committee for Greater Columbus, the Columbus Downtown Council, the Greater Columbus Convention & Visitors Bureau Board, and the Santa Maria Committee. He was instrumental in the success of the Christopher Columbus Quincentennial celebration and Ameriflora. His passion for various community causes led him to serve on several boards including Ready to Read, Cystic Fibrosis, COSI, and the Big Brothers/Big Sisters boards. His most beloved and notable leadership commitment was serving on the Columbus Zoo and Aquarium Board for 44 years.
To be considered for the Wall of Honor, a person must meet three criteria: He or she must be deceased; must have lived in Upper Arlington for part of his/her life; and must have made a significant contribution to the city, the state and/or the nation. Honorees are recognized via permanent bronze plaques on the "Wall of Honor" located on the plaza in front of the Municipal Services Center.
For additional details about the Upper Arlington Wall of Honor, call the UA Historical Society at 614-470-2610 or Click here.