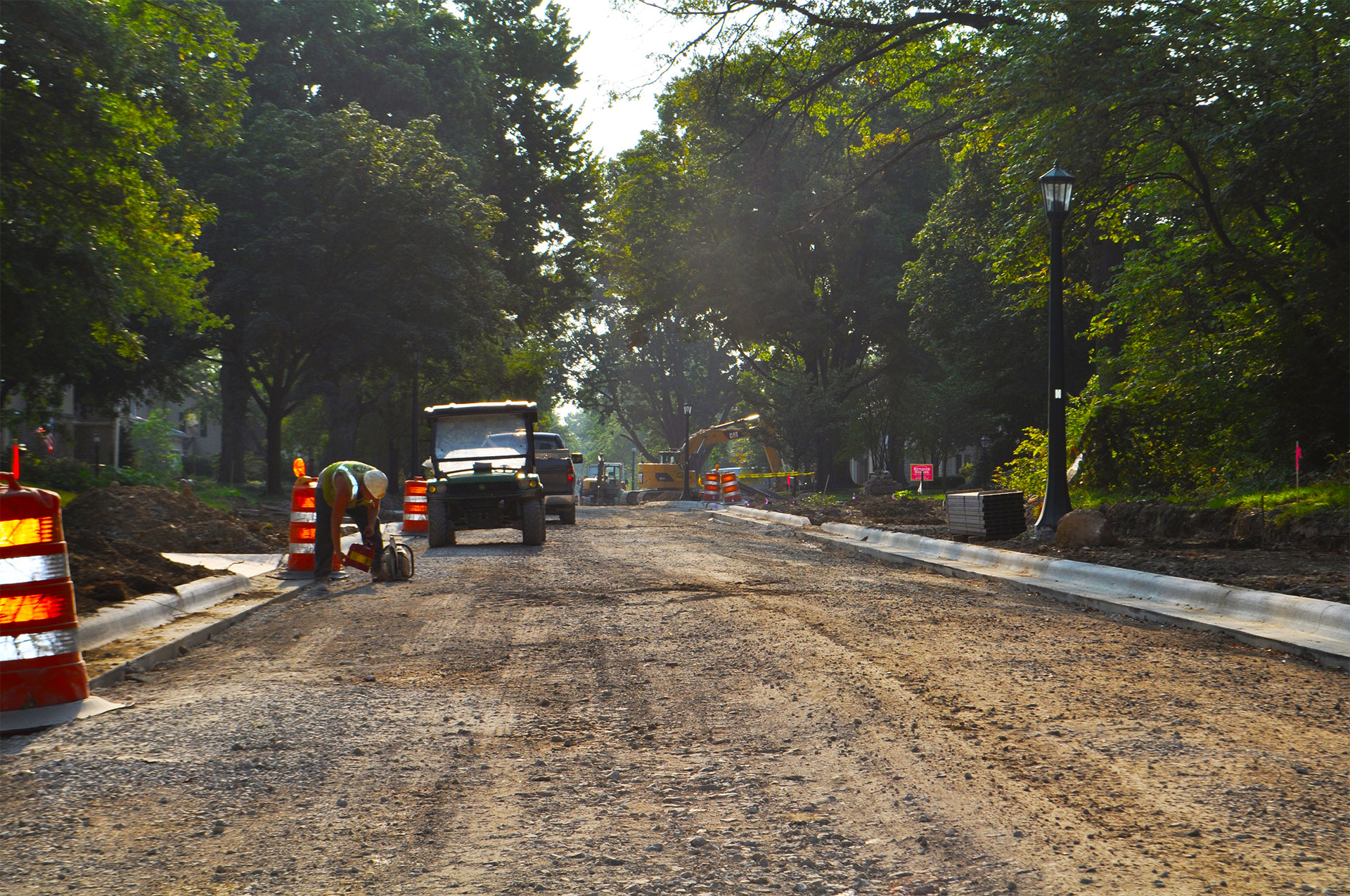 The 2021 road construction season will be another busy one, as our Engineering Division oversees efforts to reduce a backlog of necessary work as part of year eight of the City's expanded 10-year Capital Improvement Program. Read on for a summary of this year's projects.
Northwest Blvd Storm Drainage
Estimated cost $2.84M
Stormwater improvements between Barrington & North Star.
McCoy Road Phase I
Estimated cost $2.4M
Between Woodbridge & Kenny, project includes pedestrian safety improvements on north side of the street, including curb bumpouts, dedicated parking for Thompson Park & replacement of the sidewalk along the park with an 8' shared-use path. Street resurfacing, and spot curb/gutter repairs are also included. This project also includes a waterline replacement between Kenny & Mountview, and between Oxford & Clairmont.
Street Reconstruction
Estimated cost $1.9M
Complete roadway reconstruction, replacement of all curb/gutter, driveway improvements and ancillary improvements as necessary, such as storm sewer enhancements:
Chester Road – between Wilshire & Northam
Guilford Road – between Coventry & Northwest
Northwest Blvd – between Elmwood & Barrington
Somerford Road – between Zollinger & Ridgecliff
Vassar Place – between Northam & Harlton
Street Maintenance
Estimated cost $986,000
Road resurfacing and spot curb/gutter repairs are scheduled for sections of the following streets:
Bayford Court
Beecham Court
Bristol Road
Burbank Court
Chevy Chase Avenue
Clairmont Road
Grenoble Road
Lear Road
London Drive
Longeaton Drive
Mackenzie Drive
Mountview Road
North Devon Road
North Parkway Drive
Oxford Alley
Waltham Road
Brandon Road Improvements
Estimated cost $700,000
Road widening, new perpendicular parking on east side of road, expansion of existing sidewalk to 8'.
Sustainable Sewer Solutions
Estimated cost $1.2M
Rehabilitation of sanitary sewers in the area bounded by Johnston Road, Bickley Place, Anson Street/Donna Drive, and Surrey Hill Place.
Sidewalk Maintenance Program
Repair work in the area bounded by Zollinger Road, Tremont Road, Lane Avenue/Northwest Bldv, and North Star Road. Property owners receive notice of necessary repairs for which they are responsible unless damage is from the roots of City-owned trees or utility manholes. Residents may choose to make repairs directly or as part of the City's contract, which can realize cost savings.
Full project details – including an interactive GIS Story Map can be found under the Construction Updates page, at upperarlingtonoh.gov. As construction season gets underway, we will also share project updates via our Facebook and Twitter pages.