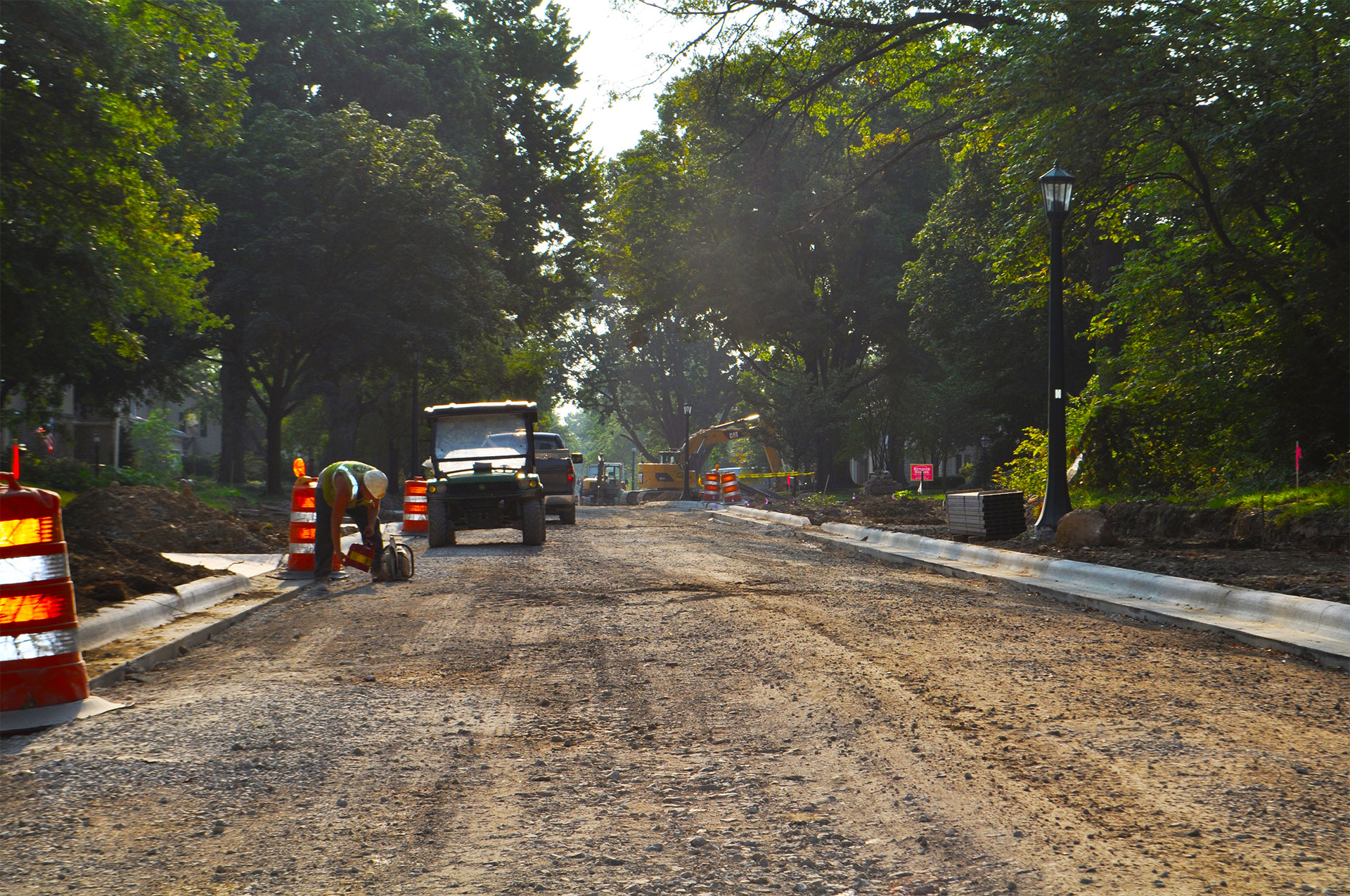 2023 Construction Updates
August 28 – Fishinger Road Update
The north side of Fishinger Road at Mountview Road will close on Tuesday, August 29 at 8 am so crews can prepare the Fishinger Road/Mountview Road intersection for cement stabilization and roadway paving. Romnay Road and Reed Road will remain open to traffic and will be the main entry points to Hastings Middle School and Wellington School during the closure. The intersection is scheduled to reopen on Wednesday, September 6, 2023, weather permitting.
August 24 – Fishinger Road Update – Temporary Fishinger Road Crosswalks Fishinger & Reed Road Fishinger & Mountview Road
Recognizing that the Fishinger Road Reconstruction Project has been causing some access issues for Hastings Middle School students, the City's Engineering Division has worked with the contractor to develop a temporary solution. Pedestrian push buttons to activate the traffic signals, stone pathways and signage have been installed for temporary crossings at both the Fishinger / Reed Road and Fishinger / Mountview Road intersections, as highlighted by the aerial photos shown below. Staff will continue to work with the construction team to ensure these paths are maintained. If one or more of these crossings must be closed while work occurs within the intersection, additional signage will be installed to direct pedestrians to a safe crossing option.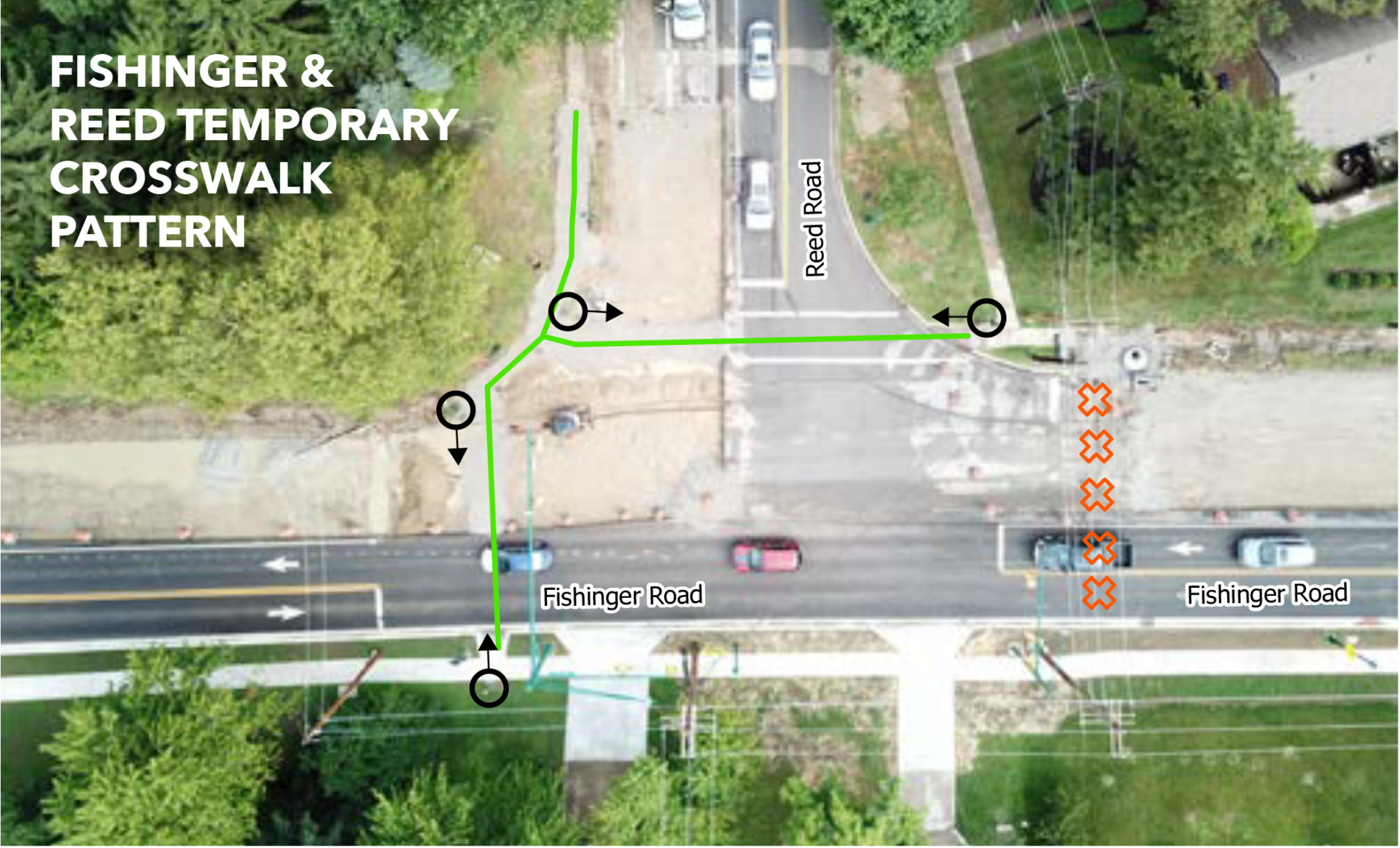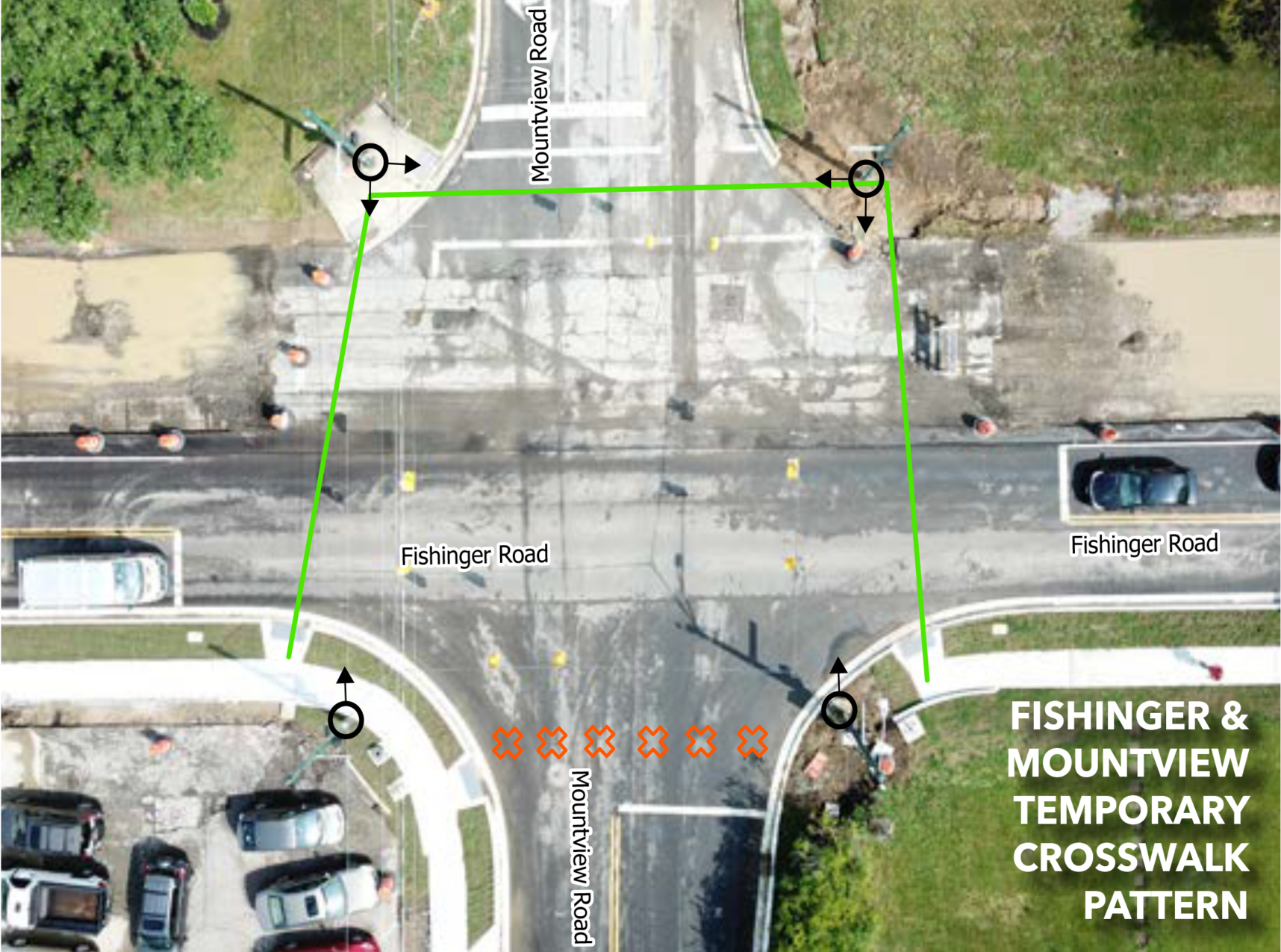 August 10 – Fishinger Road Update
At 9 am on Monday, August 14th, the traffic pattern on Fishinger Road will change. Once switched, motorists will drive on the south side with one lane in each direction. Mountview Road and Reed Road will be open unless work at the intersection is occurring. Only one will be closed at a time. Romnay Road and Inverness Way will be completely closed at Fishinger Road for this project phase. Traffic is expected to remain in this pattern until major work is completed in November, weather permitting.

Wakefield Forest Update
Starting the week of the July 31st, work begins on the Wakefield Forest Traffic Calming project.
This work includes:
Installation of 4 median islands on Mt. Holyoke Road.
Installation of a median island on Brandon Road between Kirkley Road and Zollinger Road.
Flashing pedestrian crossing on Northwest Blvd. at Trentwood Road
Permanent installation of bump out curb installation for the current one way configuration of Trentwood Road east of Northwest Blvd.
Modification of the sidewalk at Trentwood Road and Mt. Holyoke Road.
This work will require the limited closure of Mt. Holyoke and Brandon to thru traffic but local traffic to residents on Mt. Holyoke and Brandon will be maintained.  Trash and yard waste pick up will not be impacted.
This work should take two weeks to complete and will be substantially completed before the start of school (August 16th).
For full details of this year's construction projects, click here.