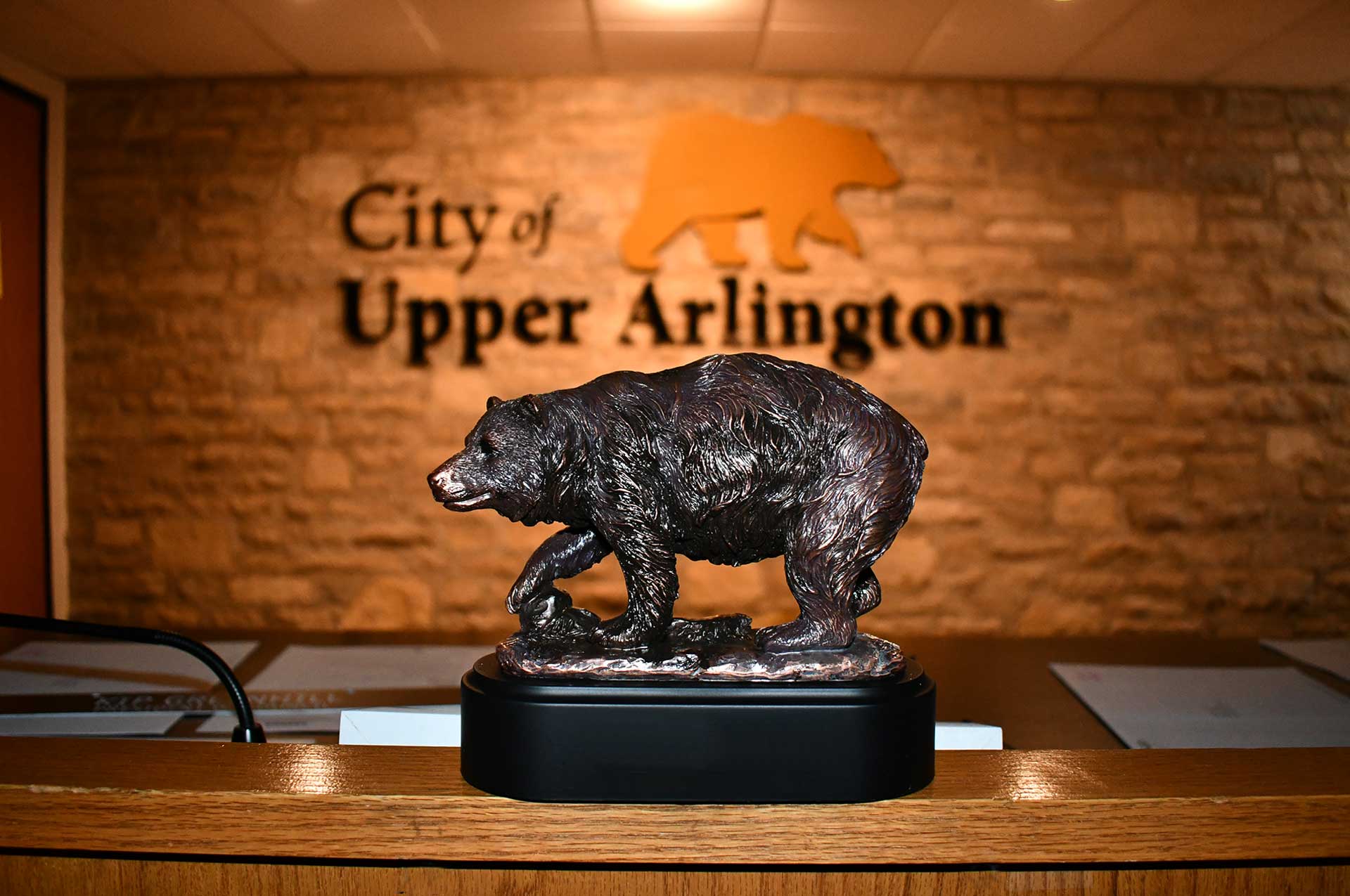 2022 Community Awards Recipients
UA is overflowing with groups and individuals who dedicate their time and energy to enriching lives and building community. As needs and opportunities change, new programs quickly emerge that fill any gaps in service and support.
A long-held tradition for the City each year is a celebration of the best in our community, through the annual Community Awards Program. As usual, many nominations were received for the 2022 program, and at the April 10 City Council Meeting, our 2022 recipients were presented awards in the following categories.
Business – Ballroom Dance Experience
Emily Mertens' Ballroom Dance Experience has been a UA-based business for several years, teaching Ballroom Dance to students of all ages and skill levels. Emily brings a contagious passion to her business and spreads her love of dance to her students. She has achieved several professional accolades in the dance community, being awarded Top Teacher Awards at several competitions as well as the Global Dancesport Series and World Pro-Am Dancesport Series. Emily has also helped her students to achieve multiple Top Student Awards.
Emily has worked with UA Schools, the Columbus Diocese and other local school districts to bring dance and teach much needed social skills to young adults. She has used her knowledge of movement and touch to develop programs for Alzheimer and Parkinson's patients, taking those programs to area nursing facilities. Emily believes not only in learning the basics of dance, but in using dance to improve the quality of life for everyone she has contact with and for using dance to bring people together.
Congratulations to our additional 2022 Business Award nominees: Arlington Urgent Care; Caffé DaVinci; Capital City Foot & Ankle; Happy Nails & Spa; Psyched, LLC.
Community Enrichment – Upper Arlington Optimist Club
The Upper Arlington Optimist Club has served youth in UA since 1953. In recent years, the Club has expanded its programs to include:
UA Optimist Basketball — Now serving more than 1,000 UA students in K-12.
Annual Essay Contest – Students are encouraged to submit essays based on a prompt from Optimist International, with cash prizes awarded to the top three essays and the winner entered to compete at the national level.
Annual Oratorical Contest – Similar to the Essay contest, students prepare and deliver a speech, with winners entered to compete at the state and national levels. Past UA winners have also won the Ohio contest. The national contest offers a $25,000 scholarship.
Annual Communication Contest for the Deaf and Hearing Impaired – The UA Optimist Club organized this competition for the State of Ohio in 2022 and will again sponsor this contest in 2023. Last year, three UA students participated. The winner received a $3,500 scholarship.
Exemplary Character Scholarship – Each year, UA Optimist solicits nominations of UA students for a scholarship based purely on character traits. Due to a generous bequest, the Club has expanded this program to recognize students outside of UA who have overcome significant struggles. Recent winners overcame homelessness, refugee camps and relocation from African nations.
Partnership with UA First Responders – The Club's "Respect for Law" program has recognized and rewarded School Resource Officers and has coordinated CPR training courses with the UA Fire Division.
Our congratulations to the 2022 Community Enrichment nominees: Beth Hatch; School Resource Officer John Rice; UA Lacrosse Association.
Community Relations – Reita Smith
Reita has lived in UA for nearly 30 years and, as an African American and Indigenous woman, has continually supported efforts to honor the history of the land we call Upper Arlington, particularly the Native American and African American communities who lived here before the City was established. She was an integral participant in the Pleasant Litchford Taskforce, which brought together educators and representatives from the UA Schools, the City, the UA Historical Society, Equal UA, and Second Baptist Church. As founding Chair of the James Preston Poindexter Foundation, Reita provided invaluable context to the life of Pleasant Litchford, who was a contemporary of Poindexter. Over approximately two years, the Taskforce developed a timeline with verified primary and secondary sources to better share the story of Pleasant Litchford with the community and with students. She has made herself constantly available to students, meeting with them individually and participating in school-community events like the Longest Table.
Reita shares her time and wealth of knowledge with the greater UA community. She was the speaker for a UA Historical Society "History Speaks" event in February, sharing details of the life of James Preston Poindexter and his connection to Pleasant Litchford. She has also been an incredible ambassador of UA to other Central Ohio communities, sharing information about the work happening in Upper Arlington to honor Litchford's legacy and learning how other communities are recognizing their respective histories of Black and brown pioneers.
Her work continually enhances the diverse culture that our community is striving to achieve, and she is a person of color that inspires all young people but especially Black and brown youth who see her as an example of a servant leader and a strong, respected, and dignified voice in our Upper Arlington community. She truly embodies the best of Upper Arlington!
Our congratulations to the 2022 Community Relations nominees: Catherine Kennedy; Christopher Kyle Edwards; Rainbow UA
Senior – Bob Tullett
Bob embodies volunteer spirit. He has been an avid volunteer for the City since the day of his 21st birthday, when he began volunteering as an auxiliary firefighter/medic for the Fire Division, a position he continued in for over 20 years during which time he played an instrumental role designing the first fire safety house. At the encouragement of then Mayor Priscilla Mead, Bob was named to the City's Board of Zoning and Planning in 1987 for a "three-year term," which extended to 35 years, and included several years serving as Board Chair.
Bob has also been very involved with school volunteering over the years. In 1981 he led a team of volunteers to build the Big Toy playground equipment for Windermere School and was affectionately dubbed, the "Big Toy Chief." In 1996, he volunteered as construction manager of a Habitat Humanity home built by students, staff and parents of the High School. He found it rewarding to share his building/engineering skills with a group of volunteers. The Civic Association came calling in the late 1990s, with Bob and his wife, Sandy, teaming up to join the Fourth of July committee. This was a four-year commitment culminating in the position of being head of the Fourth of July community celebration.
Bob remains active in civic, church, and neighborhood volunteer activities. He is the on-call person whenever the need arises to consult or fix a structural or mechanical problem at his church. For the neighbors, he enjoys plowing their driveways and sidewalks with his trusty John Deere tractor and snowplow.
Our congratulations to our second 2022 Senior nominee: Ron Johnson
Youth – UA High School Asian American & Pacific Islander Student Organization
Two years ago, seniors Elizabeth Liu and Kajal Hari, along with 2022 graduate Krish Mawalkar, founded the AAPI Student Organization, whose mission is to "uplift and advocate for AAPI voices." They began as a small but mighty group of students, who wanted to initiate something positive in response to the widespread Asian hate they were witnessing in the region and across the country. They quickly grew to a robust group of about 40 students, who meet weekly to share community and plan events.
This group should be commended for establishing and nurturing a safe space where our Asian American students can surround themselves with peers who share similar stories and life experiences, a space where they can relax and be themselves. Before the club was established, many of our AAPI students felt disconnected. Now you can walk into any weekly meeting, and your heart will be warmed by the wonderfully supportive and positive feeling that permeates the room. They make every single student feel valued and like they belong. Also of note, the AAPI club has opened their doors to ALL students, regardless of background.
Since its formation, many AAPI members who used to be reserved and quiet have emerged as confident leaders. Their passion and dedication to their mission have allowed them to plan and execute many meaningful projects. They have successfully run several fundraisers, raising over $700 for the Asian American Community Services (AACS), whose office is located in UA. They hosted a week-long celebration in honor of AAPI Heritage Month. They visited Hastings Middle School during lunch and taught students how to make paper lanterns in celebration of Lunar New Year. They have partnered with the UAHS Black Student Union to initiate the return of a Culture Fair at UAHS, a tradition that was interrupted for three years because of COVID. Most recently, they partnered with the Community Relations Committee, AACS and Cover to Cover Books to host the community's first Cherry Tree Blossom Celebration at Mallway Park.
These amazing students serve as role models for community members of all ages. They have responded to hate in a peaceful and productive way – by educating others about and raising awareness for what it means to be Asian American, serving their community, providing a nurturing environment where their peers feel safe and accepted, and collaborating with other marginalized groups to work towards a community where all voices are heard, and all students are seen.
Our congratulations to the 2022 Youth nominees: Amelia Pearson; ABC Service Club; UACA Junior Directors.