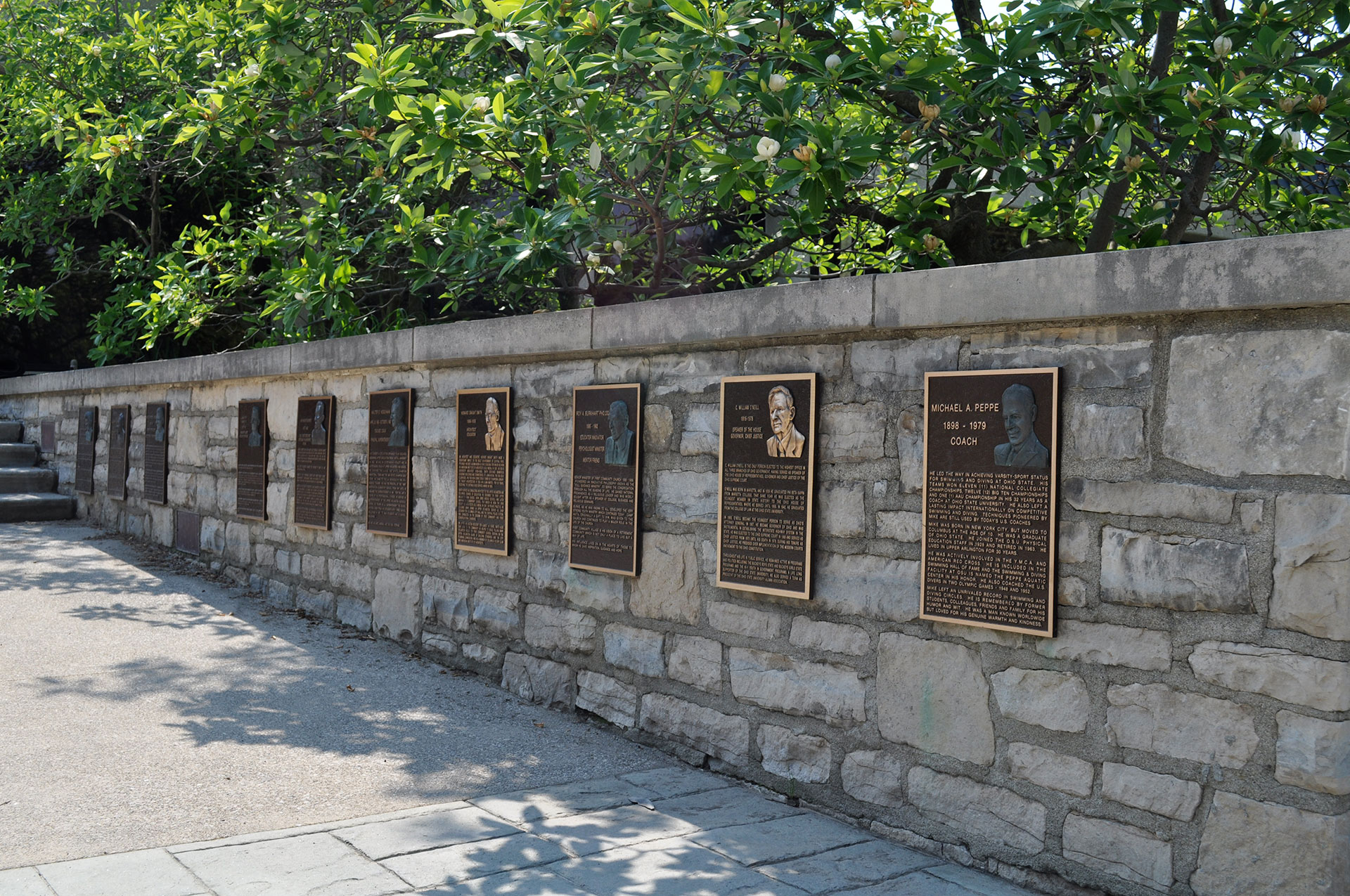 2023 Wall of Honor Inductees Announced
The City of Upper Arlington and the Upper Arlington Historical Society are pleased to announce that Robin Ness Comfort and Joanie Igel Dugger have been selected for induction onto the Wall of Honor in 2023.
Robin Comfort (1955-2019) embodied the ideals and virtues cherished in UA. She was tireless, energetic, and relentlessly positive in her work with the Upper Arlington Schools and throughout the community, pushing everyone and every organization she was part of to set and achieve lofty goals. She was a driving force behind the School District's efforts to provide quality education to all students and worked especially hard on behalf of special education students. As an 11-year member and two-time President of the Upper Arlington School Board, Robin played a pivotal role in the facilities master planning project, helping to bring thousands of community voices into a process that ultimately led to a monumental transformation of the district's educational facilities. In recognition of her service, she was voted by her own peers onto the All Ohio School Board in 2019. Robin's community service extended beyond the schools, including: Member and President of the UA Women's Club; Chair of the UA Civic Association's Walk and Golden Apple Committees; active member and volunteer for the Columbus Museum of Art; March of Dimes Board Member; Pleasure Guild of Nationwide Children's Hospital Member; founder of a Lupus Foundation of America Local Support Group; Silent Auction Committee for the Susan G. Komen Race for the Cure; 1997 recipient of the UA Rotary Northwest Women of the Year "Service Above Self" Award. Robin is remembered for her ability to spearhead change in a calm, dedicated and inclusive fashion. She was a great listener and a friend to so many.
Joanie Dugger's (1962-2019) life centered on family and service to her community. She selflessly gave her time and relentless energy to many worthy causes, including her great passion, the Upper Arlington Schools. For 17 years, as Executive Director of the Upper Arlington Education Foundation, Joanie fueled the sparks of creativity throughout the District. She was much beloved for her enthusiasm and encouragement. By always asking: "How can I help YOU?," she helped students and educators dream big and reach for the stars. With a focus on "friendraising," Joanie created the Foundation's annual FUNdraiser, the Golden Bear Bash. This inclusive event brought community members, parents and alumni together with the shared mission of providing meaningful experiences for students. The Bash raised over $1 million dollars during her tenure, benefitting teachers and students, including her own grandchildren, for many years to come. Friends and family also remember Joanie's service as Executive Director for the Alumni Association, as Co-Chair of four successful School District levy issues, volunteer on various PTO and booster groups, and service to the Childhood League and Pleasure Guild. She was also an active member, leader and volunteer at Trinity United Methodist Church. Her love for her community was only exceeded by her love for her husband Glen, her children, Sarah Jane, Ted and Abby, and her large family.
An induction ceremony to honor Ms. Comfort and Ms. Dugger is scheduled for 3 pm, Sunday, May 21, at the Municipal Services Center, 3600 Tremont Road.
To be considered for the Wall of Honor, a person must meet the following criteria: He or she must be deceased; must have lived in Upper Arlington for part of his/her life; and must have made a significant contribution to the city, the state and/or the nation. Honorees are recognized via permanent bronze plaques on the "Wall of Honor" located on the plaza in front of the Municipal Services Center.
For additional details about the Upper Arlington Wall of Honor, call the UA Historical Society at 614-470-2610 or click here.