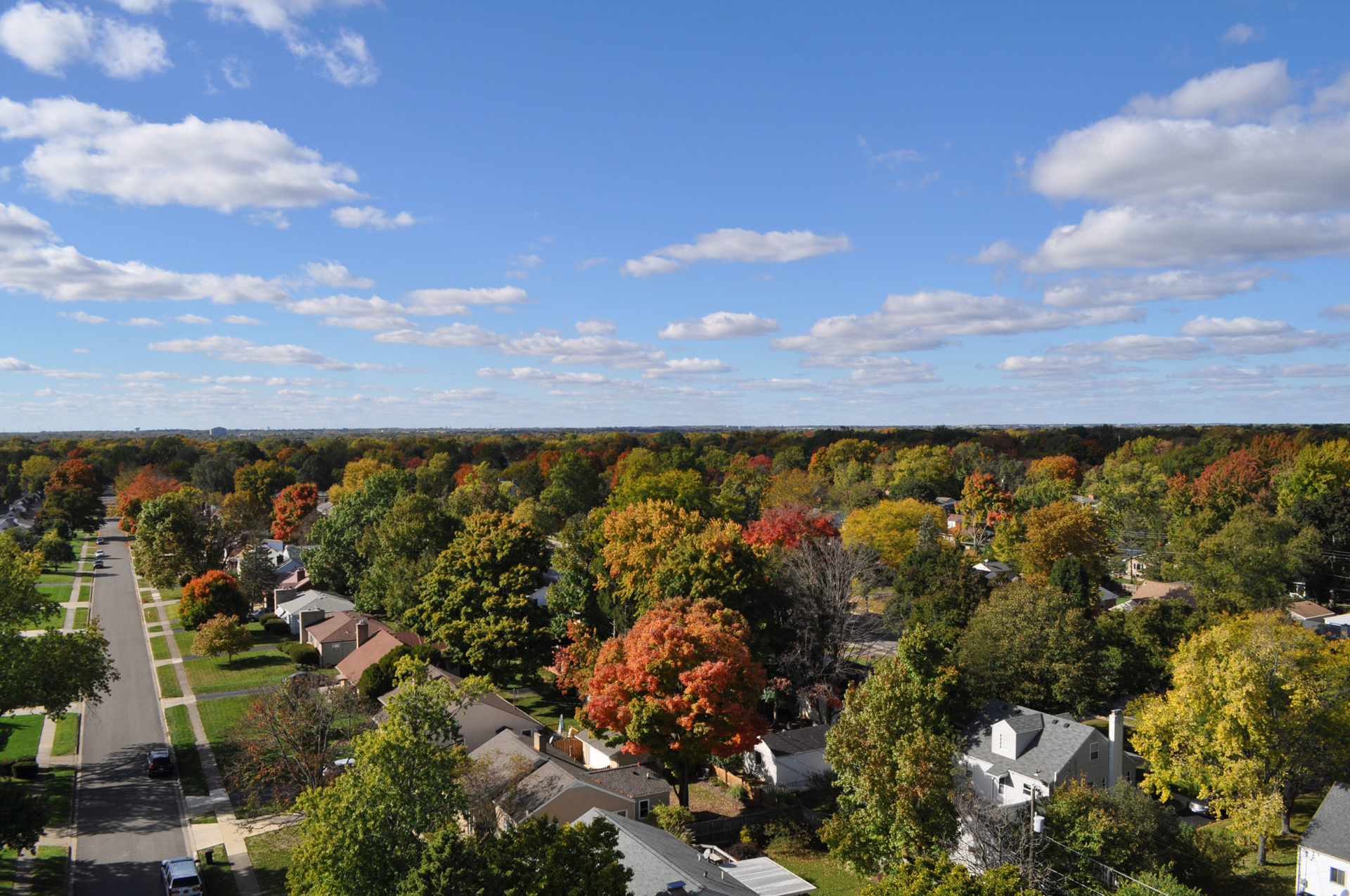 A Matter of Timing, Opportunity…and Market Forces
For years, our community has repeatedly wrestled with two questions: When will something be done with the former Macy's site at Kingsdale and why doesn't Upper Arlington have a community center like so many other communities? These conversations have often become intertwined, with many residents suggesting that the Kingsdale site would be a good location for a community center.
We are approaching a number of decisions as a community that will answer those questions. The Community Center Feasibility Task Force is working toward a report out to Council on December 16. Continental Real Estate, Inc. is under contract to purchase the Macy's property no later than early January. If you've ever monitored the evolution of a significant community project – be it a private redevelopment or a public improvement – time drags and nothing appears to be getting done, then all of a sudden, the project moves under the public spotlight with a slate of hard and fast deadlines. We are at that point of having deadlines.
We are approaching a series of "off ramps." We can choose to continue working toward the redevelopment of Kingsdale with Continental, recognizing that there is still much to be done and more decision points through the building and zoning process down the road, or we can stop. We can choose to continue down the path of a community center, recognizing that there will be a vote by our residents, or we can stop. The complicated part is that stopping one has significant implications for the other.
Normally, I try to keep these posts short, but given the importance and timing of these issues, I ask your patience with reading through more information than usual. The other thing that we are going to try in this post is provide hyperlinks to relevant presentations and video of the discussions that we have had with City Council on specific things that I mention here. In some cases, we'll be providing at what point in the meeting videos a particular discussion point begins if you want to fast forward to a specific topic.
At the November 2 and November 9 City Council Meetings, we spent about four hours discussing where we are and the next steps. We have provided an overview of the financial arrangements, next steps on traffic and parking and a timeline overview for the proposed Kingsdale project. Links to the full recordings of both meetings are below:
At the Monday November 16 Council Conference Session, Frank Kass of Continental is going to give an update on the components of the Kingsdale project and its design. We are also going to answer questions about the impact on the City's police, fire and infrastructure. We welcome and encourage folks to join us live on Zoom or Facebook. Meeting and access details are below:
Council Conference Session – 7:30 pm, Monday, November 16
Join the meeting:

//zoom.us/j/98773989457
Join by Phone:

877-853-5257 |

Webinar ID:

987 7398 9457
Since Macy's closed and Kroger took ownership of the property nearly six years ago, the property has been a source of concern, uncertainty and trouble for the City and our residents. In early June, Kroger announced its intent to sell the property, triggering what has inevitably become an accelerated timeline of hard and fast deadlines. Announced on September 8 as the winning bidder, Continental Real Estate must secure the certainty it needs by certain deadlines in order to finalize the purchase in January of 2021. Details of the timeline were shared at the November 9 Council Meeting: View the Video (timeline discussion begins @ 05:10) | View the Presentation
The work of the Community Center Feasibility Task Force has progressed to the point that we can put financial impact numbers on five scenarios that have been discussed or suggested in the community. These figures are preliminary, but I believe that they will give you a good sense of the choices we face. View the Video (financial discussion begins @ 08:30) | View the Presentation
Assumes Tax Increment Financing (TIF) Agreement Between City, Schools and Continental:
If a community center is built at Kingsdale as part of Continental's proposed mixed-use project:

The City's cost would be approximately $50 million
The TIF would generate revenues to offset the community center cost by approximately $18 million, reducing the City's net cost to $32 million

If a community center is built at the Municipal Services Center and Continental's alternate plan of a combined apartment/office building proceeds:

The City's cost would be approximately $75 million
TIF revenues would reduce the City's net cost to approximately $52 million

If a community center is not pursued (a decision of CCFTF/Council, or the result of a failed ballot issue next May) and Continental's alternate plan is implemented:

Property tax revenues for the Schools would increase by approximately $687,000 to $810,000 per year
The City would receive approximately $500,000 annually
 No TIF Agreement Scenarios:
If the City purchased the site for a standalone community center:

The $12.5 million required for site acquisition would increase costs to approximately $60 million
The Schools would lose all property tax revenues since the site would be a public use

If the property is not sold to Continental or another developer:

There would be no change to the property's current state
Or Kroger may tear the building down to reduce annual property taxes
Since 2002, the Kingsdale Triangle has been zoned as a Planned Mixed-Use District. This zoning requires that redevelopment projects within the triangle have a denser footprint, go higher and provide for a mix of uses – professional offices, retail/restaurant, housing and public space. The goal is to maximize how our limited commercial districts are reused, enhancing their vibrancy and appeal while also maximizing their revenue generating potential for the City and Schools.
It is a balancing act and very much a process that relies on market forces – in other words developers build what the market will support. Retail trends that were already shifting away from storefronts have been profoundly impacted by the COVID-19 pandemic – Kingsdale already has plenty of retail, some of which is starting to struggle. While office use is the most lucrative for the City from a revenue perspective, location, demand, and now changing workplace habits – another legacy emerging from the pandemic – limits what can be accomplished at a location like Kingsdale. Housing options like senior living facilities, apartments and townhomes are in demand as the region continues to grow, and as young professionals and empty nesters seek alternatives to single family homes.
It is through development agreement negotiations with Continental that the City has been able to require some office space as part of the Kingsdale proposal. The possibility of a community center at the site would greatly enhance the desirability of the new housing and office space. And with direct access to the surrounding shops, restaurants and amenities, Kingsdale would be significantly closer to the healthy, vibrant, mixed-use – live, work, play – central commercial district to which we aspire. View the Video | View the Presentation
The prospect of such a dense redevelopment project is naturally cause for concern for surrounding residents. In this case, the Wakefield Forest neighborhood to the immediate east of Kingsdale and north of the High School is rightly concerned about potential traffic and parking impacts – not just from the Kingsdale project but also the new high school footprint. View the Video (traffic discussion begins @ 40:50) | View the Traffic Presentation
The development review and approval processes include detailed review of potential traffic and impacts, accessibility and parking needs for redevelopment projects like this. When BZAP approved the Preliminary Development Plan for this project in October, it did so with the expectation that Continental would have fully addressed these issues before returning with a Final Development Plan.
Our Engineering Division is taking a detailed look at these issues and has scheduled a public meeting for Wakefield Forest and other residents on Thursday, November 19, to discuss possible traffic mitigation options and concerns in greater detail. The meeting begins at 6:30 pm and will be held via Zoom. Residents can access the meeting by clicking this link: //zoom.us/j/99982923879.
As a reminder, City Council is accepting public testimony on the proposed Development Agreement throughout the month of November, with the following opportunities remaining:
Council Conference Session – 7:30 pm, Monday, November 16: First Reading, public hearing. Join the meeting: //zoom.us/j/98773989457
City Council Meeting – 7:30 pm, Monday, November 23: Public hearing. Join the meeting: //zoom.us/j/94372218402
Special City Council Meeting – 7:30 pm, Monday, November 30: Second Reading, public hearing, Council action. Join the meeting: //zoom.us/j/91887548346
Residents wishing to speak on this matter are asked to submit a request by email to [email protected] no later than 15 minutes after the start of a meeting. Be sure to indicate which agenda item you wish to address.
I know that this is a lot of information to digest but I strongly believe these two issues are among the most important facing our community. I encourage you to tune in and to let us know your thoughts.