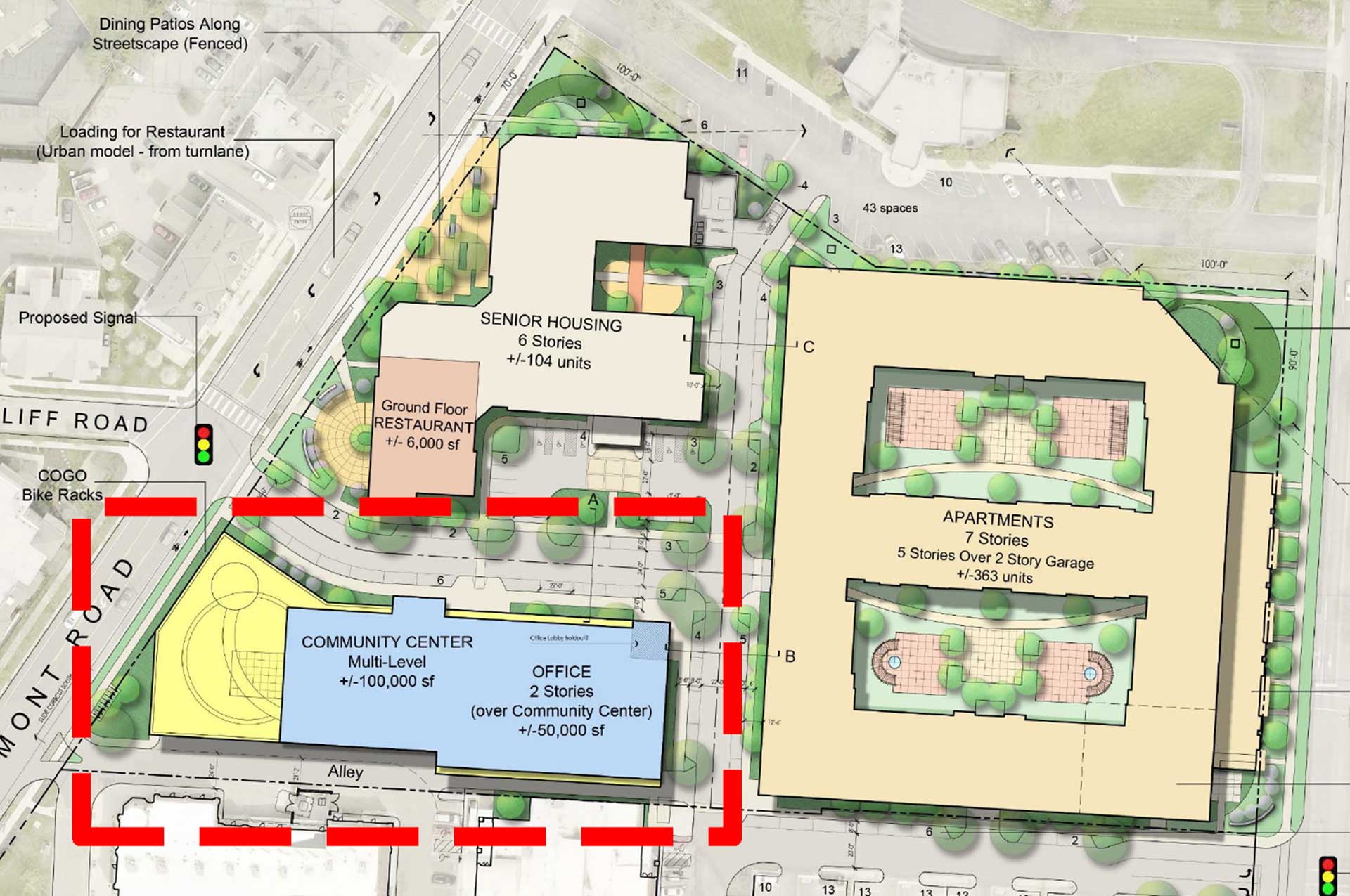 City Council to Consider Proposed Development Agreement for Kingsdale Project
Beginning Monday, November 2, City Council will be considering and accepting public comment on a proposed Development Agreement with Continental Real Estate, Inc. relative to its plans for the Kingsdale Mixed-Use Redevelopment Project at the former Macy's site. The details of this proposal – which would entail the use of Tax increment Financing (TIF) – will be ready for public review and comment beginning at a Special Council Conference Session scheduled for 6:30 pm on Monday, November 2. We will provide additional details on the details of this proposal in a follow up blog next week.
As a quick overview of the project, Continental's redevelopment proposal includes:
A six-story building with 104 senior housing units and a ground floor restaurant.
A seven-story building with five floors of 383 apartments over structured parking, fronted by eight, two-story townhomes providing a transition onto Northwest Boulevard.
Two options for a third structure – either combining 50,000 square feet of office space with additional apartments or with a community center (pending the outcome of the Community Center Feasibility Task Force process and a possible vote of the community next May).
A combination of structured and surface parking totaling 755 new spaces, with shared use of an additional 150 parking spaces at the north end of the Giant Eagle parking lot.
Since a portion of this property is under consideration as the potential location for a community center, the proposed Development Agreement will be drafted to accommodate either of the two options outlined above.
The high costs associated with significant redevelopment projects such as this regularly require City participation in order for them to be economically viable. Funds generated by a TIF are typically used by the City to make public improvements to support the redevelopment, such as traffic, parking and other associated infrastructure improvements.
The use of a TIF enables the City to capture future property taxes generated as a result of a property's increased value to pay off any upfront investment. Recent examples of projects that have been made possible through incentives and City support include both Lane Avenue mixed-use projects and Arlington Gateway. In all three cases, the City has made or will be making various improvements in and around each project to facilitate public improvements such as traffic and parking, underground infrastructure and pedestrian/multimodal access.
City Council has decided to accept public testimony on the proposed Development Agreement throughout the following public review process:
Council meetings are being held via Zoom videoconference, and are livestreamed on the City's website, and via the City's Facebook page. For the best audio/video, residents are encouraged to join the meetings directly via Zoom using the links provided above and in each agenda, which can be accessed here on the Friday before each meeting date.
Residents wishing to speak on this matter are asked to submit a request by email to [email protected] no later than 15 minutes after the start of the meeting. Be sure to indicate which agenda item you wish to address.
A Preliminary Development Plan for the proposed Kingsdale Mixed Use Redevelopment project was approved by the Board of Zoning & Planning on October 19, with a number of conditions that must be met by the developer before submittal of a Final Development Plan.
Additional details about the project can be found here. And please watch for an update next week that provides details about the proposed Development Agreement.