UA Farmers Market
May 26, 2021 @ 4:00 pm

-

7:00 pm

|

Recurring Event

(See all)

An event every week that begins at 4:00 pm on Wednesday, repeating until October 27, 2021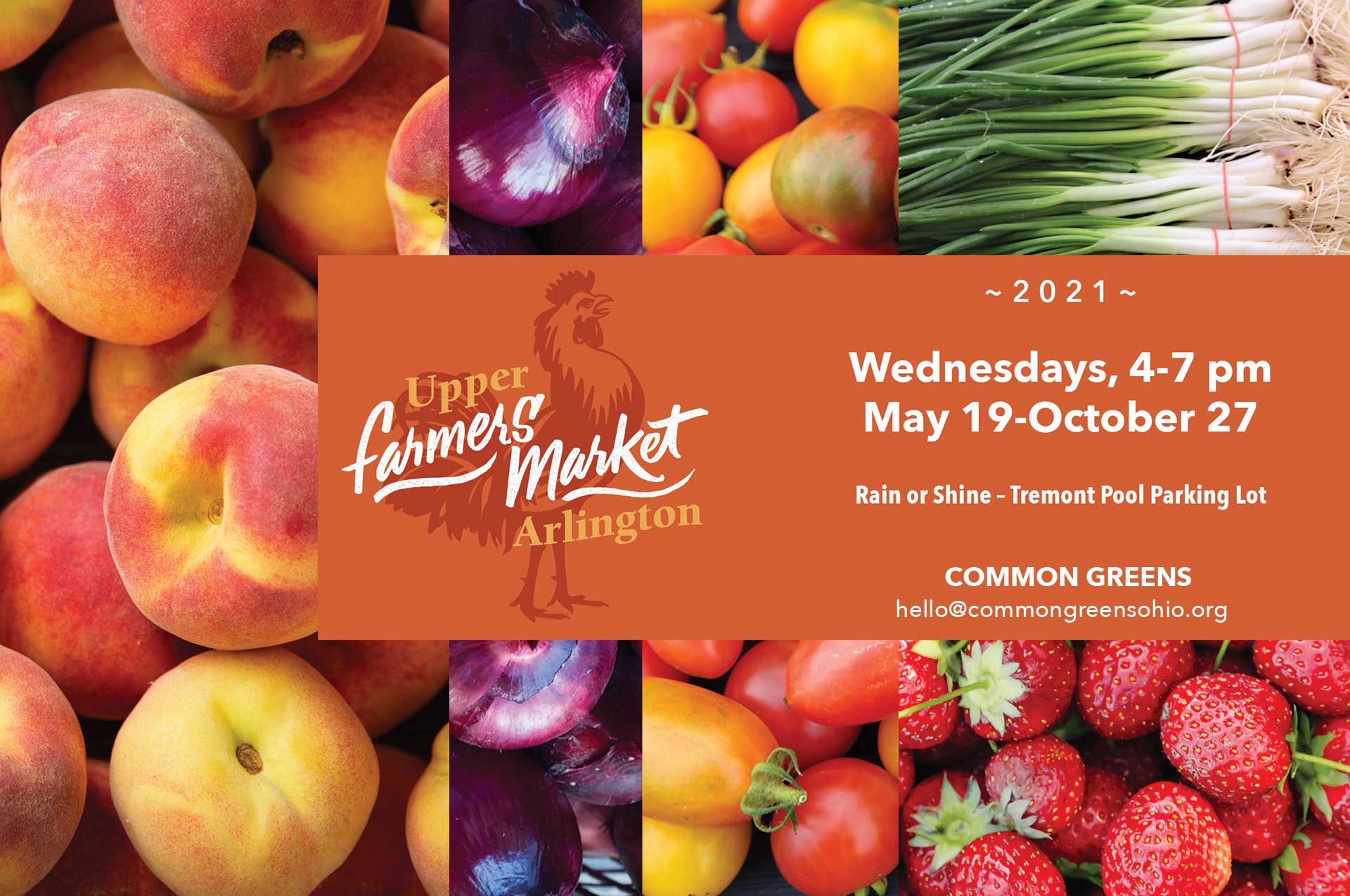 The Upper Arlington Farmers Market is scheduled to operate every Wednesday from 4-7 pm from May 19-October 27, rain or shine, at the Tremont Pool parking lot adjacent to Northam Park.
Farmers markets are labeled as "Essential Businesses and Operations" by Governor DeWine's COVID-19, and are permitted to open with "…proactive measures to ensure compliance with Social Distancing Requirements." In response, this year's Farmers Market will operate differently than in previous years, by implementing logistical adjustments to ensure the health and safety of its staff, vendors and the community at large. These operational adjustments go into effect as the season begins. This includes:
Guidelines for Customers
If you choose to visit the Upper Arlington Farmers Market, you are asked to follow these strict, preventive measures to keep yourself, your farmers and food producers, and your community safe:
If you feel ill or at all unwell, do not attend the market.
Maintain the recommended six foot spacing from others while at the market.
Wear a cloth face covering as recommended by CDC guidelines.
From 4-4:30 pm, the Farmers Market is reserved for vulnerable populations, including seniors and the immunocompromised.
The market encourages limited use of reusable grocery bags due to uncertainty surrounding surface contamination and the lifespan of the virus. We recommend using plastic, disposable bags during COVID-19.
Send only one member from each household to the market in order to curtail crowds.
Recognize that the market is attempting to limit the number of people in the market space at one time. While you wait for entry, be respectful and allow for safe distancing between you and other customers.
When possible, pre-order directly from farmers and food producers to limit the need to exchange currency onsite. Click here to access the list of vendors and details of how to preorder.
No pets are allowed at the Farmers Market at this time.
Do not linger or socialize. Purchase what you need and return to your home.
Do not touch any products. When you have identified the product(s) you want to purchase, ask the farmer or food producer to collect and package the goods for you.
Market Operations
A series of logistical adjustments have been made in support of a safe shopping environment. These include:
Limiting the sale of food to whole, uncut produce and packaged food items.
No on-site food preparation or ready-to-eat foods.
No sampling of any food is permitted.
Limiting crowds by staggering entry to provide for social distancing of customers.
Requiring space between vendor stands of at least six feet.
Providing alcohol-based hand sanitizer with at least 60% alcohol for customers to use prior to entering market space and when exiting.
Canceling all extracurricular activities including music, children's activities, cooking demos, etc.
Grouping like items together (ie. all produce, all bread and baked goods, etc.) to reduce the amount of time searching the market for particular products.
Recommending using gloves appropriately as an additional tool.
Discontinuing the use of tablecloths and other porous materials such as baskets, pulp fiber fruit and vegetable containers.
To learn more, contact Common Greens (formerly Get Fresh Markets), at [email protected]. We hope to see you at this year's Farmers Market.
Submissions to our Community Calendar
As a service to the community, the City hosts an online Community Calendar. We invite you to submit details of upcoming special events that are open to and promote government interests of the community at-large, as determined by the City of Upper Arlington.
To submit a calendar listing, please use this online form. Submissions should include a photograph (no posters or logos) with an exact size of 1920 pixels wide x 1275 pixels high. We recommend that you submit items at least three months in advance, since we may include some community events in the City's print and e-newsletters as space allows.
The City will not post routine items such as programs, club meetings or classes. The inclusion of a special event does not represent an endorsement from the City. The City reserves complete control of any event postings on the Community Calendar and has final approval authority over them. Community Calendar postings are not intended to, and do not, create a public or designated forum for private speech of any kind. The City reserves its right to refuse a submission.
Special Event Application Notice
The City has an application and permitting process in place for special events that require the use of City property and/or City logistical and planning support. This includes quarterly submission deadlines in advance of a planned event so that Staff have ample time to review all requests and manage its finite supply of equipment and staffing while balancing its support of longstanding community events with new and unique event proposals.
There is a $100 application fee.
2022 Event Planning Schedule

For Events Held: 
Application Deadline
Meeting Review Date
April 1 – June 30
January 17
February 2
July 1 – September 30
April 18
May 4
October 1 – December 31
July 18
August 3
January 1 – March 31, 2023
October 17, 2022
November 2, 2022