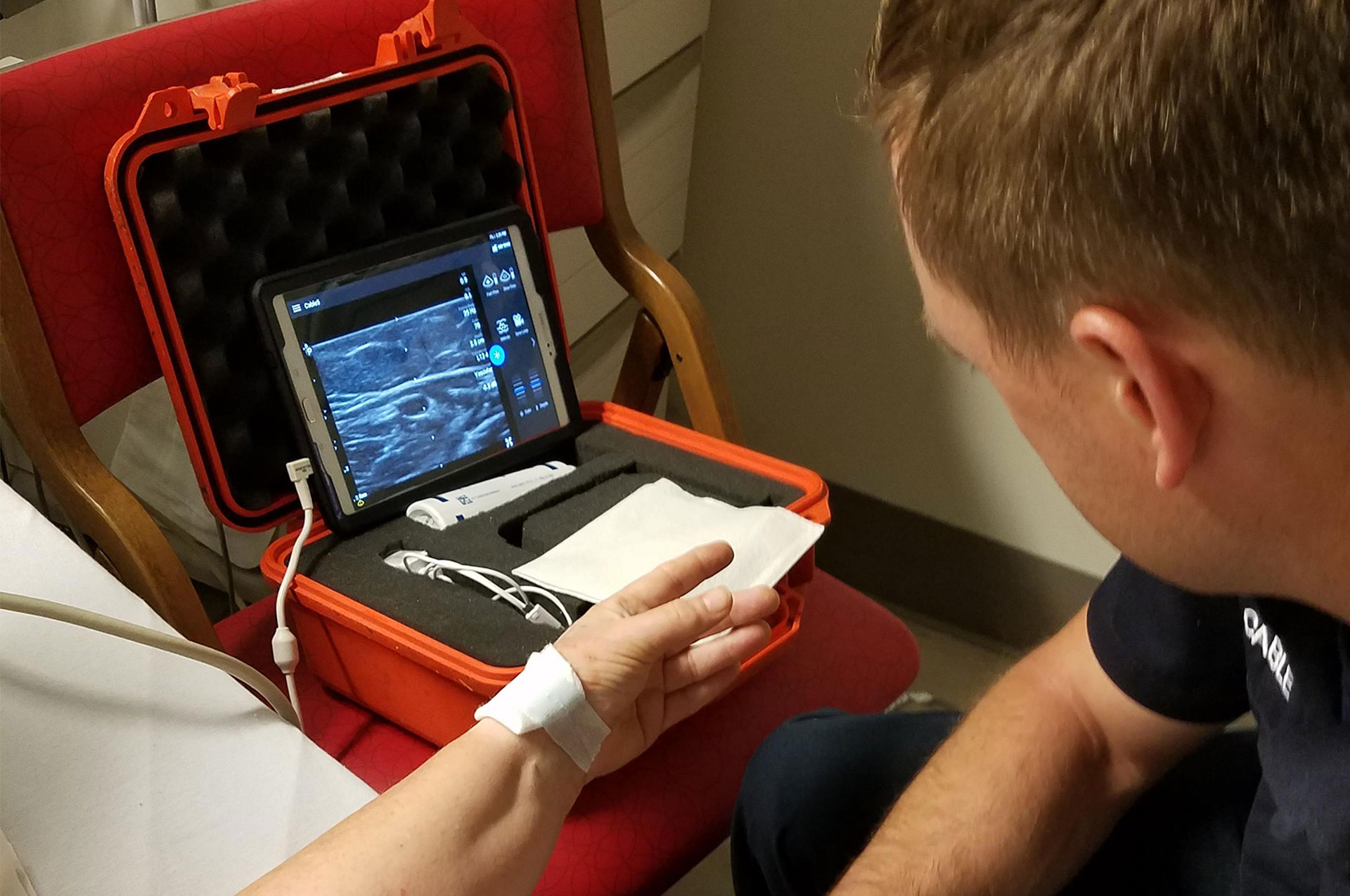 Fire Division Medic Truck Now Features Ultrasound Technology
The Upper Arlington Fire Division is pleased to announce it has recently entered into a pilot program with The Ohio State University Wexner Medical Center, focusing on the pre-hospital use of Ultrasound Technology for peripheral intravenous access. This technology represents an opportunity for the division to improve the level of care it provides to our residents.
This follows a community needs assessment that highlighted the benefits of using this technology in the field. The division identified community members who—in the event of requiring transport to the hospital—would benefit from receiving an IV while in transit. They also concluded that some of these individuals may not require a trip to the hospital if they could have an IV placed by medics while still at home.
The division's Ultrasound unit was made possible thanks to a generous family donation to the CARES Program in honor of David Christopher Brooks, with funding support for training and to help launch this new service from the Fire Fund at the Upper Arlington Community Foundation. A total of 12 members of the Fire Division will be trained in using the Ultrasound machine in the field.
Jason Cable is the first Upper Arlington Paramedic to complete the training, and according to the State of Ohio Division of EMS, Upper Arlington's Fire Division is the first in the State to provide this service without the direct supervision of a nurse or like health care provider.
Jason recently shared some thoughts on the new equipment, his training and what this can mean for improving patient outcomes:
"I am proud to be part of an EMS agency that is ahead of the curve with options for increased patient care for all our residents. I have been chosen to take part in a pilot program using Ultrasound technology to place IVs in the field prior to arriving at the hospital.

"Patients can wait up to four-six hours in the Emergency Room prior to receiving an IV, and the fluids or medications they need to get back on their feet. Usually, these patients are not higher urgency or emergency patients, but they still take up a bed and they need help. If we can relieve the demand from nursing staff and place an IV before they even arrive at the ER, then everyone is off to a great start.

"I believe ultrasound has provided a wonderful solution for cancer patients as well as certain body types, which can make it near impossible to obtain vascular access. We also have some patients in our district with very poor immune systems, worse than cancer patients, who need fluids or medications just to keep them out of the hospital and away from other pathogens that could compromise their health.

"Ultrasonography is versatile and can be used to confirm tube placement after endotracheal intubation, cardiac function during an arrest, COPD and many other situations that, if trained properly, we can use to further our service. Thanks to this machine, we are able to provide the best patient care possible"