GUEST BLOG: The Pleasant Litchford Story: Rediscovering Our Past & Planning for Our Future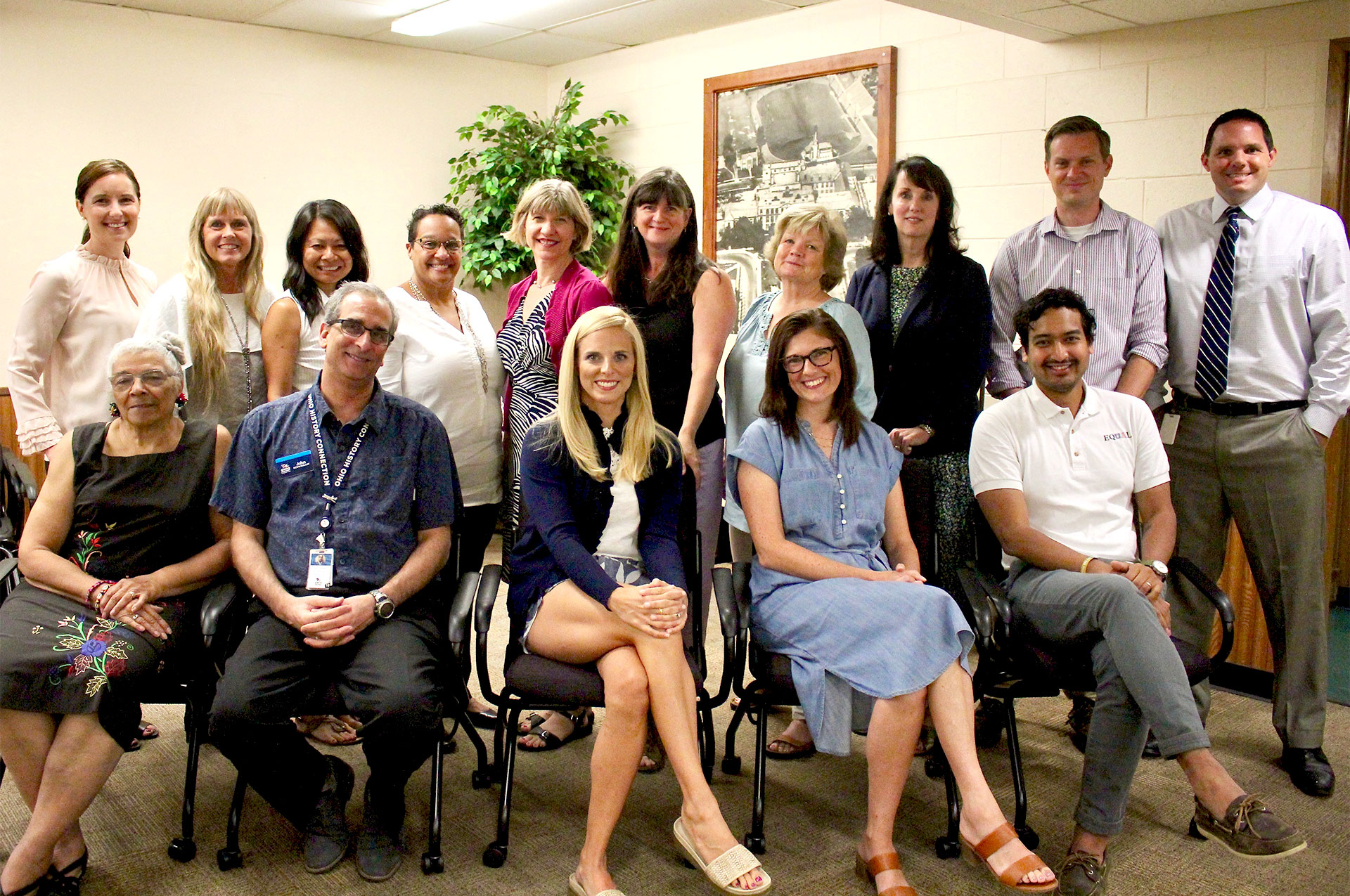 Front Row, From Left: Sandra Jamison (Second Baptist Church Historian), John Schweikart (Ohio History Connection), Catherine Kennedy (Equal UA), Karen Truett (UA Schools), Nic Fortkamp (Equal UA)
Back Row: Jennifer Rigney-Carroll (Equal UA), Kim Shoemaker Starr (author), Seyla Kramer and Lisa Wilson (Equal UA), Kristin Greenberg (UA Historical Society), Emma Speight (City of UA), Marianne Mitchell (Equal UA), Melanie Circle Brown (UA Historical Society), Jeff Anderson (City of UA), Chris Potts (UA Schools)
Not Pictured: Diane Kelly Runyon (author), Reita Smith (James Poindexter Foundation), Jared Nyhart (City of UA), Paul Imhoff, Keith Pomeroy, Andy Hatton (UA Schools), Gerald Moore (Equal UA), Krista Horrocks and Diana Welling (Ohio Historical Society)
GUEST BLOG: The Pleasant Litchford Story: Rediscovering Our Past & Planning for Our Future
By Catherine Kennedy, Equal UA Board Member
"I was amazed that this history was here, and we knew nothing about it. I was determined to find out about Pleasant and his community and to share it with others." – Kim Shoemaker Starr, Co-Author of Secrets Under the Parking Lot
What started with one woman digging deeper into her local history has burgeoned into a story just waiting to be told. It began with local resident Kim Shoemaker Starr who decided to research the names on old Upper Arlington gravestones that she had cleaned as an act of volunteerism. She was surprised to come across a 1950s article detailing the City's discovery of an old cemetery as it prepared for the construction of a new UA high school on Ridgeview Road. With her close friend, a retired Grandview social studies teacher, Diane Kelly Runyon, she embarked on a multi-year journey reviving a history that could have easily been lost forever.
What they found was the story of Pleasant Litchford, an African American man who had been enslaved in Lynchburg, Virginia and, along with his wife and children, gained freedom before moving to Ohio around 1830. He became one of the largest landowners in the area, purchasing land in what was Perry Township but is now in the heart of Upper Arlington. His land stretched from Tremont Center to North Star Road, including what is now Tremont School, Northam Park, St. Agatha, and the High School. He was a master blacksmith, which tied him to the neighboring settlers through his trade. He was also a generous man, dedicating a parcel of his property to start a school for children of color as well as a plot of his land to inter the remains of people of color who were not welcome in Union and Greenlawn Cemeteries. This cemetery was located where the current high school stands and was excavated in the 1950s.
Litchford was also tied to other notable African Americans, such as Ezekiel Fields, who was the first pastor of Second Baptist Church, the first Black Baptist Church in Columbus. Pleasant was a founding member and a deacon at the church. He was also a friend and mentor to the church's second pastor, James Preston Poindexter, the first African American on the Columbus City Council and Columbus Board of Education. Poindexter worked tirelessly in the abolitionist movement and to end school segregation.
Not immune to the racial codes of the time, Pleasant had to adhere to the Black Laws that were passed by the Ohio Legislature in the early 1800s to discourage African Americans from moving to the state. The laws required black people to prove that they were not slaves and to find a white person or persons who would guarantee the African American's good behavior, paying the Court of Common Pleas a $500 bond. William Neil paid the bond for Pleasant Litchford. It is believed that in return, Pleasant loaned out his oldest son, Miles, to work for Neil, a move that may have led to the father and son's strained relationship.
Pleasant Litchford died in 1879 at the age of 89, leaving his estate to his wife and remaining seven children. He died a wealthy man and was buried in his own cemetery.
The last burial in the Litchford Cemetery was in 1925. Over the years, the children sold off the land, which was annexed into Upper Arlington in the 1940s and '50s.
Star and Runyon compiled their research in the only book dedicated to the story of Pleasant Litchford. Titled, Secrets Under the Parking Lot, it is now in its second edition. In their effort to share their work with groups around the City of UA, they spoke with the Upper Arlington Board of Education as well as current Superintendent Paul Imhoff, Ed.D. The Board and District Administration quickly committed to dedicating resources to a thorough search for cemetery remains in conjunction with the new high school construction and felt it was imperative that they incorporate the story of Pleasant Litchford as well as other local settlers and Native Americans into their school curriculum.
From there, they determined that it was also time to share a more complete story of our community, including topics that previously have not been taught about our local history. It is a story that is not unique to Upper Arlington but has played out similarly in every suburb of every metropolis across the United States. It is the hard history of racial segregation that was put in place through several government-sanctioned practices and policies that came about following the Civil War and Reconstruction. Coshandra Dillard, author of the article, "Recovering and Teaching Local History," says that "local history helps students better understand their community, as well as the inequities in education, poverty, health outcomes, and other issues that they see around them every day."
In order to pursue an expanded curriculum, the Upper Arlington Schools brought together a task force of community organizations, descendent community members, and area experts and historians. This distinguished group includes the book authors Kim Starr and Diane Runyon, Reita Smith, a UA resident and President of the James Preston Poindexter Foundation, Sandra Jamison, second generation Historian for the Second Baptist Church, and John Schweikart, a UA resident and Archaeologist from Ohio History Connection. It includes representatives from the Upper Arlington Historical Society, the City of Upper Arlington, and Equal UA. Led by the Schools' Chief Academic Officer, Keith Pomeroy, this group has met no less than 10 times to create a source-supported timeline of Pleasant Litchford's life and legacy in the context of city, state, and nationwide history.
"We take facts and turn them into teachable moments," says Reita Smith. The process of vetting the sources and deciding on common language is a revelation in itself. The group has had to consider what primary sources are available and why some are not. They have had to weigh what proof is necessary without getting lost in the details. An important part of this enhanced curriculum will be devoted to critical thinking, a skill imperative to processing complex history.
Once completed, the timeline and accompanying sources will be made available to teachers, students, and eventually to the community at large. The School District, Historical Society, and City are dedicated to sharing the information and to creating historical signage to celebrate Pleasant Litchford's legacy.
Pomeroy recalls, "I was speaking with teachers at Tremont Elementary School about the work we are doing to incorporate the story of Pleasant Litchford into our curriculum, and it hit me. We were, at that moment, on what had been Pleasant Litchford's property, just steps from the place where Pleasant had effectively donated land for the creation of a Colored School."
Pomeroy will engage teachers and curriculum experts to integrate this information into the K–12 curricula. Further, students at the high school are already seeking ways to participate in the research and commemoration. There are endless possibilities for experiential learning surrounding this rediscovered local history. "There is no perfection in this. It is an ongoing, evolving story. As we uncover more information, we will expand the curriculum and the information we share," Pomeroy says.
As the high school construction progresses, the School District, led by Chief Operating Officer, Chris Potts, will continue to work with the Ohio Valley Archaeology Initiative (OVAI) to investigate the area where the cemetery stood, excavating any possible remains, and relocating them respectfully, according to descendent wishes.
"Seek to know the past for therein lies the future," says Historian Sandra Jamison, quoting from an old African Proverb. That is precisely what many are hoping to find in the story of Litchford, a future here in Upper Arlington that allows them to fully appreciate this wonderful city while also feeling fully appreciated for the unique life experiences, cultures, and identities they bring. Gerald Moore, a board member of Equal UA and an African American man with a wife (Jennifer Bullock, NBC 4 News) and two young children, says "The Pleasant Litchford story is powerful, and it means the world to me that I've gotten to witness the School's and the City's commitment to uncovering this marvelous history. I feel a deeper sense of belonging knowing that this history has been revealed and will be preserved for generations to come."