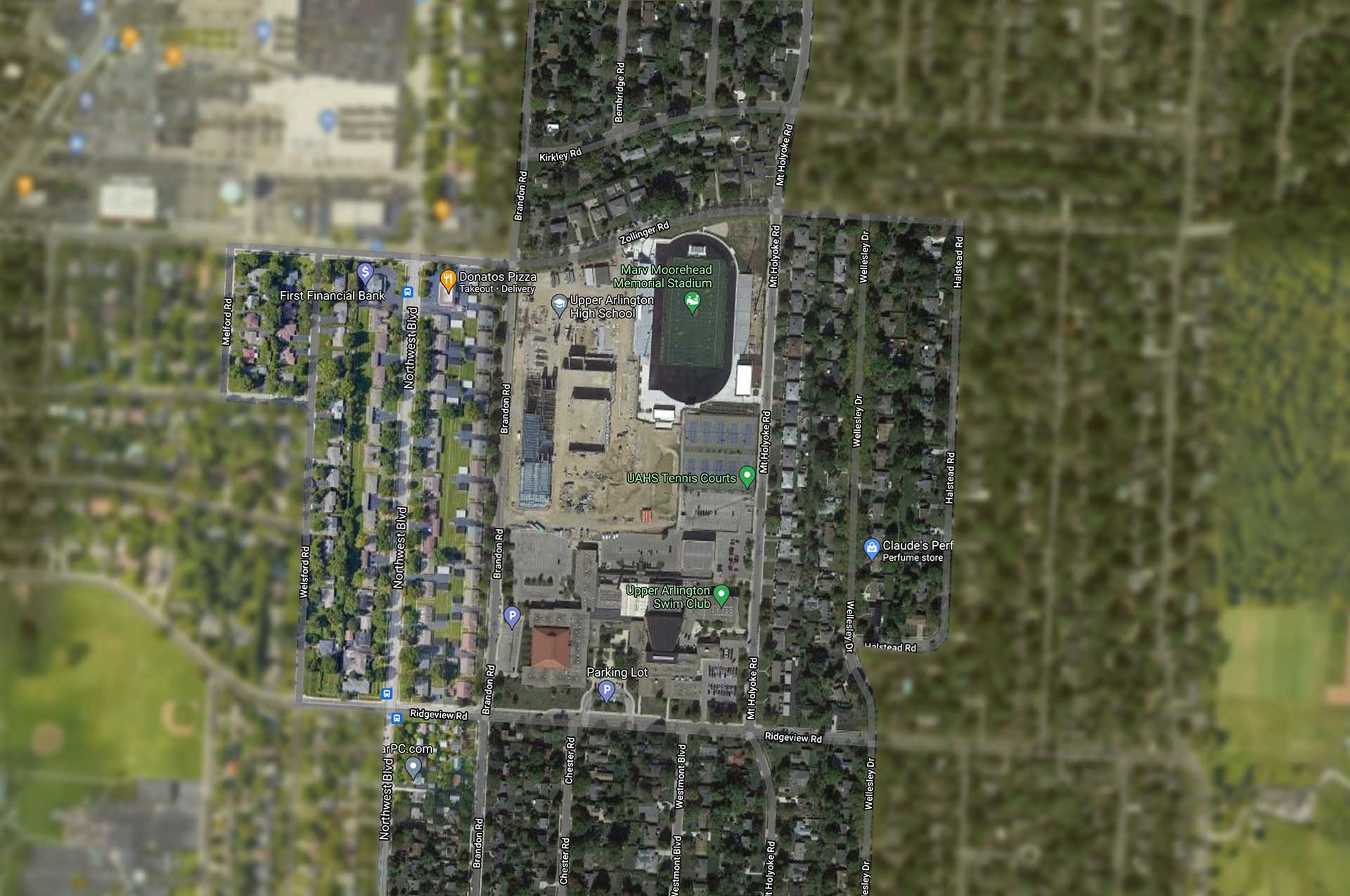 High School Parking Adjustments Necessary for 2021/22 School Year
SEPTEMBER 20 UPDATE
The City of Upper Arlington is continuing to work with Upper Arlington High School to improve traffic flow and parking operations throughout the Wakefield Forest neighborhood. The attached revised map shows additional parking details and restrictions near the vicinity of the school. We appreciate the on-going support and patience from the community as we work through the challenges of construction and opening of the new school.
---
The City of Upper Arlington and the Upper Arlington School District have been working closely to prepare for this upcoming school year and the opening of the new Upper Arlington High School, located on the northwest quadrant of the high school property. Demolition of the old high school has begun and will continue over the next few months, to be followed by a second phase of construction to build new parking lots, sports fields and greenspace on the site of the old building. This phase of construction is tentatively scheduled for completion in the Spring of 2022. As a result, on-campus parking will be extremely limited until the new parking lots have been completed.
The School District is providing incentive programs for students and staff to encourage alternate modes of travel, such as ride sharing, walking and biking, to reduce the parking demand. The District has also implemented a closed lunch policy, requiring students to remain on campus during the lunch period, which will minimize traffic movements during the day. However, even with these programs parking will inevitably be a challenge and we anticipate an increase in students, faculty and visitors parking their vehicles on the roadways near the campus during this phase of construction.
Street Parking Adjustments
In preparation for this increased parking demand, the City will create additional parking spaces (similar to the marked parking spaces on Northwest Boulevard) for the following streets:
Zollinger Road
Brandon Road
Mount Holyoke Road
Additionally, parking restrictions will be implemented on streets near the high school to minimize student parking on both sides of the roadway – click here to view the map.

The City recognizes the parking challenges for this school year will impact residents in the surrounding area, and we greatly appreciate your patience and understanding during this time. We will continue to monitor the situation and will make adjustments to traffic and parking as students return. We encourage you to contact the Engineering Division with any questions, concerns or suggestions for improvement, at [email protected].