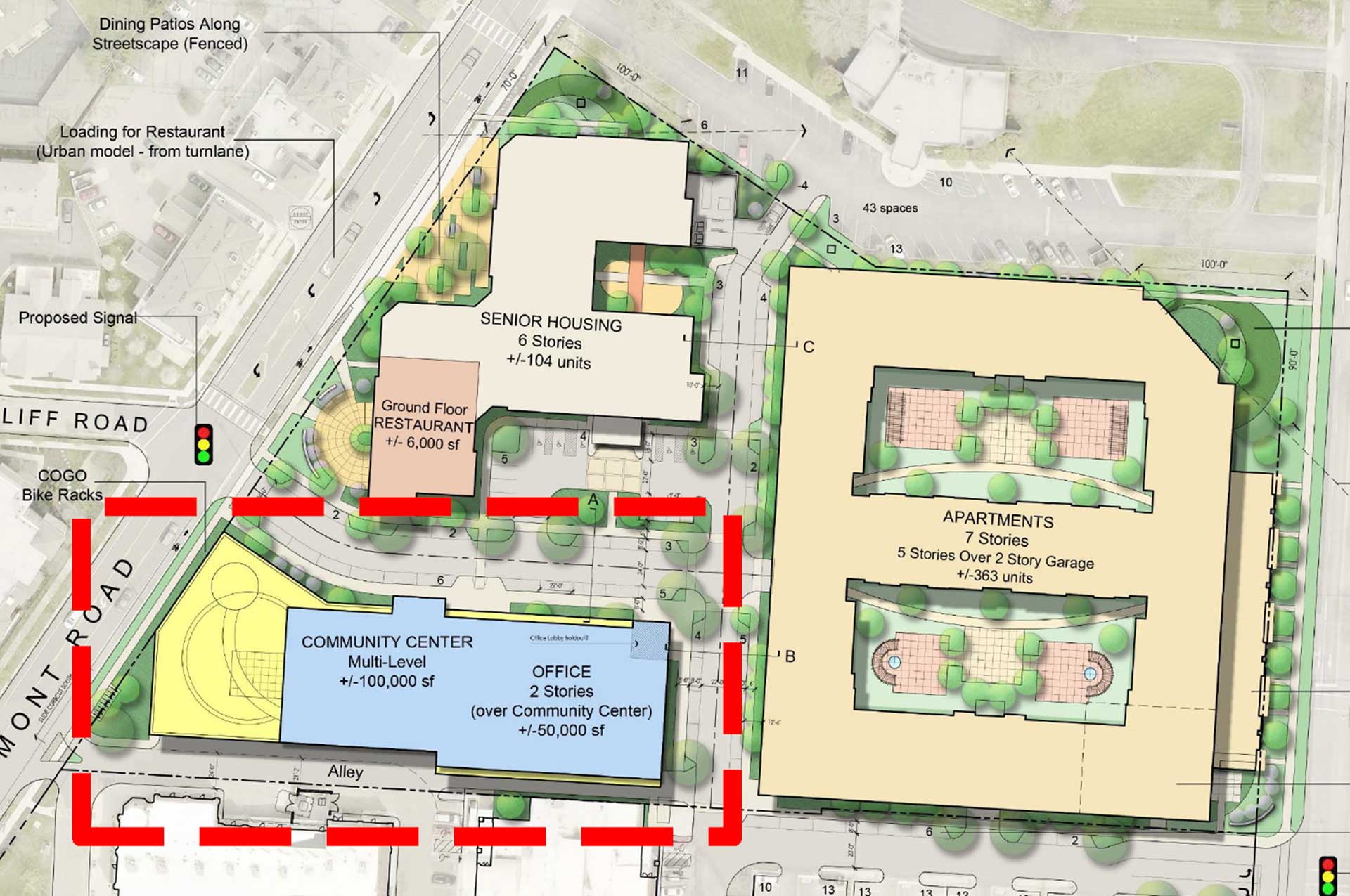 Kingsdale Mixed-Use Project
Continental Real Estate, Inc. has submitted a Preliminary Development Plan to the City for the former Macy's site at Kingsdale. The proposal places an emphasis on the provision of alternate housing options for the community, reflective of current development trends and to complement the existing retail/restaurant and office space at Kingsdale.
The project would be comprised of the following:
A six-story building with 104 senior housing units, located on the northwest portion of the site, with a 6,000 square foot restaurant, including outdoor dining, on the ground floor facing Tremont Road.
A seven-story building to the east/center of the property, along Northwest Boulevard, with five floors of 383 apartments and two amenity courtyards over a two-story parking garage.
*A nine-story building on the southwest area of the sit, with 75 two-bedroom apartments, 50,000 square feet of office space on the top two floors, and structured parking.
*NOTE: This building site has been identified as a potential location for a prospective public use, subject to the Community Center Feasibility Task Force study process that is currently underway.
Eight, two-story townhouses fronting Northwest Boulevard that would back up to the two levels of structured parking for the seven-story building.
The two structured parking arrangements, combined with surface parking, would comprise a total of 755 new spaces. Additionally, Continental has secured a shared-use agreement for up to 150 existing parking spaces at the north end of the Giant Eagle Market District parking lot.
Relocation of the existing traffic signal on Northwest Boulevard and a new traffic signal at Tremont Road and Ridgecliff Road as an entrance into the site from the west, as well as a north/south internal drive connecting Kingsdale Center through to the Chase Bank parking lot.
The Preliminary Development Plan proposal is scheduled for review by the Board of Zoning and Planning, per the following schedule:
BZAP Work Session: 6 pm, Monday, October 5 – review of Preliminary Development Plan
BZAP Hearing: 6 pm, Monday, October 19 – BZAP Action for Preliminary Development Plan
Should BZAP approve the Preliminary Development Plan application, Continental would also be required to bring a Final Development Plan before BZAP at a later date, which would provide greater detail on what is proposed.