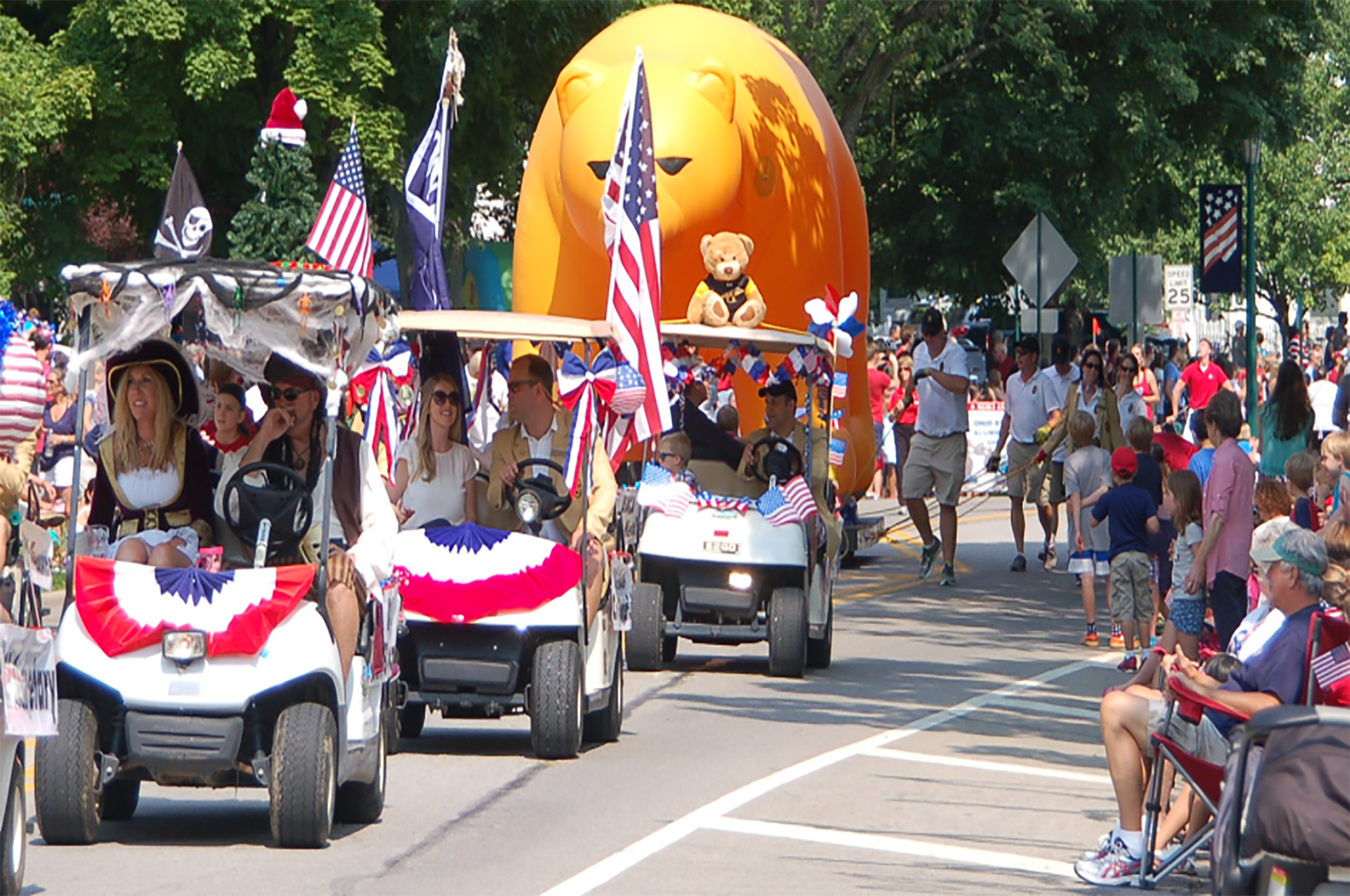 Let's Celebrate Independence Day
It's no secret that UA knows how to put on an incredible Independence Day celebration, thanks to the hard work of the all-volunteer UA Civic Association (UACA). With this year's theme – Upper Arlington Traditions, featuring Mike Borders, Coordinator of Upper Arlington Special Olympics as the 2023 Parade Grand Marshal – the community's Fourth of July traditions are not to be missed. Read on for an overview of the day's activities, and some logistics and programming updates.
Parade
The parade begins at 9 am, heading south on Northwest Boulevard from Kingsdale down to North Star Road.
Parade Traffic & Safety Restrictions
The Police Division will place non-movable barricades or City vehicles at streets intersecting Northwest Blvd. As a result, local traffic will not be able to use Northwest per the following schedule:
6:30-7 am – all streets between Zollinger Rd. and Lane Ave. will be closed at Northwest.
7-7:30 am – most streets between Lane Ave. and North Star Rd. will be closed at Northwest. It will still be possible to cross Northwest at Guilford, Barrington and Waltham roads until approximately 8 am.
Travel on Northwest Blvd. will be limited after 7:30 am.
Lane Ave. will remain open to traffic until approximately 8:30 am.
All streets are expected to be reopened to traffic by 1 pm.
Parking Restrictions
Parking restrictions will be in effect for most streets south of Lane Ave. that surround the parade route – in some instances this will be on both sides of the street, in other instances it will be on the fire hydrant side only. The affected streets will be posted in advance with "no parking" signs. No parking hours will be from 5 am-1 pm on the day of the parade. If you live in the area, please move cars into your driveway or to a nearby location where parking is permissible.
Diversability Zone
For the second year, the Red Oak Family Foundation is collaborating with UACA and Holy Trinity Lutheran Church to bring the community a sensory-friendly area called the "Diversability Zone," a place to view the parade with parade noises turned off or lowered, a tent for shade, drinks and breakfast items, space to spread out, access to parking behind the church and a sidewalk next to the space.
Party in the Park
Doors open at 5 pm at Northam Park, featuring The Conspiracy Band and culminating in an exciting display of fireworks at 10 pm.
Northam Park Layout Changes
The construction taking place on the west athletic fields at Northam Park will impact Party in the Park logistics. The UACA's reserved table area and entertainment stage will be on the east fields, with limited surrounding space open to the general public. The UA Schools has kindly agreed to open the east playground/field space at Tremont Elementary School for fireworks viewing.
Fireworks Safety
Recognizing the dangers posed by fireworks if handled improperly, the City opted out of the State of Ohio's 2022 fireworks legislation, and continues to ban the use of consumer grade fireworks in UA. This includes sparklers, bottle rockets, firecrackers and trick noisemakers. It is not the intent of the City to be heavy-handed in enforcement, but the City has and will enforce its laws, especially when unsafe situations are witnessed by police.
We encourage you to enjoy all that UA has to offer over the Fourth of July holiday, but be wise, and above all, be safe. Leave the fireworks to the professionals.              
Pools & Northam Tennis Holiday Hours
Monday, July 3

Northam Tennis – closes at 3 pm
Tremont Pool – closes at 9 pm

Tuesday, July 4

Northam Tennis – closed
Tremont Pool – closed

Wednesday, July 5

Northam Tennis – regular 7 am opening may be delayed by firework cleanup
Tremont Pool – opens at 1 pm (as long as fireworks cleanup is complete)
Gratitude
Planning and staging events like these is no small feat and it all happens thanks to the volunteer efforts of the UACA. This year's coordinators are:
Event Chairs Michelle and Steve Gdovin
Parade Chairs Susie and George Pattison
Float Chairs Katie and Andrew Widing
Judging Chairs Cara and Jeremy Logsdon
Fireworks coordinators Brandon McIntire, Doug Falor
UACA President Jordan Braunstein
When these "Fourth of July" teams first take on the role of Judging Chairs, they are committing to a four-year cycle of increasing responsibilities, ending as Chairs for the entire day. UA is fortunate to have residents willing to undertake the planning and logistics involved in enriching our community in this way.
We also have City employees who are indispensable in the day's events:
Police Division—security, traffic
Fire Division—safety, fireworks, first aid
Parks & Forestry—assistance with event setup and breakdown
Public Works—placement of barricades, banners and signage
Electrical—power and lighting assistance
Community Affairs—event liaison
As you enjoy what will certainly be a fantastic celebration, please give our City workers and UACA volunteers a word of thanks.