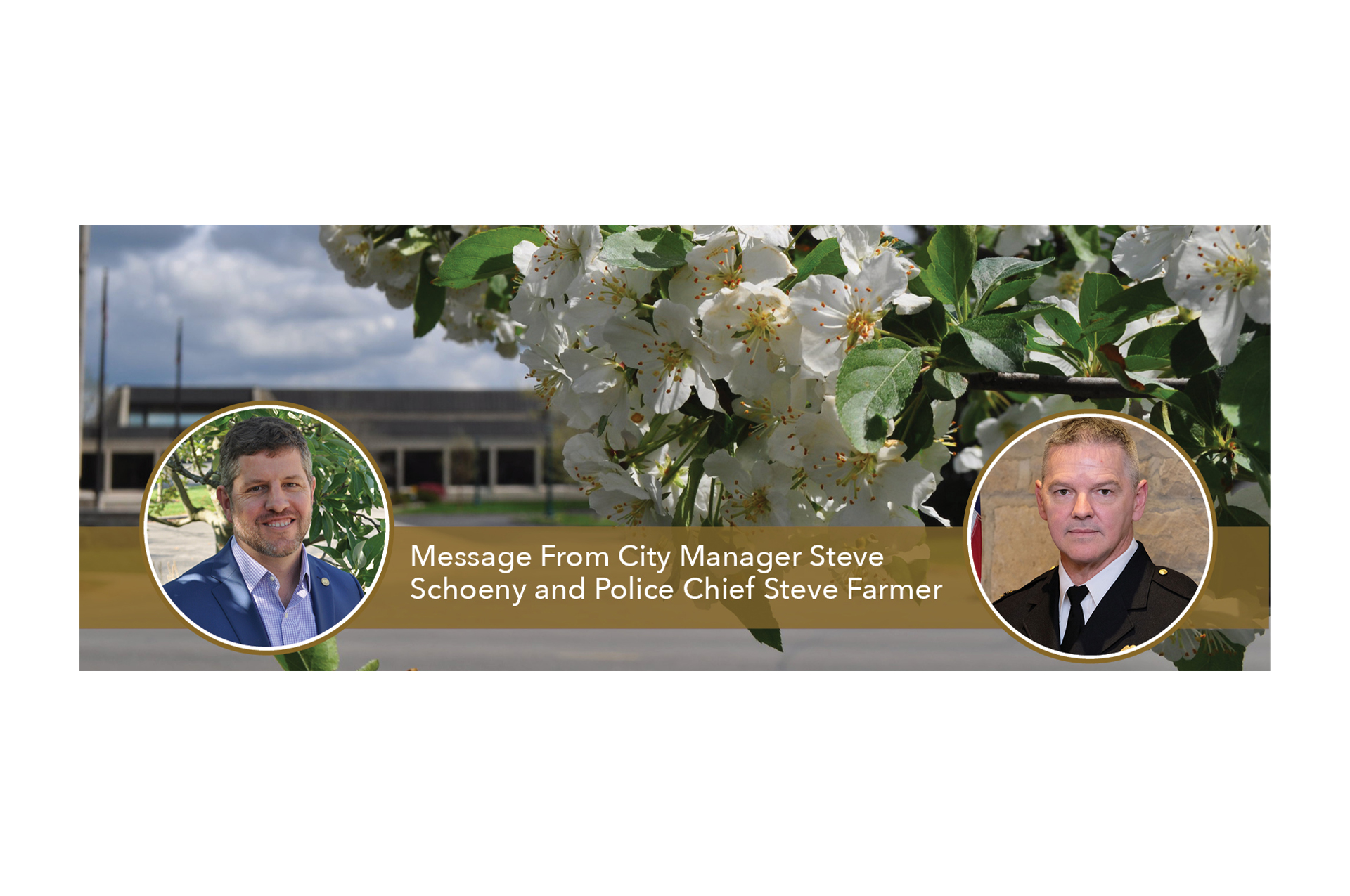 Message from City Manager Steve Schoeny and Police Chief Steve Farmer
Racism exists and harms our country, our state, our region and Upper Arlington. When we see the deaths of George Floyd, Breonna Taylor and Ahmaud Arbery, it reminds us that our African American brothers and sisters in America have fears that we, as white men in Upper Arlington, don't have. When any member of our American family feels afraid to be in America – when they are afraid to do the simplest of things that the rest of us take for granted – we should all be afraid.
One email won't erase our historic and current racism. Changing laws alone won't fix it. But that doesn't mean that we don't acknowledge it and work to overcome it. We will all die, but that doesn't mean that we don't go to the doctor when we are hurt. We look for ways to heal.
There are things that we can do to help heal the damage that racism is doing in our communities.
We want to ask every resident and every employee of the City of Upper Arlington to think carefully about how we treat one another. How we treat one another has to become more personal. When you see a neighbor, see them and treat them as family. Treat them with the love, respect and warmth that we all want from those who are closest to us. When you meet visitors to our city, treat them as if they were guests in your home. Welcome them, help to ensure that they are comfortable, and are being treated as they wish to be treated.
Since the COVID-19 crisis, we see UA doing this every day. We look each other in the eye and smile more. We say hello more. We wave more. We check in on each other. We help more. Generally speaking, we are better to each other. We are doing all of this at a time where we are rightfully a little afraid of what dangers we might pose to each other. When you interact with someone who comes from a different racial group than you, be as purposeful in how you treat that person as you are when you make the special effort to greet someone across social distance.
Much of our national pain comes because of violence against African Americans at the hands of police. From the first time that we met and became colleagues here at the City, we have had frank and painful conversations about these issues. We and our officers work very hard to recognize the biases that are inherently in all of us. We have and will continue to work hard to overcome them. Our officers do that through training and by making sure they are accountable for their actions. We ask you to remember that our officers are deeply hurt by these needless tragedies – the acts of a few officers tarnish the reputation and pride of many exceptional safety professionals who are willing to risk their own safety to protect us and our community.
Everyone is paying more attention to how police officers do their jobs. In UA, we are comfortable with and welcome that. If you are a party to or witness an interaction between our police officers and any member of the public where you worry that bias was involved, we want to hear from you. You can reach out to either of us, or you can contact our DEI Officers, Emmanuel Boamah (614-425-3076) and Zachary Sorosiak (614-425-3111). We will look into the matter, learn from it, and adjust where it's clear we can be better. And we will follow up with you to let you know what we learned.
We also are going to look for ways to help the community understand why we do what we do. What are the most common reasons for traffic stops? Why do we ask the questions that we do in traffic stops? Why do we let some people off with a warning and ticket others? If you understand what an interaction with one of our police officers should look like, it will help you understand if something is amiss.
Finally, we continue to empower our team to step up if they see a colleague who is making or is about to make a mistake. The police often see us at our worst, and that can bring out the worst in any human being. It haunts both of us when we see other officers not intervening when a fellow officer has gone over the edge. We glorify the action hero, but the hero that we need today is the one who can deescalate a volatile situation. That is the culture that we are working toward in the UA Police Division.
We want to thank the residents of UA for continuing to make this an amazing community for everyone. Whether it is how you operate as an individual or how you band together through groups like the UA Civic Association, the UA Community Foundation, our churches and faith communities, our service clubs, Equal UA or our schools, you show that we are striving for a community where everyone feels like they belong no matter what they look like or how they got here. Sometimes, the world makes that goal harder to achieve. We are UA, and we are up to the challenge.
If you have questions or concerns, please reach out by calling the Police Division's non-emergency line at 614-459-2800 or email at city.police@uaoh.net.