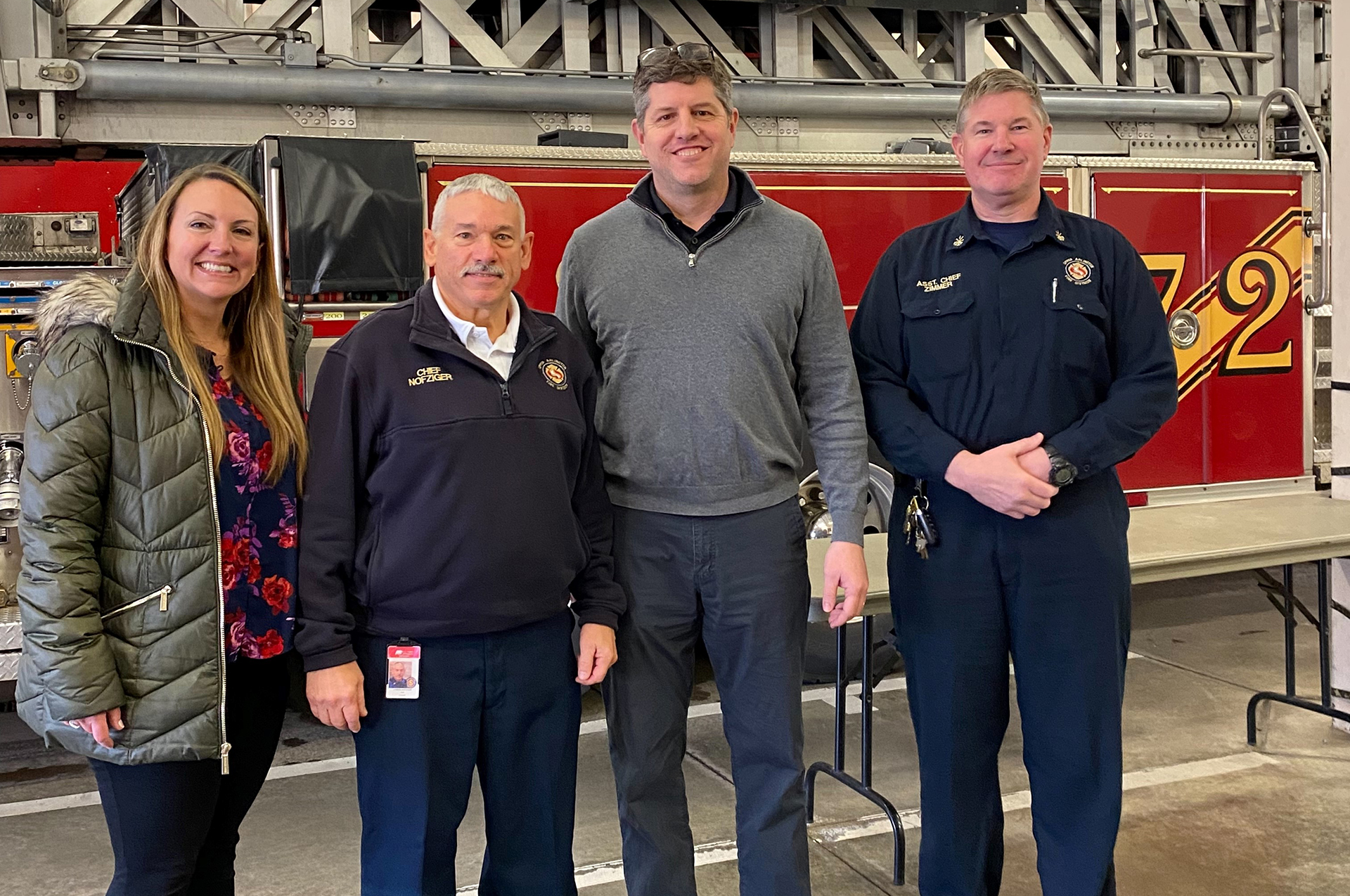 The City is pleased to announce the selection of Christopher Zimmer to serve as Upper Arlington's next Fire Chief. Currently serving as Assistant Fire Chief, Chris will assume his new role effective March 10, 2023, upon the retirement of the City's current Fire Chief, Lyn Nofziger.
"We selected Chris after an extensive search that attracted applications from around Ohio," said City Manager Steve Schoeny. "His extensive experience and understanding of the Upper Arlington Fire Division, the City organization and the community we serve stood out as key strengths. Chris has accomplished much during his career with Upper Arlington, and I am confident he will continue the legacy of exceptional service and leadership established by his predecessors."
Chris joined the City as a Firefighter/Paramedic in 1999, serving in that role for 10 years and gaining invaluable experience as a frontline emergency responder. He was promoted to Fire Prevention Lieutenant in 2009, a role that expanded his interactions with other City departments and the business community, conducting fire safety inspections for commercial structures and new construction, assisting with plan reviews of architectural drawings for fire detection and suppression systems, and serving as the City's primary fire investigator. In 2015, he had the opportunity to further round out his professional experience within the Fire Division, transitioning to the Lieutenant for Ladder 72's 1 Unit. In this role, he supervised a team of firefighters, organized and conducted training, and participated in emergency responses. In 2017, Chris was promoted again to Battalion Captain, a role that further expanded his supervisory responsibilities, positioned him as incident commander for larger scale emergency situations, and afforded him the opportunity to gain budgeting experience, to develop standard operating procedures, investigate and address any incident or personnel complaints, and to be part of the Police and Fire team that helped prepare for the transition of 911/dispatching services to the City of Dublin's Northwest Regional Emergency Community Center (NRECC).
When the City added the position of Assistant Fire Chief to the structure of the Fire Division in 2018, Chris stood out as the most qualified and dedicated member of the team to assume this vital support role to the Fire Chief. In this role, he has supervised three battalion captains to ensure uniform emergency response and resource allocation for the City's two fire stations and three shifts of 48 uniform personnel. He has provided strategic planning and operations analysis, served as the division's public information officer, managed the hiring process for new employees, and has led planning and oversight of the City's emergency operations center and emergency management plan.
Chris was Union President for the IAFF Local 1521 from 2002-2006, with experience as part of the negotiating team for multiple bargaining agreements between the Firefighters Union and the City, and experience handling personnel grievances. He has numerous State certifications, including Firefighter II, Paramedic, Fire Instructor, Fire Inspector, Haz-Mat Operations, and various National Incident Management (NIMS) certifications. He is a recent graduate of the Leadership Upper Arlington program and has been a resident of Upper Arlington since he first joined the City back in 1999.
"I am looking forward to continuing to serve the community in this exciting leadership role, and to supporting the men and women of the Fire Division who give so much to Upper Arlington each and every day," said Chris. "I greatly appreciate the City Manager's confidence in me and the experiences I bring to my new role, and I am forever grateful to Chief Nofziger for his support and guidance over the past four years, helping to prepare me for success."