The annual Labor Day Arts Festival is a one-day juried arts festival that is now celebrating its 54th year and will be held on Monday, September 7, 2020. Hosted by the City of Upper Arlington, the Festival draws over 25,000 people each year and is the City's signature event.
Located in the beautiful neighborhood setting of Northam Park, the Festival showcases the works of local, regional, and national artists working in a variety of media. A variety of activities add to the Festival's success as a family-oriented event: an Entertainment Stage with local performers playing all day, an Art Activities Area with performances and arts/crafts activities for children and adults and a variety of refreshment booths.
Nearly 200 volunteers make this community event possible.
HOW TO GET TO THE FESTIVAL:
Park and Ride:  Park in the old Macy's parking lot near Kingsdale Shopping Center and hop on a comfortable shuttle provided by Share (shuttle service of National Church Residences).  Shuttle stop located in front of Chase Bank (3250 Tremont Road).  Shuttle drop off/pick up at festival on Northam road near the main information tent.
Bike:  Free bike valet service provided by Yay Bikes!
Best drop off zones:  Corner of Northam and Andover Road and the corner of Northam and Tremont Road.
Road Closures:  Tremont Road between Ridgeview Road and Northam Road and Northam Road between Tremont Road and Andover will be closed during festival hours.
Festival by the numbers: 11 months to plan; 15 members of a dynamic team to coordinate; 3 jurors to choose 150 artists from some 300 applicants; 14 city departments involved in every aspect of the event; 192 volunteers and 20,000 visitors supporting the arts.

In 2008 the Upper Arlington Labor Day Arts Festival went digital. Many festivals have already gone over to digital jurying citing ease for artists and promoters and the unavailability of image projectors and carousels in an industry embracing digital verses images. The industry standard is a process known as Zapp and was developed by WESTAF.
ZAPP enables individual artists to apply online to multiple art shows, either through a central website, www.zapplication.org, or through the websites of specific art shows. The online application process also allows artists to directly upload digital images of their artwork for jury review. The result is that all artwork in the system is in a consistent, high quality, digital format. The digital images are presented to the jurors of each show, and the system allows them to score online. Visit www.zapplication.org for more information.
HOW TO APPLY
Artists working in the same studio and using the studio name may request to exhibit in the same booth for one booth fee, with a maximum of three artists.
Artists collaborating on the same work need not apply separately.
Artists jurying more than one category of work may apply under the same name with a maximum of three mediums.
No late applications will be accepted.
Do not send space fees prior to jurying.
Award winners from previous festival receive their jury exemption code via email.
Emerging artists have a special code for applying; please use the contact form below to receive yours.
Invited artists, wait-listed artists and artists whose work is not invited will receive notification via email. We will use the same email you have provided in your zapplication, take care that it is accurate.
All notifications will be sent in April.
WE DO NOT ACCEPT
All work must be the original, hand-produced work of the artists and representative of the work submitted to the festival jury. Items not accepted include kit work, manufactured items, molded ceramics (unless molds are designed by the artist), dried flower arrangements, live plant material or trees i.e. bonsai, commercial photography, "buy/sell" items or work produced by anyone other than the applying artist.
Booth images are important, both in terms of your presentation as well as your overall work. High quality professional images are important also. Images must be current and accurately reflect the work to be exhibited. Images should not include the name or face of the artist. If they do; you will be required to submit another image.
Include a 100 word artist statement about your process.
Emerging artists can apply through www.zapplication.org as an Emerging Artist and exhibit your art for the first time in an arts festival. Create an artist profile, upload 4 images, 3 images of your work and one of your display (if you do not have a display include another image of your work) and complete your application for the Upper Arlington Labor Day Arts Festival.
By entering the coupon code for the year's jurying (ldafea16); the jury fee will be waived. Emerging artists are juried separately from the festival artists and will have a separate booth area (10×10′) to display your artwork.  Depending on the medium, prints of your work or in fact a variety of price points offered to consumers will help make your work more marketable.  You will need a vendors license to do business.
Emerging artists are given all the same information that established artists receive, and follow up calls and emails to help you through the process.  We also give you the names of mentor artists and schedule brief meetings in June and August to address any concerns.  On site Staff help you with the set up of your booth if needed and checks in throughout the day to make sure your experience is positive.
For this year, we will have 4 emerging artists at the Festival. Our application will be open January 1- February 15.  Get in touch when you decide to apply and I'll help as best I can. You may want to visit the Festival this year and see everything for yourself.
If you would like to be added to our database for Festival reminders, please use the contact form below and provide us with your name, mailing address and email.
Zapplication (ZAPP) enables individual artists to apply online to multiple art shows through a central Web site. The online application process allows artists to directly upload digital images of their artwork for jury review. The result will be that all artwork in the system will be in a consistent, quality, digital format. High-resolution digital images of artwork will be presented to the jury of each show, enabling jurors to score online.
WHAT'S NEEDED FOR APPLICATION
A computer that has Internet access.
An e-mail address. If you do not have an e-mail address, establish a free account with Yahoo!, Hotmail or Gmail.
A computer, preferably no more than eight years old. You are not required to have a printer.
You do not need any special software to access ZAPP. If you are formatting your own images you will need image management software such as Photoshop Elements.
HOW TO APPLY
Prepare your artwork images formatted to the Image Preparation specifications.
Create a profile by entering basic contact information and creating a username and password to ZAPP.
Upload up to 40 digital images of your artwork to your image portfolio.
Apply to your choice of participating shows.
Choose the required number of images to apply to a specific show from your image portfolio.
Submit an application online.
Pay the application fee online with a credit card or mail in a check.
Artists receive e-mail notifications when their applications have been received and when they have been accepted or declined.
Artists can view their application status at any time on the My ZAPPlications page and can choose to accept or decline show invitations.
IMAGE SPECIFICATIONS FOR ZAPP
To apply to art shows, fairs and festivals through ZAPP, please size your images to the following dimensions:
Dimensions: 1920 pixels horizontal /1920 pixels vertical. If your image is not square, please mask your image with black to bring your image to 1920×1920 pixels. No other size will be accepted for jury use. If your image is vertical, please format with black vertical bands on the left and right. If your image is horizontal, please format with black horizontal bands on the top and bottom.
File Format: Baseline JPG (do not use progressive JPG format)
Compression: Please size your image to be no more than 1.8 MB in file size. On average, your image will be roughly 1.2 MB. Larger is not necessarily better. Please consult a professional vendor to determine if compression for your artwork is needed.PLEASE DO NOT SAVE YOUR JPG AS A PROGRESSIVE JPG FILE. Progressive JPGs will be read by the Web site. However the large format images used during the jury will not work properly if the files are saved as progressive files.
Media: Internet submissions only.
File Name: ZAPP will automatically rename your files
PREPARING IMAGES FOR UPLOADING
ZAPP Image Preparation button will provide you details about the following: Digital Images, Image Specifications for ZAPP, The Importance of Square-Image Formatting, Equipment, Film and Lighting, Preparing Images for Uploading, Photoshop 7.0 Tips, Resolution and DPI, Tips on Taking Digital Images, Slide Conversion, Digital Imaging Resources, Digital Imaging Software and Basic Photographing Tips.
Our jury process, that takes place in March, includes 3 jurors that have been chosen on the basis of their experiences in working with a broad spectrum of fine arts and fine crafts. Jurors are chosen because they have a broad knowledge of art, an ability to assess art beyond their own taste and an openness and willingness to share ideas and listen to others. We thank them for their thoughtful and deliberate attention during the jurying process. They reviewed the work of over 200 artists that applied. Four images, three of work and one of booth, provided by the artists, are reviewed simultaneously. Work is evaluated using a scale of 1-7 (seven is best) and the mean and median of each category is then calculated to determine what work will be invited, not invited, or put on a waitlist.
The Upper Arlington Arts Festival does not take a percentage of artists' profits. The artist handles all sales.
WE ACCEPT
Original artwork in the following mediums:
Baskets
Ceramics
Digital
Drawing
Enamel
Fiber
Glass
Graphics
Jewelry
Leather
Metal
Mixed Media 2-D
Mixed Media 3-D
Painting
Paper
Photography
Printmaking
Sculpture
Wood
Other
WE DO NOT ACCEPT
Items not accepted include kit work, manufactured items, molded ceramics (unless molds are designed by the artist), dried flower arrangements, live plant material or trees i.e. bonsai, commercial photography, "buy/sell" items or work produced by anyone other than the applying artist.
REPRODUCTION GUIDELINES
All reproductions must be signed and numbered in editions of no more than 750.
All reproductions whether framed or unframed, must be clearly and individually labeled "REPRODUCTION." No other terms may be used.
Framed reproductions may be displayed on one wall of the booth, not to exceed ten (10) linear feet. All unframed reproductions must be displayed in browse bins.
Unframed reproductions may not be displayed in the same browse bin with original artworks.
No "hand-colored" reproductions.
Questions? Directions to UA? Call 614-583-5310 or use the contact form below.
IF YOU ARE ACCEPTED
Artist notification will be sent via email; please make sure yours is up to date. Artists should reply using our paperwork, not change their status on ZAPP. Artists cannot pay their booth fees through ZAPP.
Please provide credit card information as requested or make checks payable to the City of Upper Arlington. In the event of cancellations, no fees will be refunded after August 1. We understand emergency cancellations may arise-they will be reviewed on a case-by-case basis.
TENT/CANOPY GUIDELINES
An Artist-provided-tent space (10' x 10') is $125.00.
A Festival-provided-tent space (10' x 10') is $200.00.
Corner spaces, by request and based on availability are $25 extra.
All displays must be kept inside your allotted space.
No additional tables or displays are permitted in the right-of-way. Please consider this when deciding whether a single or double space will best suit your needs.
All tents or canopies must be flame resistant. Documentation is required to support this.  Tents will be inspected on site by Fire Personnel.  They will insist your tents are anchored, not just weighted.  All 4 corners must be anchored to the ground.  I cannot stress enough how serious our Fire Division is about this–every tent will be inspected and artists will be made to be in compliance.  Tents must be anchored on all four corners to withstand 80 mph winds. Stakes and ropes must be used for this purpose. Weights are not acceptable as the only means of anchoring your tent.
Responsibility of compliance rests with the artist. Fire Prevention Office personnel at 614-583-5119 will answer any questions concerning the above guidelines.
Our on-site jurors will judge artists' work in their festival booth. All exhibits must be in place by Monday, September 3 by 10 am, as judging will begin at that time. Award recipients will be invited to return next year without jurying and will receive an open space at no charge.
Each artist must be present and oversee his/her work. Booths may not be moved from the assigned space before 4:15 pm. For your comfort we suggest you furnish your own table, chairs, and umbrellas for shade.
Electrical service is not available.
Generators are not permitted.
Batteries are not permitted.
The Upper Arlington Arts Festival does not take a percentage of artist's profits. The artist handles all sales.
WE OFFER
Free parking provided in a lot set aside for the artists
A continental breakfast
An opportunity to order box lunches (delivered to each booth)
Volunteers for booth sitting with advanced scheduling
An extensive marketing campaign (print media, television, social and radio)
$1,350 in awards
100 postcards by request so that artists can notify their customers about the event and/or a pdf of the postcard for emailing and blurbs for facebook and twitter
Programs published with the artists' names, a map of the festival area and the festival events sent to 27,000 households and available on site for patrons
A well-marked map and list of nearby motels
Set-up/Inspections/Registration on Sunday, September 2, 1–6 pm, or Monday, September 3 from 7–8:30 am.
By linking to other Web sites, the City of Upper Arlington is in no way responsible for the information contained therein. As a courtesy, The City of Upper Arlington offers the following resources:
Artist Inside Tips
A helpful collection of tips from Festival Artists who have previously participated in the Labor Day Arts Festival. Check out their tips on Applying, Being Prepared and How to Set up your Booth.
How to Write a Compelling Artist Statement
A how-to guide on writing an artist statement that helps a viewer relate to your work.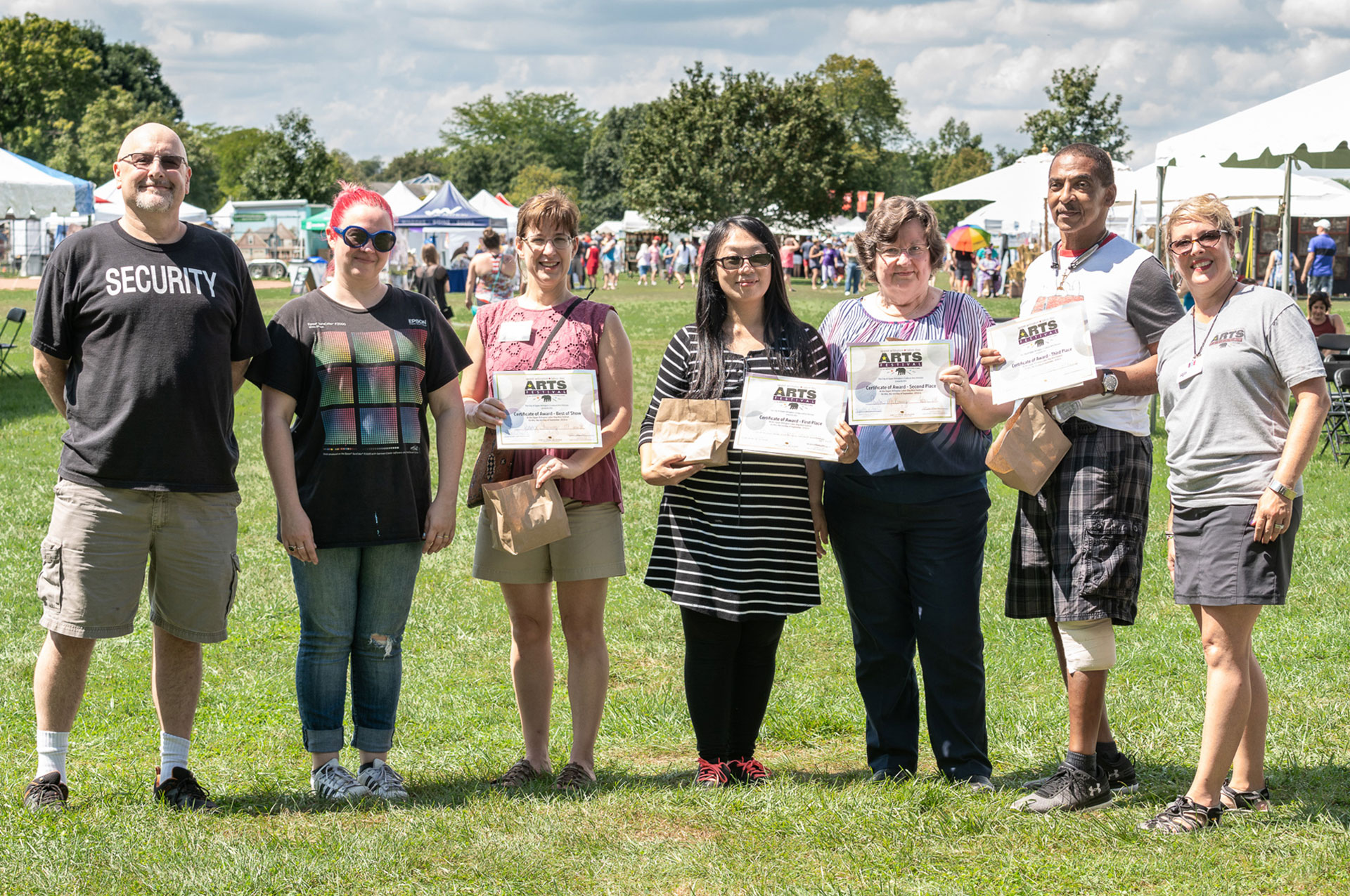 We are thrilled to announce our award-winning artists for the 2018 Upper Arlington Labor Day Arts Festival! Congratulations to this year's Best of Show, Peggy Schuning Mosaics (Mixed-media 2D), Booth 117. 1st Place Wayne Gao & Michelle Chang (Mixed-media 3D), Booth 131. 2nd Place Paula McKinney Divine Fiber Arts (Fiber), Booth 124 and 3rd place Antonio Matthews (Drawing), Booth 84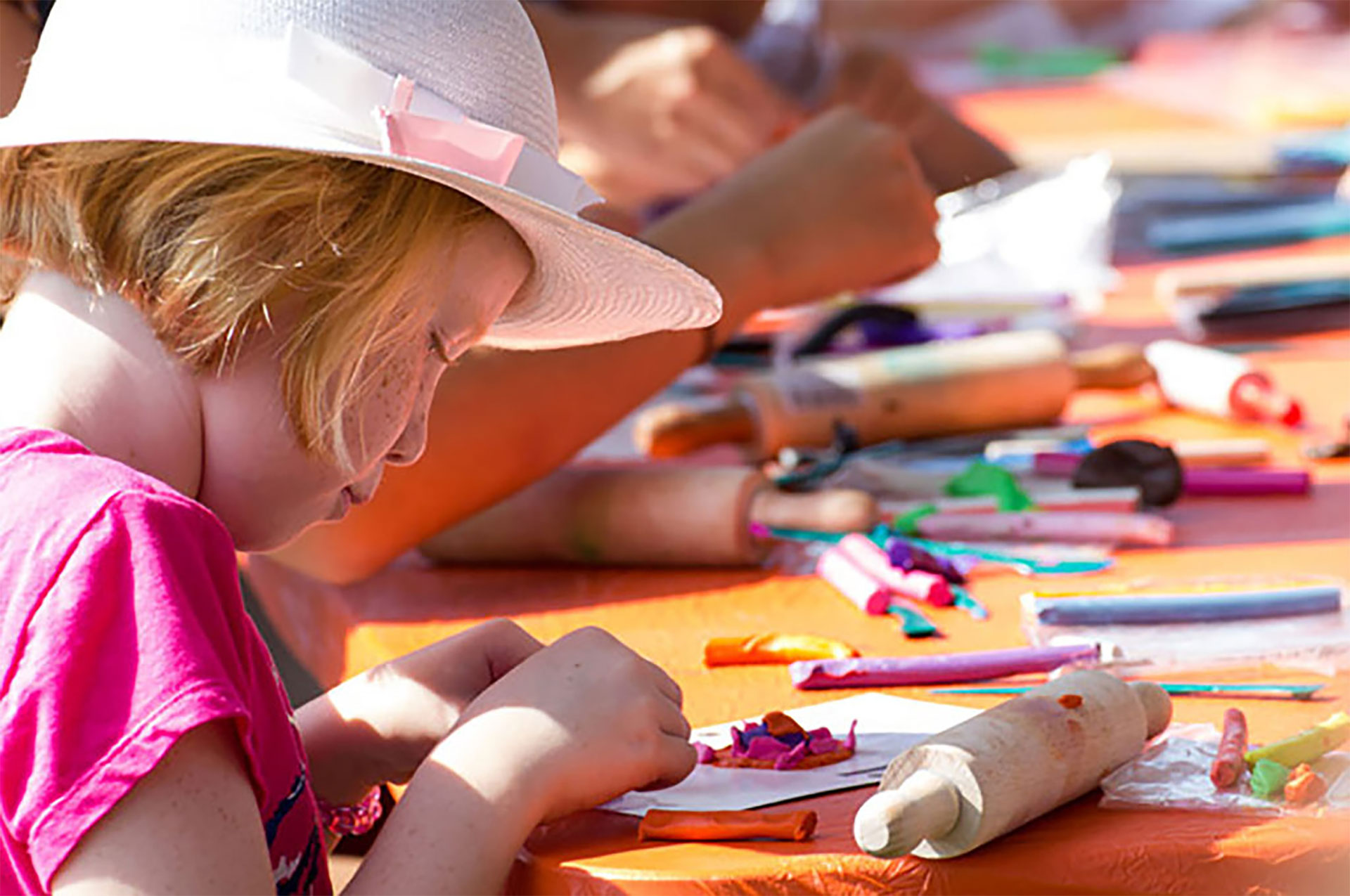 Be a part of the art at this year's Art Activities Area. We have created a variety of arts opportunities for all ages with specially-designated hands-on activities in our art spots.
2019 Art Activities
| Artist | Activity |
| --- | --- |
| Noor Memon | Henna |
| Candace Mazur-Darman | Interactive dramatic area |
| Musicologie | Play music/make instruments |
| Dizzy Doc | Balloon sculptures |
| Franklin Park Conservatory | Butterfly finger puppets |
| A Face Painting Mom | Face painting |
| UA Library | Paint with robots |
| | |
| Revised | 7-24-19 |
Every year the Labor Day Arts Festival showcases a variety of talented performing artists. These quality performances echo the diversity and the talent shown throughout the festival. There are two performance stages at this year's festival. Look for entertainment on the Arts Activities Stage for children and adults, as well as the Main Performance Stage and Grass Mural Area.
COMMUNITY BOOTH OPPORTUNITIES
10'x10' space at festival.
The tent displays must be in place and all vehicles off site by 9am Monday, September 2, 2019.
We will provide parking passes for your vehicles.
We will provide one 6 ft. table and two chairs; we do not provide tents. 
Displays must be contained within your space.
Information may be passed out to visitors; nothing can be sold.
No electricity or water is available.
Tear down of your space can begin no earlier than 4pm Monday, September 2, 2019.
For the safety of all festival goers no vehicles will be permitted on site until 4:15pm.  Upper Arlington Labor Day Arts Festival reserves the right to decline participation in the Festival.
Fees:
Non Profit: $100 (501 c3 must be provided)
UA Based Non Profit: $75 (501 c3 must be provided)
UA For-Profit Business: $300
Franklin County (Outside of UA) For-Profit Business: $450
| Vendor | Vendor Info |
| --- | --- |
| Angry Weiner | 15 varieties of hot dogs, beer battered fries |
| Cheesy Truck | Variety of grilled cheese and sandwiches, famous tots |
| Cosmic Kettle Corn | Kettle corn, caramel corn, lemon shake-ups |
| Cousin's Maine Lobster | Variety of lobster rolls, lobster grilled cheese, lobster tacos, shrimp tacos |
| Cupzilla | Korean BBQ in a cup |
| DrankTank | Cold coffee and tea |
| Giant Lemonade | Fresh squeezed lemonade |
| Graeter's | Ice cream, chip wheelies, bottled drinks |
| J Pops | Ice pops |
| Kona Ice | Shaved Ice |
| Lil' Pearl Waffles | Variety of Belgian waffles with toppings |
| Pitabilities | Gyro, chicken pita, steak pita, salad bowls, possibility fries |
| Savier Street Grill | Gourmet sandwiches |
| Schmidt's of German Village | Bahama Mamas, jumbo frankfurter, jumbo cream puff, sides, drinks |
| Short North Bagel Deli | Bagel sandwiches, assorted bagels with cream cheese |
| Snowie Daze | Shaved ice |
| Skyward Grille | Philly cheesesteak, chicken Philly, gyros, kids' hot dog, bratwurst |
| Squeaky's Cheese Curds | Dairy fresh battered and fried cheese curds |
| Tortilla Street Food | Tacos, burritos, nachos, quesadillas, bowls |
| | |
| Updated: 7-24-19 | |
Food Truck Safety Guidelines For Festivals and Public Events in Upper Arlington
A fire extinguisher(s) of the proper size and type for the fire hazard(s) presented by the truck and its equipment is required (Minimum size is 2A:10BC).

Each fire extinguisher must have a current annual inspection tag.
K-class extinguishers are required for trucks using deep fat fryers.

Trucks with built-in automatic suppression systems must have a current inspection tag.
All fueled equipment (propane, gasoline, diesel fuel, etc.) must be properly connected to its fuel source and operated  per manufacturer's and Ohio Fire Code requirements.
Combustible materials must be properly separated from heat and ignition sources.
All electric extension cords used must be in good condition. Damaged, frayed, or altered cords will not be allowed.
This is a list of the deficiencies most commonly found during our food truck inspections and does not cover every  requirement. All safety requirements of the Ohio Fire Code will be enforced.
Feel free to contact the Upper Arlington Fire Prevention Office, if you have any questions or concerns regarding these guidelines and your food truck configuration at 614-583-5115.
Please follow these SWACO best practices to help us with waste reduction in Upper Arlington. 
We will have recycling and trash receptacles located throughout the Festival and flags to help you and our patrons find them. 
Please consider these questions when preparing for our event this year:
What items will be served or are available for guests?
How are the items packaged?
Can you provide reusable service ware (i.e. tablecloths, silverware, glasses, mugs, plates and cloth napkins that can be washed and reused)?
If not, will you provide recyclable items?
Note: Plastic cups, plates, and utensils aren't accepted for recycling and most composting facilities cannot process 'compostable' bio-plastics.
We want you to adopt these practices:
No Polystyrene/ Styrofoam
Break down and recycle cardboard (we will come by throughout the day with golf carts to collect this)
No relocating bins without approval
Swap plastic cups for reusable or paper (non-wax) cups
Make napkins available upon request only
Offer bulk condiment dispensers
'Leave no trace' after the event
Our volunteer sign-up is offered in partnership with Experience Columbus. Sign up for various shifts in the following areas below: art activities, information, set-up & tear-down, refreshments and performances. When you start the registration, it will prompt you for your name and email address so it can pull up your information if you are already in the database. The information you enter is secure and not shared with anyone. You will, however, be asked if you are interested in other community volunteer opportunities, it is your choice to opt-in for that or not.
Be a part of the art and join our Coordinating Committee. Our dynamic group of volunteers who plan the Festival, begin monthly meetings in January. In July the Coordinating Committee meets with City Staff, the Coordinating Committee's counterparts, to finalize details of the Festival. The Art Activities Committee works with the Parks & Forestry Division to layout the site and arrange for the physical needs of the space and supplies. The Artists' Management Committee works with the Parks & Forestry Division to accommodate artists' needs and to mark the site for booth space. The Logistics Committee works to arrange the physical space at Northam Park and with the Fire, Police, Electrical and Streets Divisions to discuss everything from compliance to grass murals. Our Performance Committee relies on the Parks & Forestry, Electrical and Streets Divisions to help move performers in and out of Northam Park all day. The Refreshments Committee works with the Fire, Parks & Forestry and Electrical Divisions to ensure vendors are following city codes and providing safe and delicious food and beverages. The Volunteer Committee works with the Parks & Recreation Department to move people around the site and provide for artists' support, as well as, support to run the Festival.
By working with City Staff, the Community gains a better understanding of their community and how its government serves them. It is truly gratifying to watch the interaction. For more information or to join this dynamic group contact Cultural Arts Division.
CONTACT CULTURAL ARTS DIVISION