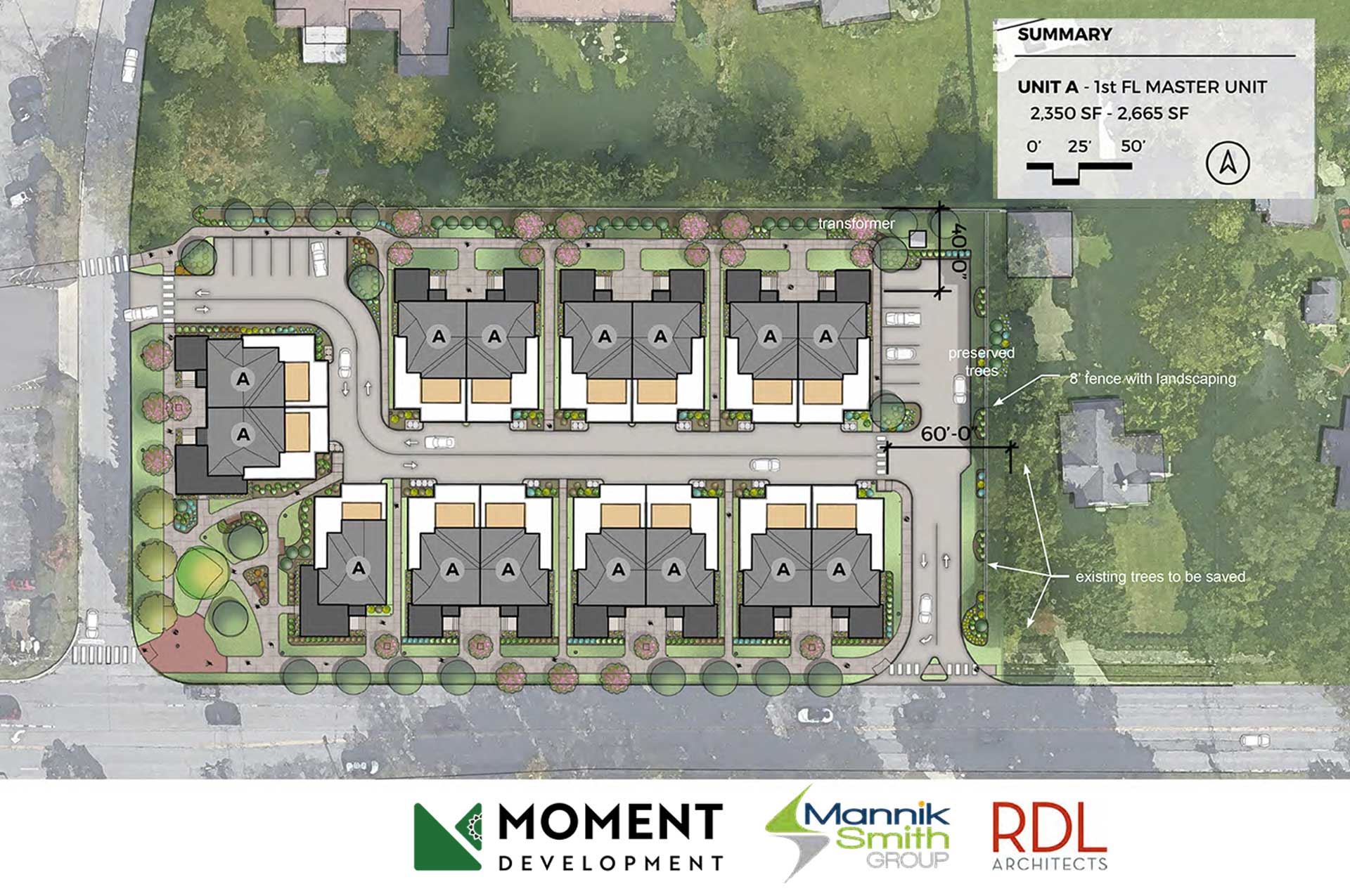 Proposed Fairlington Heights Condominium Project
The Fairlington Heights rezoning and condominium project has been working its way through the public review process since February. At the May 18 Board of Zoning & Planning Meeting, the Board voted to recommend to Council its support for a revised proposal.
Located at the northeast corner of Fishinger Road and Fairlington Drive – adjacent to the Scioto View Shopping Center on Riverside Drive – the project originally proposed the rezoning of four residential properties to make way for a 29-condominium project.
Following extensive input provided to the developer through a City-department review process led by the Planning Division, at several Board of Zoning and Planning meetings and from many residents who expressed concern about the proposal, revised plans were submitted that reflect the feedback received. Of note:
The site size was reduced from 2.42 to 1.92 acres, with one property fronting Donna Drive removed from the application and to remain as a single-family parcel.
The number of condominiums was reduced from 29 to 22, lowering the density and allowing for more greenspace.
Row houses along Fishinger Road were re-oriented to parallel the right-of-way, providing additional greenspace between the buildings and the properties to the north.
The amount of guest parking spaces was increased from 13 to 19 spaces.
Rooftop balconies were re-oriented and moved from the north side of the buildings to the south to address privacy concerns.
The rezoning request will now head to City Council for its consideration, per the following schedule:
City Council Meeting – 7 pm, Monday, June 6: First Reading, Public Hearing
City Council Meeting – 7 pm, Monday, June 13: Second Reading, Public Hearing
City Council Meeting – 7 pm, Monday, June 27: Third Reading, Public Hearing, Council Action
Full details of this proposed project, including renderings from both the original submittal and the latest version to be reviewed by the Board of Zoning and Planning can be found here. City Council agendas and meeting access details can be found here.