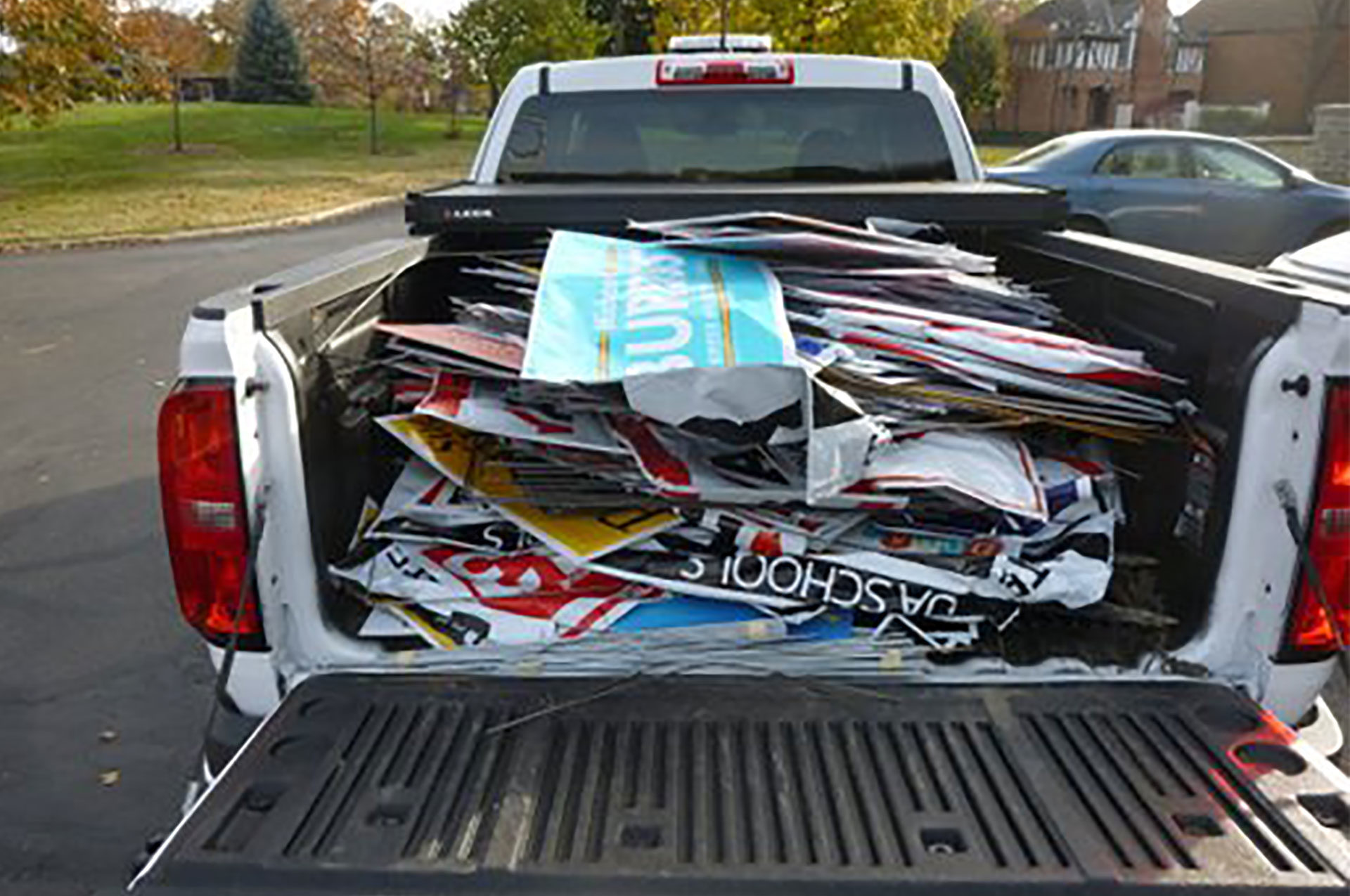 Rules of the Road for Political Signs
We are officially into the fall election season. For a community of residents who take their yard signs seriously to show support for candidates or issues, now's a good time for a friendly reminder on political signs.
First, here's an overview of the guidelines we like to share each year:
The City is non-partisan. Though Council may choose to support specific ballot issues, City Council does not endorse political candidates.
The City cannot and does not regulate language on political signs. Call the Ohio Elections Commission (614-466-3205) or click here to register a concern.
The City can regulate the size and location of political signs and can only request that a sign be removed from private property if it is deteriorating or in the public right-of-way. In either event, call Code Compliance (614-583-5073) or click here to complete an online request.

Temporary signs on residential property must not exceed eight square feet in size, should not exceed four feet in height, and there should be no more than five signs per property;
Temporary signs on commercial property must not exceed 20 square feet, should not exceed six feet in height, and there should be no more than one sign per street frontage.

Political signs on private property are themselves private property. Theft charges will be filed against anyone found to be taking such signs.
The Police Division recommends that you place your name on your political signs for tracking purposes so they can be returned to you if stolen and later recovered.
The public right-of-way includes the tree lawns next to sidewalks that are immediately adjacent to the street, in both residential neighborhoods and commercial areas. In instances where there is no sidewalk, signs placed within six to eight feet of the street may still be in the public right-of-way. To determine the right-of-way for your property, visit our Archives Portal, then search for "Right of Way Street Index" in Development Projects, and be sure to include the search timeframe of March 1997 (when the document was created).
If our code compliance officers come across signs placed in our parks or in traffic medians, they will remove them. Any signs that are collected will be kept at the Municipal Services Center until the week following the election. To check that we have your sign and reclaim it, please call 614-583-5070.
Immediately following the November 5 election, we like to facilitate the recycling of old political signs in partnership with SWACO. Just bring your old signs, metal stands included, to the Community Development Department by Friday, November 8 and we will drop them off at the Bill McDonald Athletic Complex (4990 Olentangy River Road) during SWACO's Saturday, November 9 collection, which runs from 8-11 am.
As evidenced by the many signs placed throughout many neighborhoods, a majority of residents do understand the restrictions, their value in helping to protect the aesthetics of our neighborhoods and abide by them. We respectfully request that all in our community follow suit.