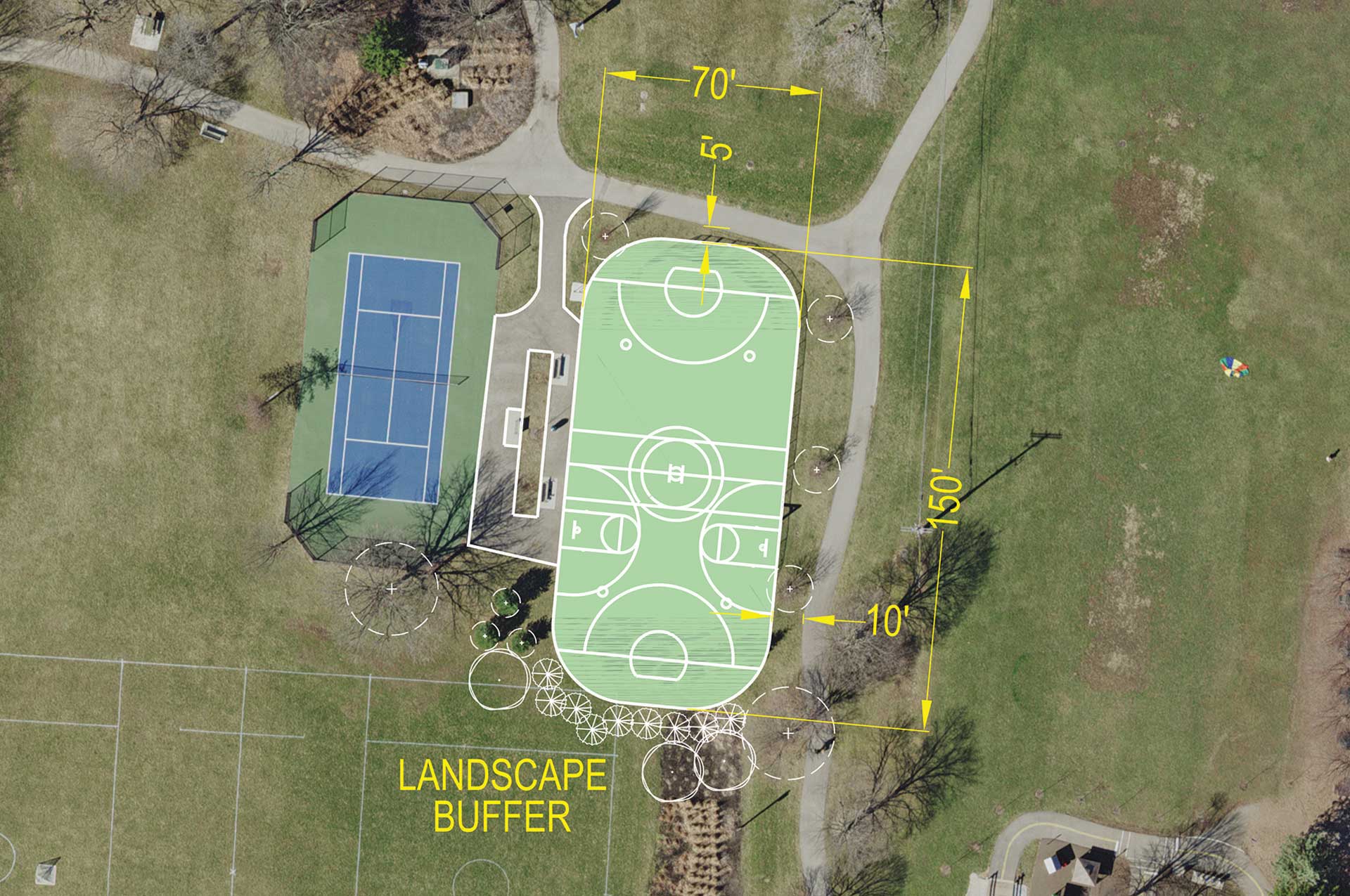 Sunny 95 Park Multi-Sport Court Improvements Open House
6-7:30 pm, Tuesday, August 3, 2021
Onsite at the multi-sport court in Sunny 95 Park
In the event of rain, the Open House will be held in the Amelita Mirolo Barn
The City of Upper Arlington Parks & Recreation Department invites residents to an Open House regarding the proposed expansion of the multi-sport court in Sunny 95 Park. The Open House will run from 6-7:30 pm, on Tuesday, August 3 at the existing court. In the event of rain, the Open House will be moved inside the Amelita Mirolo Barn. Residents are encouraged to stop by at any time to speak with staff and view the proposed improvements.
This proposed project has resulted from a request by the Upper Arlington Lacrosse Association (UALA) to expand the footprint of the multi-sport court, to accommodate box lacrosse in addition to roller hockey and basketball. UALA is ready to provide financial support to help make the project possible.
The proposal includes:
Increasing the court size to 70' X 150' (the current dimensions are 56' X 120')
Upgrading the wall structure with a 42" tall dasher board system, with a 60" tempered glass containment shield
Installing a gray concrete playing surface with painted striping
Installing four, 30-foot-tall pole lights
Parks & Recreation Staff have reviewed the proposal and believe it is consistent with a 2018 Parks & Recreation goal to "update all park infrastructure items that are outdated and need enhancement." Additionally, by enhancing an existing use, the proposed improvement would not negatively impact the aesthetics and other uses in the park, such as the Amelita Mirolo Barn, tennis courts and walking paths.
We hope you can join us on Tuesday, August 3.