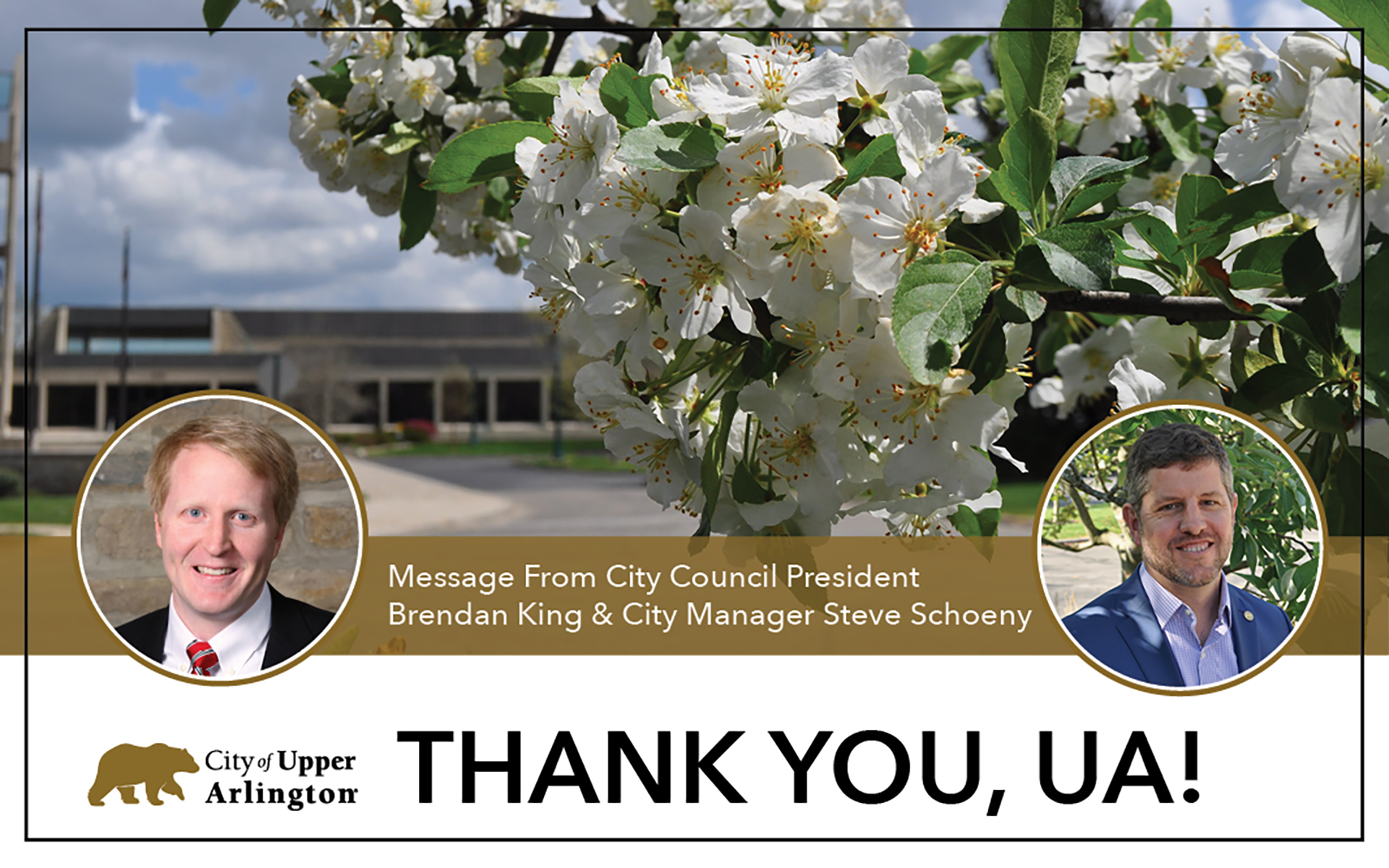 Thank You UA! Community Center Ballot Issue Passes
The ballots have been counted, and Upper Arlington's residents have been heard – they want a community center at Kingsdale, paid for according to the plans developed by the Community Center Feasibility Task Force, following an extensive 18-month study process that included three surveys and more than 3,200 points of input from residents.  Ballots were cast after we did our best to inform residents on the question before them – through our website, emails, newsletters, brochures and social media platforms – and following wide-ranging debates throughout the community. Our voters took the time to understand the issues and tradeoffs, and they decided by almost 80% yes to 20% no that we should move forward.
This all began with a resident-led process to build a plan.  We have to start by thanking the 16 members of the Community Center Feasibility Task Force: Nick Lashutka and Margie Pizzuti who served as Co-Chairs, Dianne Albrecht, Kelly Boggs-Lape, Yanitza Brongers-Marrero, Supen Bowe, Greg Comfort, Wendy Gomez, Merry Hamilton, Chuck Manofsky, Linda Mauger, Linda Moulakis, Brian Perera, Matthew Rule, Todd Walter and Bill Westbrook.  They persevered through the pandemic, found new ways to engage with the community and were amazingly open and transparent.
Now the hard work begins.  This summer the City will hire a design team to take the Task Force's vision, improve on it, and develop final plans.  That improvement process will focus on making sure that we have an efficient building that balances all of the uses that our residents desire.  We will make sure that the exterior of the building looks great, but our real focus will be getting the functions of the building right.  Over the next year, we will be back out in the community to explore the options and get your input.
Once we are finished with design, we will have to go through the process of construction.  We expect that it will take about two years to build the building.  Throughout this period, we will remain focused on ensuring that the construction is safe and on budget.
We recognize that a significant minority of our residents were skeptical enough to vote no.  We respect that many of you took the time to become educated, and cast your ballots based on real concerns.  While we are moving forward, we take these concerns about financial sustainability, accessibility, traffic and design seriously, and we will continue working to address them.
Finally, we want to thank our residents for committing to Upper Arlington's future.  A new community center will help us shape a future that is healthy, welcoming and connected.  We will continue to need your help, but approval of this ballot issue was a monumental step forward.