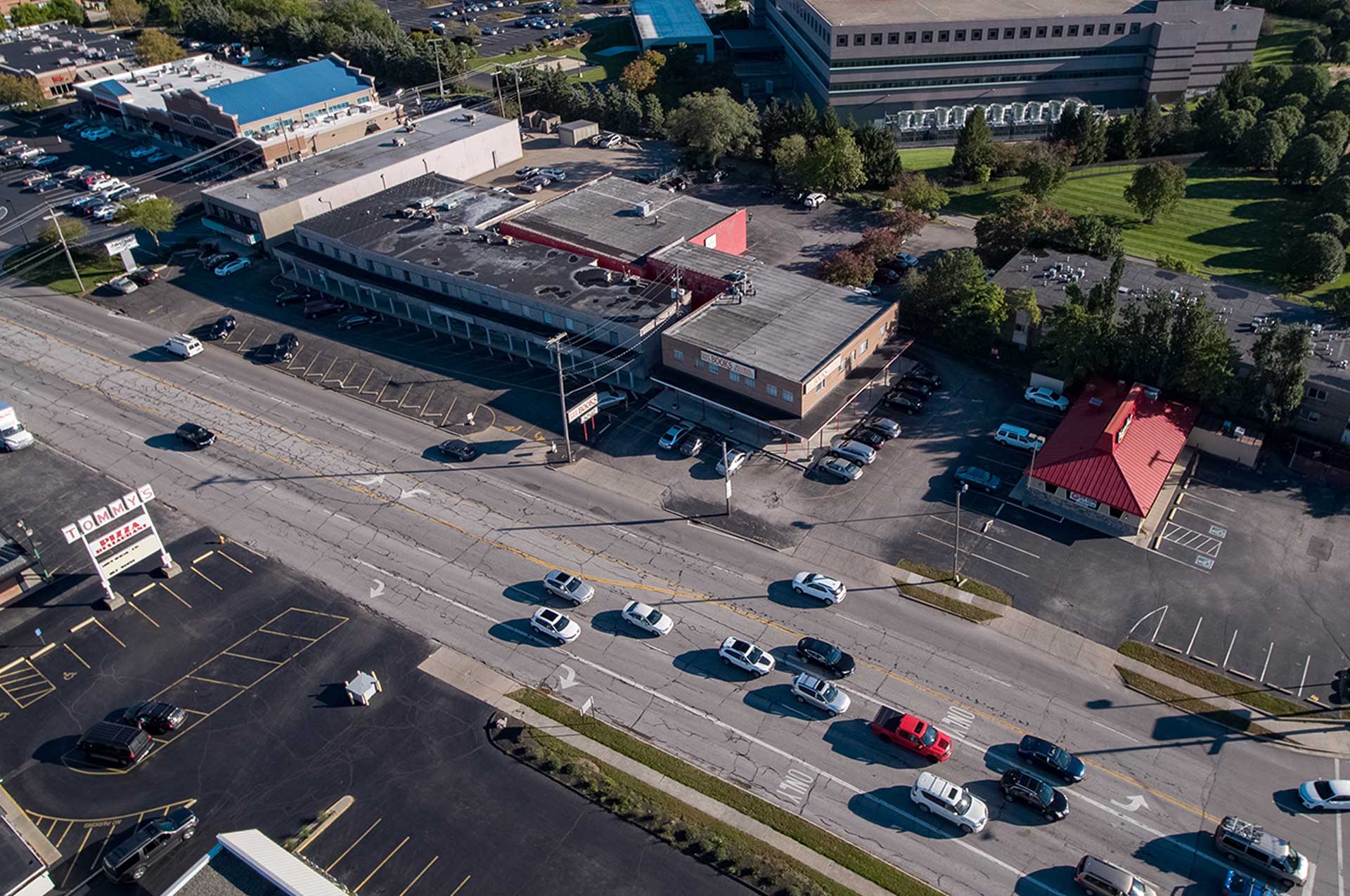 Two Notable Redevelopment Projects Continue the Evolution of UA's Commercial Districts
A pandemic has not slowed the growth that has been occurring in the Columbus region over the past several years. In some ways, this fact is more pronounced as a result of COVID-19 – as health and safety requirements begin to loosen and we start a slow return to life outside our homes, across the region there are many notable changes to the built environment around us.
Close to home, construction cranes can be seen in full force on OSU's West Campus, and a mix of town homes, apartments, retail and office is rising from the ground at the Quarry Trails development to our southwest, which will also be the site of the new 180-acre Quarry Trails Metro Park.
Within our community, in 2020 the City's Community Development Department experienced its second highest year for permit activity and construction value – with more than $80 million of the $128 million total attributed to home renovations, additions and new homes – as significant commercial projects continued (UA Schools, Lane II and the Fairfax at First Community Village).
The pace is not letting up, with two notable commercial projects in their early stages or about to begin. Combined, these two projects alone will have a construction value in excess of $160 million.
Kingsdale Mixed-Use Project
In March, the Board of Zoning and Planning approved Continental's Final Development Plan for two of the buildings slated for the former Macy's site at Kingsdale. The project places an emphasis on providing senior and multi-family housing options, reflecting current development trends and complementing the existing mix of retail, restaurant and office uses at Kingsdale, and will include:
A seven-story senior housing apartment building, with 142 assisted and independent living units, with a 6,000 square foot restaurant, including outdoor dining, on the ground floor facing Tremont Road.
A seven-story building along Northwest Boulevard, with five floors of 325, one- and two-bedroom apartments and two amenity courtyards over a two-story parking garage.
Eight, two-story townhouses fronting Northwest Boulevard that would back up to the structured parking.
The developer has indicated that construction will begin early summer, with a tentative completion in 2023.
The southwest portion of the site is serving as a placeholder for one of two options, subject to the outcome of the May 4, 2021 Community Center Ballot issue:
A seven-story community center building, with the first five stories dedicated to community center use, with two levels of office space on floors six and seven.
A nine-story building, with 75 apartments, 50,000 square feet of office space on the first two floors, and structured parking.
Arlington Gateway
If you've driven along Lane Avenue lately, it's pretty clear that change is coming to the corner of Lane and North Star. After several iterations and public reviews of the proposed redevelopment – dating back to 2016 – work has begun on Continental Real Estate's Arlington Gateway project.
The buildings that once housed Pizza Hut, Half Price Books and Darron's Furniture have been razed and the construction site has been fenced off in readiness for the new project to rise from the ground.
Expected to take approximately two years to complete, the Arlington Gateway project will be comprised of:
Ground floor retail and restaurant uses totaling 27,000 square feet
225 apartments on the 2nd-6th floors, wrapped round a seven-story parking garage with 866 spaces
An additional five stories on the east side, with 139,000 square feet of office space
To provide a safe construction zone and staging area, it will be necessary to reduce Lane Avenue eastbound to one lane immediately in front of the project. The City's Engineering Division will be closely monitoring the area for possible traffic impacts, and if necessary, will implement traffic signal timing adjustments.
For full details on these and other significant development projects in the community, visit the Community Projects section of our website.