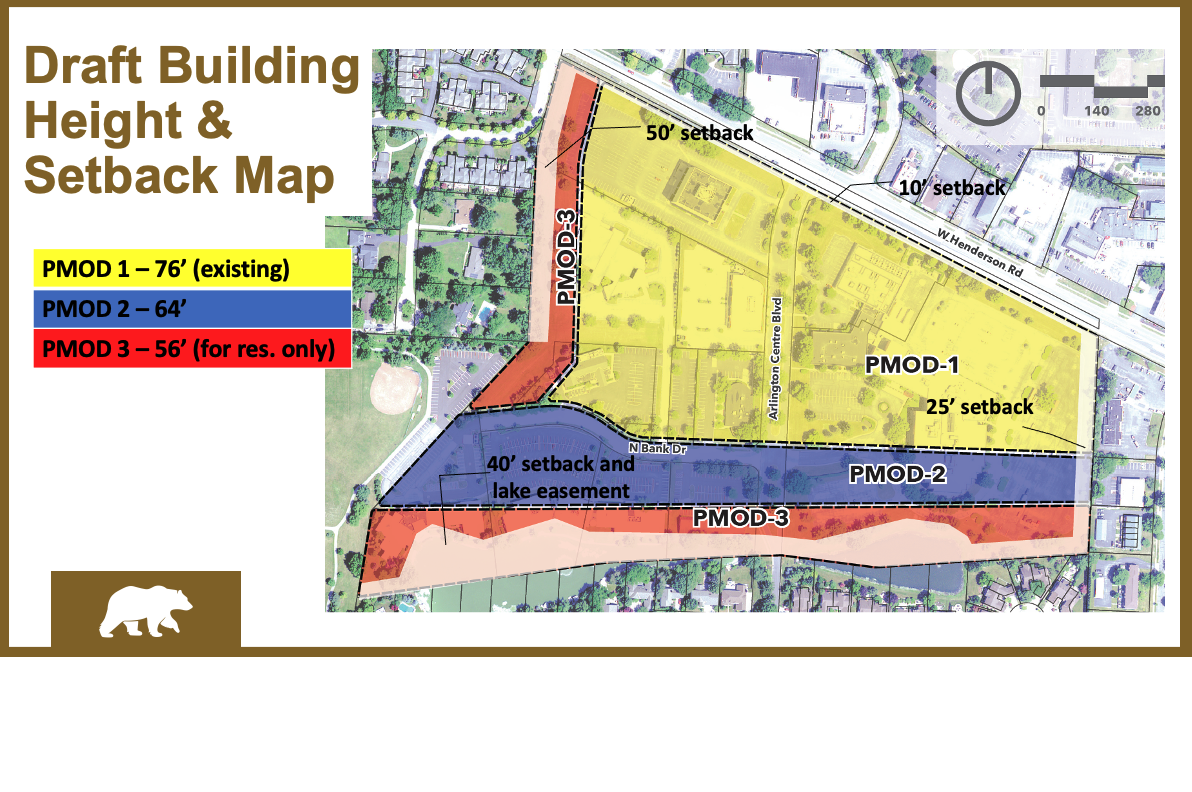 Update on Proposed Zoning Amendments to Office District off Henderson Road
The City has been undertaking a public engagement and review process relative to proposed zoning revisions for a portion of the ORC Office and Research District located on the south side of Henderson Road. The proposal is to rezone this area as a Planned Mixed Office District (PMOD) with the intent of retaining a significant amount of office space within the district, while allowing for a limited number of additional uses, such as residential and retail, as future redevelopment projects occur.
This review process began in September and has included a series of community meetings so that Staff could share insight on what has been under consideration and to obtain community input. Throughout this process, adjustments have been made to the proposal to accomplish the best possible outcome for the surrounding neighborhoods, the Henderson Road corridor and the community as a whole.
The proposed zoning revisions were reviewed by the Board of Zoning and Planning in October. The Board voted to recommend the revisions to City Council, with a condition to further consider a building height transition for the lakefront properties.
Council's review of this proposal began in early November, with further discussion on building height transition.
At the November 14 City Council Meeting, Staff presented an updated draft of the proposed zoning code amendments, along with a Draft Building Height and Setback Map (shown above) that depicts the recommended transition approach, with:
Setbacks or "no build" areas: fronting the lakes (40 feet), west side of the district (50 feet) and properties to the immediate east of the district (25 feet).
An initial allowable building height of up to 56 feet for residential uses overlooking the lakes.
A transitional area allowing building heights of up to 64 feet.
Maintaining the existing allowable building height of up to 76 feet for the core of the district and fronting Henderson Road.
Of note, under the current Office and Research District zoning, the allowable building height is 76 feet throughout the district, with no transition requirements.
The draft zoning code amendments and map can be viewed here.
As a reminder, any proposed redevelopment projects in this district would still be subject to the City's public review process for major site plans. This would include public outreach and the Board of Zoning and Planning's formal review and approval process.
Recognizing that this latest proposal has been developed toward the end of the public review process, Staff and Council determined that an additional public hearing should be added to Council's review schedule, per the following:
7 pm, Monday, November 21 – 3rd Reading, Public Hearing,
7 pm, Monday, December 5 – Final Reading, Public Hearing, Council Action
For full details on what is being proposed, visit our project webpage.
If you wish to share your thoughts with Staff and City Council, we encourage you to either attend the upcoming City Council meetings, or to send an email to [email protected].