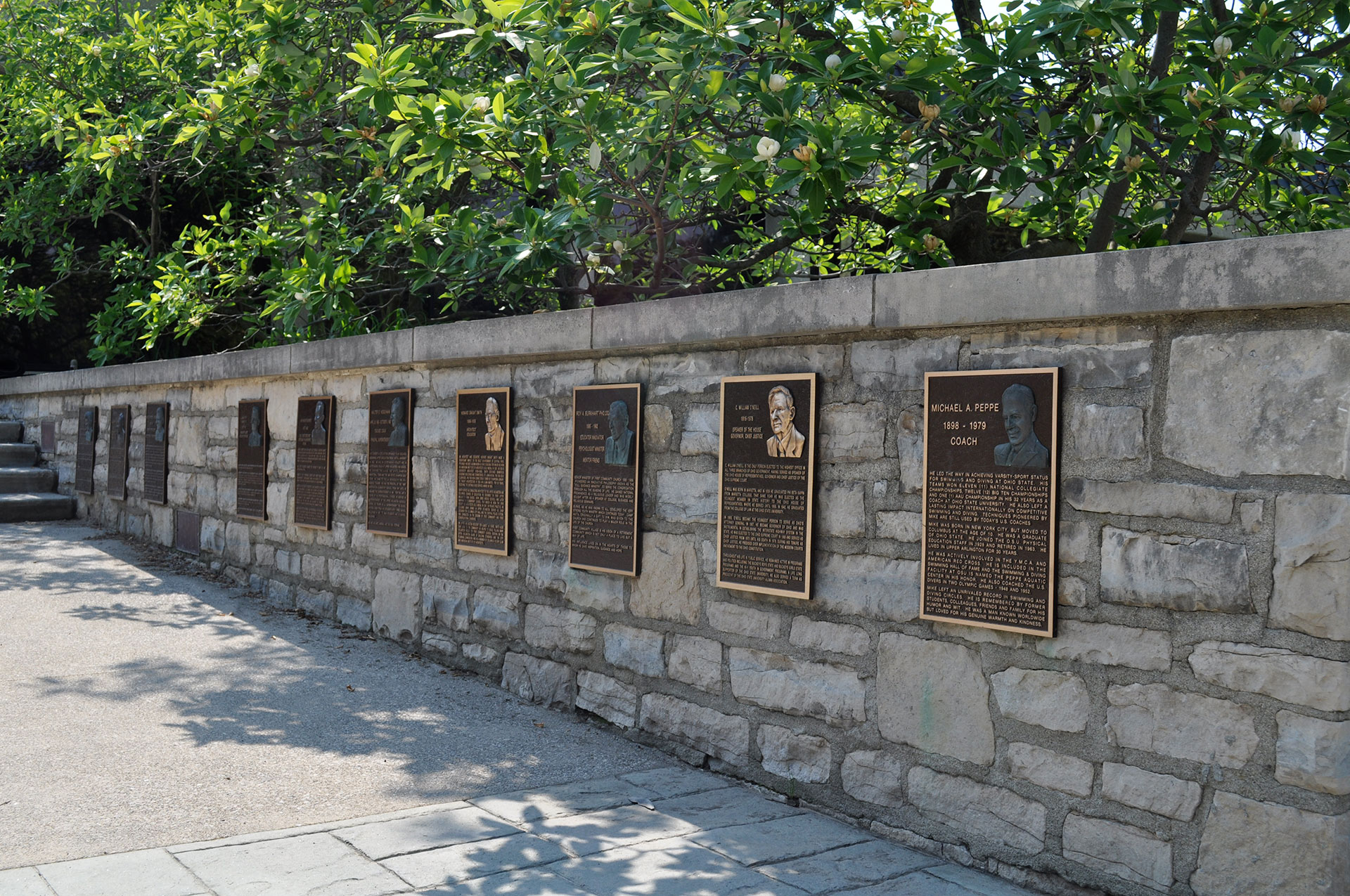 Sunday, June 6 was a very special day for two UA families, as the City and UA Historical Society were finally able to gather for two Wall of Honor induction ceremonies that had been postponed in 2020 as a result of the COVID-19 pandemic – UA's first Parks & Recreation Director, Ken Thompson, and the Upper Arlington Community Foundation's first Executive Director, Linda Readey. Below are the plaque texts that capture the essence and accomplishments of two individuals who loved and gave their very best to their community and their families.
KEN THOMPSON
February 9, 1934-February 5, 2016
First Parks & Recreation Director
As the City's first Parks & Recreation Director and over his 26-year tenure, Ken Thompson nurtured and expanded the community's treasured parks network, amenities and offerings, with much of his legacy still enjoyed by residents today. He led efforts to acquire or develop major community parks, including Fancyburg, Northwest, and Lane Road (renamed Thompson Park in 2004 in his honor). Notable programming accomplishments included formation of the Senior Center; Northam Park clay tennis courts; cooperative efforts with the Schools to manage and own the community's three outdoor pools; development of special recreational opportunities such as a playground for persons with disabilities at Fancyburg Park, and the Cardiff Woods and Smith nature parks; formation of the Cultural Arts Commission and growth of arts and culture activities such as the Labor Day Arts Festival; development of street tree legislation and formation of a parks & forestry program; the first Therapeutic Recreation Program in Central Ohio. Ken's public service and sports accolades are many, including: President, New Jersey Parks & Recreation Society; Northam Tennis Wall of Fame; Paul Harris Fellow, Upper Arlington Rotary Club; Varsity "O" at The Ohio State University; Ohio State Football Team (1953-1956) and National Champion (1954).
LINDA READEY
March 9, 1945-March 26, 2016
Having light, we pass it on to others
At Wittenberg University, Linda was tapped as a "Shifter," a changemaker who reflected the motto "Having light, we pass it on to others." Linda carried her light to UA, ultimately becoming the founding Executive Director of the Upper Arlington Community Foundation. There she helped the Foundation achieve its first major gift to UA – the Amelita Mirolo Barn at Sunny 95 Park. Linda was a tireless and guiding example for volunteerism. She served eight years on the UA School Board and was a graduate of the Columbus and UA Leadership Programs, an active member of the UA Rotary, the President of the Children's Hospital Guidance Center, a Board member for First Community Church, and the Director of Promote UA. Over seven years with the Franklin County Convention Facilities Authority, Linda helped see through the massive undertaking of the design and construction of Columbus' first world-class Convention Center, participated with Downtown Columbus to develop and support major sports and arts events, and planned the hosting of the United Nations Trade Summit. Linda was Rotary's Northwest Woman of the Year in 1983 and received the Margine Moul Leadership Award in 2011. With a sparkling smile, innovative creativity, and superb communication skills—and as a loving wife to her husband of 48 years, Jim; as an adoring mother to her sons Jay and Jonathan and a wonderful grandmother to her grandchildren Chad, Evelyn, and Oliver; and as a true friend to so many—Linda was a builder of community, teamwork, and ideas. She brought joy and adventure to her community service.
The Upper Arlington Historical Society and City of Upper Arlington first partnered to establish the Wall of Honor in 1990. That year, six individuals were honored and placed on the wall, ranging from the community's founders—Ben and King Thompson—to a pioneer of the peace-time industrial use of atomic energy—H. Roy Chope. The June 6 ceremonies brought that number to 47. They represent the very best of the human mind and spirit: scientists, doctors, philanthropists, community volunteers, special issues advocates, architects, business owners, governmental leaders, and sports heroes. Whether they played a prominent role on the national stage or quietly went about improving lives on a local level, all were remarkable individuals who made a positive difference for others during their lifetime.
The best way to learn more about UA's Wall of Honor is to visit the Municipal Services Center Plaza to read the stories of these remarkable individuals. Alternatively, you can find these stories on the Upper Arlington Historical Society website, at uahistory.org.
Watch for details of the 2022 Wall of Honor nominating process later this year.