Redding Road Resurfacing Project
6:00 pm – 6:45pm, Wednesday, July 13, 2022
Location: Virtual Meeting
VIEW THE REDDING ROAD PRESENTATION MATERIALS HERE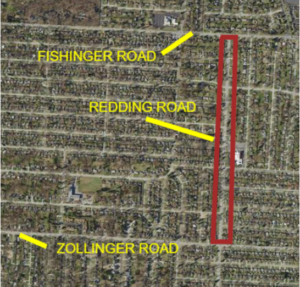 The City of Upper Arlington has included street resurfacing in its budget for 2025 on Redding Road from Fishinger Road to Zollinger Road. Street resurfacing includes new pavement surface and spot curb replacement as needed. The City will be submitting applications for grant funding through the Mid-Ohio Regional Planning Commission (MORPC). Now is the time to start considering other improvements that could benefit your street, enhance safety and promote multi-modal transportation.
As the City works on submitting grant applications for this future project, we wanted to invite you to a public meeting to discuss what improvements may be considered and applied for, as well as to hear residents' concerns or ideas for the project.
At the virtual meeting:
The City will be giving a brief presentation explaining the grant application
Explain the safety and mobility improvements that may be considered
Gather input from residents along Redding Road
Provide contact information if you have concerns, ideas, or questions later
Anticipated Timeline
Grant application in 2022
Design in 2023
Construction in 2025 on Redding Road from Fishinger Road to Zollinger Road
Project Cost
The preliminary cost estimate for the project is approximately $500k, however, this estimate will likely increase pending the outcome of additional improvements being considered and current inflation affecting construction.