Arts on Arlington
July 13 @ 6:00 pm

-

10:00 pm
Back by popular demand! In an effort to support UA artists, artisans and Mallway businesses, UA Cultural Arts Division brings you Arts on Arlington.  Arlington Avenue will be lined with artists and vendors while Mallway Park becomes a relaxing space to grab some food and sip on a cold beverage while enjoying live music at this Upper Arlington Performance Series event.
Performance Schedule
6-7:30 pm – Jesse Michael Barr & The Midnight Stars
7:30-8:30 pm – Francisco Rojas
8:30-10 pm – Eastwood
Food Trucks
Roadster: American, Middle Eastern
Tortilla Street Food: Mexican Street Food
Explorers Club: Eclectic, Comfort Food, Latin American
Demo's Grille: Greek, Mediterranean, Hot Dogs
Adam's Eden Food Truck: Comfort Food, American, Barbeque
Fancy Feeding You: American, Sandwiches, Salads
Little Ladies Soft Serve: Ice Cream
Holy Crepes: French, Comfort Food, Desserts
Drank Tank: Coffee and Tea
Community Groups
Upper Arlington Police Department
Mater Academy Columbus
LifeWise Academy
Upper Arlington Community Foundation
Upper Arlington Commission on Aging
Upper Arlington Public Library
Mallway Businesses Open During Event
Cover to Cover 6-8 pm
GoYoga 8-10 pm
Hyre Personal Wealth Advisors 6-10 pm
Tennis Ltd 6-9 pm
Lupo 5-8:30 pm
Artist and Artisan Vendors
Stay Golden Sundries
Stay Golden Sundries is hometown handmade, specializing in hand poured soy wax candles and hand stamped metal accessories.
FoodSouls'Cuisine
Handmade pastries, snacks, marinades and sauces made from fresh herbs, vegetables and spices.
Deme Art Studio
Acrylic pour products using vivid colors and movement to inspire emotions, invoking various thoughts and interpretations.
ZenEarth Pottery
"My ceramic art grows from my Zen meditation practice. I work primarily in contemporary vases and bowls using Raku, other alternative firing techniques and my own technique of Kinwaru – or torn pottery where the tear or break is emphasized using gold as essential to the beauty of the piece. I am heavily influenced by the Japanese Wabi-Sabi style of accepting beauty in imperfection. I am exclusively a hand builder using slab, coil, and their variations." – Glenn Gustafson
Fallen Feather Project
This memorial was created by wood carvers all over Ohio to honor and remember Ohio warriors who fell as a result of the war on terrorism. This collective memorial was created by individually carved eagle feathers representing each fallen Ohio warrior.
Hannah Moore, Evergraph
Carefully carved illuminated lithophanes from your treasured photographs.
Art Rituals
Unique and handmade pieces sourced from artisans across the globe with the goal of bringing "lost craft and culture" to the surface.
PopUpArt CreateYourSpace
Art prints inspired by color, light, sparkle, and empowerment, featuring women out of the artist's own story reclaiming their power. Inspirational quotes on the back of each piece with a message to promote courage and goodness.
Lab Partners Jewelry
Jewelry inspired by Experimentation and Exploration. New technology combined with 25 years of traditional jewelry-making experience to create fabulous jewelry, stickers, ornaments, and more for budding young scientists, nature lovers, space nerds, and lifelong lab rats.
Jim Siemer, OhioArtwork.com
Vibrant watercolor paintings of Ohio and its suburbs inspired by the Impressionistic and Fauvist movements.
Kelnjo Jewelry
Jewelry made from quality, natural gemstones and handmade sterling silver/gold settings.
Twinzzshop
Whimsical and humorous onesies, t-shirts and hats that celebrate twins, siblings, and "all the single babies" out there made with hand-sewed recycled fabric!
MahLeah Art The Art of MahLeah Cochran
Colorful and abstract acrylic paintings made to inspire, challenge, and calm the soul.
WeeNotes Paper
Thoughtfully-designed paper goods that are equal parts funny and helpful for kids and adults.
Twas Once a Tree LLC
Functional wood pieces made with traditional hand techniques and modern machinery that celebrates perceived "defects" in woodwork.
Megan Lee Designs
Hand printed graphic shirts and home goods with hand drawn designs that pay homage to pop culture, city pride, feminism and more.
Chroma Yadi Fine Art
Mixed media fluid art that ignites a sense of joy and imagination.
Robntiffs Designs
Wooden goods made from a mix of various species of wood with dyed acrylic to create functional yet stunning pieces.
Valerie Long Jewelry
Handmade jewelry from vintage components that brings the unexpected together through shared art elements to create a beautifully unique piece.
Vivian Ripley Fine Art
Plein air paintings and illustrations made with an impressionistic approach that exhibit appreciation for nature's increasingly changing scene.
The following Upper Arlington artists will have their work on display in Mallway businesses July 10 – 17. Most artwork is available for sale.
| | | |
| --- | --- | --- |
| Upper Arlington Artist | Medium | Mallway Business |
| WeeNotes Paper | Paper | Cover to Cover |
| Stay Golden Sundries | Jewelry | Cover to Cover |
| Twinzzshop | Fiber | Cover to Cover |
| Catherine Lang-Cline LLC | Painting | Tennis Ltd |
| Ed Quinn Creative Art | Painting | Tennis Ltd |
| Kathryn Cole | Photography | Vision One Optical |
| Sarah Peters | Painting | Hyre Personal Wealth |
| Manda Marble Art | Mixed Media | Bloomtastic |
| Vivian Ripley Fine Art | Painting | GoYoga |
| Loraine Severance | Painting | Go Yoga |
How to Get to the Event
Road Closures:
Arlington Ave from Guilford Rd to Waltham Rd
N Mallway Drive
S Mallway Drive (access to Devon Pool Parking Lot Available)
Walk/Bike:
The best way to get to this event!
Accessible Parking:
Limited spaces available in the parking lot across from Devon Pool
Must have Disability License Plate or Placard for access
COTA Bus:
Stop ID: 2858/1343 – Northwest Blvd & Guilford Rd
Bus Line 3 – Approximately 10 minute walk down Guilford Rd
Parking:
Street parking available throughout the neighborhood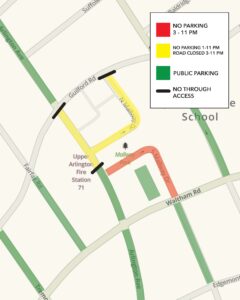 Upper Arlington Performance Series Schedule
Party on the Plaza
Thursday, June 8 | 6-11 pm
Municipal Services Center
3600 Tremont Rd
Music at the Miller
Thursday, June 22 | 6-9 pm
Miller Park
1861 Cambridge Blvd
Arts on Arlington
Thursday, July 13 | 6-10 pm
Mallway Park
2096 Arlington Ave
Songwriter Social
Thursday, October 19 | 6-9 pm
Amelita Mirolo Barn
4395 Carriage Hill Ln