Won't You Be Our Neighbor
Join us every other week for Won't You Be Our Neighbor, the City of Upper Arlington's podcast. Special thanks to Colin Gawel for the theme music.
Episode 22
Council Member Michaela Burriss joins the guys this week and they talk EDM, swimming and housing in UA. Be sure to stick around to the end where Steve makes a bold promise.
Episode 21
Eric Schmidt, general manager for Sunny 95, joins the program this week and the guys talk about Johnny Fever, Christmas music and why Darren should live on a billboard.
Episode 20
Doug Kridler of the Columbus Foundation joins us this week and we learn about him being mistaken for a Rolling Stone, how Bob Skaggs is related to Toto and we also talk about riverboat gambling. Nichole Montgomery from the UA Civic Association also joins us to talk about the work they do in the community.
Episode 19
This week on a very special episode of the podcast, Super Fan Gary Shulman joins us to celebrate Darren's birthday and the Real Deal Jackie Thiel is also here to talk pumpkin recycling and leaves!
Episode 18
Council member John Kulewicz joins us this week and we talk about arguing in front of the Supreme Court and open-water swimming.
EPISODE 17
Chris Holtmann joins the guys this week to talk basketball, recruiting and of course UA in our latest episode of Won't You Be Our Neighbor.
EPISODE 16
Brad DeHays joins the guys to talk about his favorite rap workout songs and some of his most recent development projects throughout town. We're live on location this week from the Municipal Light Plant in downtown Columbus!
EPISODE 15
Najib Kamagate joins the show this week to talk superheroes, baby names, and Comic-Con. Chris Potts with UA Schools is also here to talk about what's going on with the new buildings and parking around the high school.
EPISODE 14
Kenny Mollica joins the guys to talk skateboarding and cyber security with our very own IT director Jeff Kasson. This week's episode is truly gnarvana!
EPISODE 13
Community Affairs Director Emma Speight joins the guys to talk about the second-best way the City communicates with residents and Samir Dahman talks with us about the Berkshire Triathlon.
EPISODE 12
This week is a sweet treat as Jeni Britton joins the guys to talk about starting her ice cream journey right here in UA.
EPISODE 11
Summer School is in session this week as we talk about sweaters and Safety Town with Officer EJ Windham and UA Schools Superintendent Paul Imhoff talks with us about weightlifting and the challenges of the last two years.
EPISODE 10
Summer is here and Matt Leber from Parks & Rec is on to talk about pools and summer camps and the SliderQueen Lisa Ingram joins us to talk about cake on a stick, shoes, and Harold & Kumar.
EPISODE 9
This week we're talking Smurfs and fairy houses with Sam Simmons from our forestry department and Mark Somerson from Business First joins us to talk about Fastlane, parachute pants, and growing up in UA.
EPISODE 8
Guest host Jackie Thiel returns as Darren moves to the hot seat to talk about dispute resolution and Carl Smallwood joins the guys to talk about growing up in UA and his work with the Divided Community Project.
More information on the Divided Community Project.
EPISODE 7
Community Development Director Chad Gibson joins the guys to talk about development and help us understand why Everyone Hates Chad and Upper Arlington Public Library Director Beth Hatch talks about the Library, Comic-Con and some of her favorite books.
EPISODE 6
Steve and Darren talk trash with Katy Rees from Public Service and learn what a Dirty Murph is; then Colin Gawel joins the guys to talk Van Halen, Styx, Insane Clown Posse, and Coffee: The Pizza of the Morning.
EPISODE 5
New Public Service Director Gary Wilfong talks Tom Cruise, Demi Moore, and right-of-way, and Pete Scantland talks travel, running, and Littleton's Market in this week's podcast.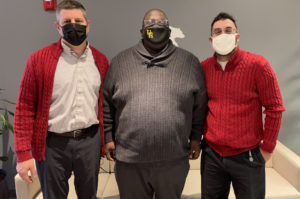 EPISODE 4
Kristin Greenberg, Executive Director of the UA Historical Society, joins the program to talk about Pleasant Litchford and Black History in UA. Matt Boaz, Executive Director of Diversity Equity and Inclusion at Upper Arlington City Schools, also joins us to discuss growing up in Van Wert, 90s Rap and what diversity means to him.
EPISODE 3
In this episode, Steve and Darren are joined by Police Chief Steve Farmer to discuss crime in Upper Arlington and Katie Smith talks to the guys about 90s Rap, Joe Burrow and why she lives in UA.
EPISODE 2
It may be sub-zero outside, but we are talking about summer. On this week's episode, we talk to Parks & Recreation Director Debbie McLaughlin about summer camp registration and the new Play UA program. Bill Hosket also joins the program to discuss basketball, UA and the new Community Center.
EPISODE 1
On this week's episode, Steve and Darren talk to Assistant City Manager Jackie Thiel about ice and snow and how the City responds before and after a storm.  They also have a conversation with Floyd Akins, outgoing chair of the Community Relations Committee, about why he lives in Upper Arlington and his love of funk music.