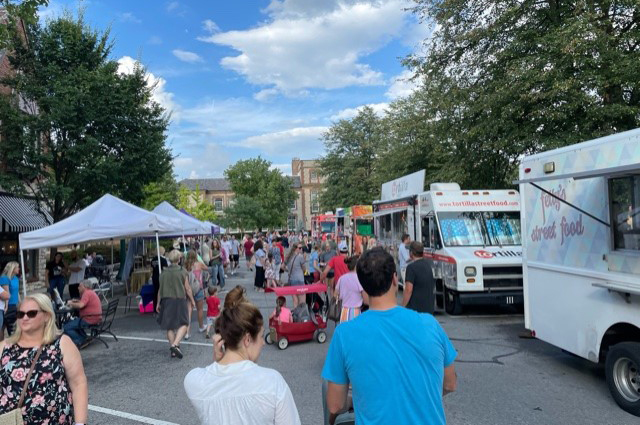 Join Us for First Arts on Arlington Community Event
6-9 pm, Thursday, July 28
The Mallway
UA's Cultural Arts Division is excited to host the first Arts on Arlington community event on the evening of Thursday, July 28 at Mallway Park and Arlington Avenue. This new event has been created to support and showcase UA artists, artisans and Mallway businesses, while also serving as the last of the Music in the Parks outdoor concert series.
"While our annual Labor Day Arts Festival serves as our largest community celebration of the arts, the artists and artisans that participate come from across the region," said Cultural Arts Manager Jodi Osborne. "We wanted to provide a venue that would give Upper Arlington artists an opportunity to display and sell their work. Tying such an event with our Music in the Parks concert series was the perfect fit."
More than 15 UA artists will be setting up exhibits of their work at several Mallway businesses, which will be open to the public the entire week of July 25. Throughout the week and during the Arts on Arlington event, we encourage you to visit the Mallway and tour the following mini exhibits:
Bloomtastic: James Craig, Lee Ekleberry, Manda Marble, Deborah Moorehead, Vivian Ripley
Bohindi: Shauna Keene, Rachel Wayne
Vision One Optical: Amelia Pearson, Kristin & Valerie Watson, Heath Younkin
Cover to Cover: Ellie Cannon, Ellie Ford, Kelly Zalenski
Tennis Ltd: Sarah Peters
Hyre Personal Wealth Advisors: Robie Benve, Greta Dixon, Beverly A. Goldie
A row of vendors will also be set up during Arts on Arlington, featuring the following artists and artisans: Banzo Butter, E PLURIBUS LTD., Tiki Botanicals, Fruits & Roots, Valeri's Crochet, Lee Ekleberry, Deborah Moorehead Paintings, Vivian Ripley Fine Art, Twinzzshop and FoodSoul's Cuisine.
An arts activities area is also scheduled, courtesy of students at the UA High School. Activities will include painting your own mini canvas, paint by numbers, drawing activities, making a key chain, and exploring clay.
Two live performances are scheduled for the evening. Red Healer will bring their feel-good brand of Folk and Soul music to the stage, along with the smooth sounds of the Urban Jazz Coalition.
There are plenty of refreshments to enjoy. The Daily Growler will be hosting a Beer Garden in Mallway Park, featuring a variety of beers, wine and seltzer (credit cards only please). And several food trucks will line N. Mallway Drive, including: Graeter's Ice Cream, Tortilla, Pitabilities, Cheesecake Castle, Kona Ice, Drank Tank and Fancy Feeding You.
Rounding out the event, visit with various community groups and businesses that enhance UA living.
Arts on Arlington is made possible through the support of the Ohio Arts Council, Cats Only Veterinary Clinic and Pagetech Unlimited.
We look forward to seeing you for our inaugural Arts on Arlington community event.