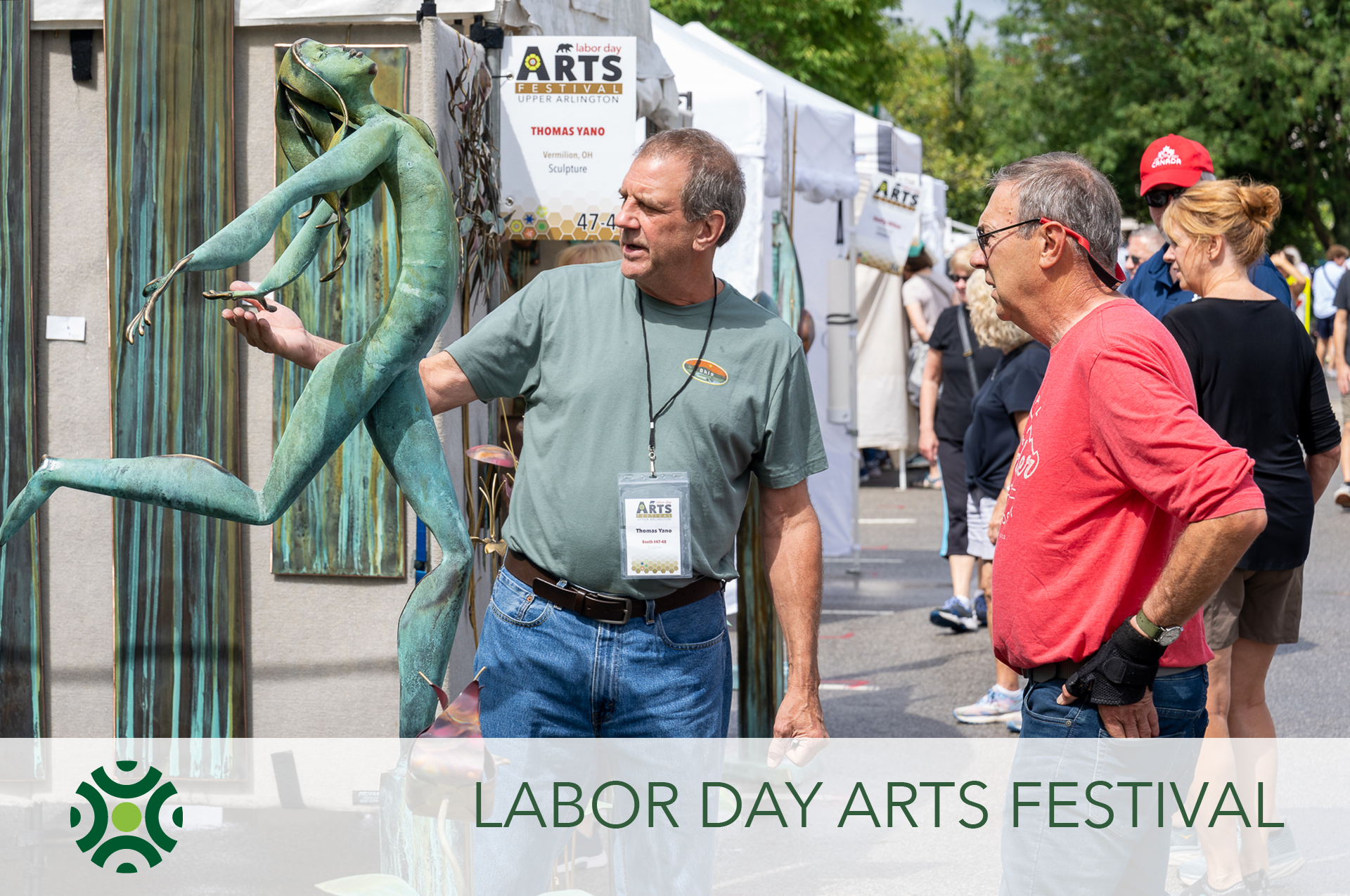 Join Us for the 2023 Labor Day Arts Festival
10 am-6 pm, Monday, September 4
Northam Park
Whether you're an art lover or someone who enjoys the community's family-oriented special events, the Upper Arlington Labor Day Arts Festival – one of the region's premiere showcases of artworks in all manner of media – is the place to be on Monday, September 4! Held adjacent to Northam Park, the 56th Labor Day Arts Festival features more than 120 artists and offers plenty of refreshments, entertainment and hands-on art activities to keep you busy. And with the hours of the Festival extended to 6 pm, there's plenty of time to take in all that the event has to offer.
Explore and purchase fine art and fine craft work from this year's blind juried artists, in a variety of media, including paintings, photography, jewelry, pottery, sculptures and mixed media. Located in the Tremont Road parking lot, the layout of artist booths takes advantage of the evenly spaced rows of parking, while providing easy access from numerous directions and making it much easier to locate or return to an artist of interest when you are ready to purchase some art.
The Art Activities Area will be packed with fun, hands-on activities for all ages to enjoy, including collage art coordinated by the Dublin Area Art League, Chinese caligraphy and Guzhen Performace by the UA High School AAPI Association, woven bracelets and bookmarks with the Ohio Craft Museum, and keychains and a popsicle stick mural coordinated by Learning Never Ends.
The main entertainment stage, located on the front lawn of Tremont Elementary, has a lively lineup of varied musical styles:
10:30 am – Whirlybirds
Noon – Roots Society
1:30 pm – Topher James and Biscuit Brigade
3 pm – Andy Shaw Band
4:30 pm – The British Invasion
Additional activities and more will be taking place inside the Tremont Library, including an art exhibit by Learning Never Ends, a sensory friendly room, performances on the Reading Garden stage, face painting and family-friendly restrooms and nursing facilities.
Various community groups will be at the Festival to share information about the many wonderful programs avilable in our community and the region, including representatives from the Community Relations Committee, Rainbow UA, and the Upper Arlington Commission on Aging.
Last but not least, the Festival will feature plenty of food and drink options, provided by approximately 20 food vendors and trucks located along Tremont Road, facing into the Festival.
With an event of this magnitude, it is crucial to recognize the efforts of many groups, organizations and individuals. Besides the year-round work of the Cultural Arts Division, as the event nears, additional City divisions become involved, from Police and Fire handling traffic and safety issues to the Parks & Forestry, Streets and Electrical divisions providing the event's logistical needs.
Getting to the Festival
The day of the event, a section of Tremont Road (between Northam and Farleigh) will be closed. Handicapped/accessible parking will be available in the Tremont Center Parking Lot and can be accessed from Redding Road.
To get to the Festival, we recommend the following:
Take our shuttle from Wellington School, running approximately every 15 minutes.
Bike to the Festival and take advantage of our free bike valet service by Saint Mark's Church located off Tremont Road.
Patrons can be dropped off at either the corner of Tremont and Northam or Tremont and Ridgeview
We hope to see you at this year's Labor Day Arts Festival. Click here for additional event details.