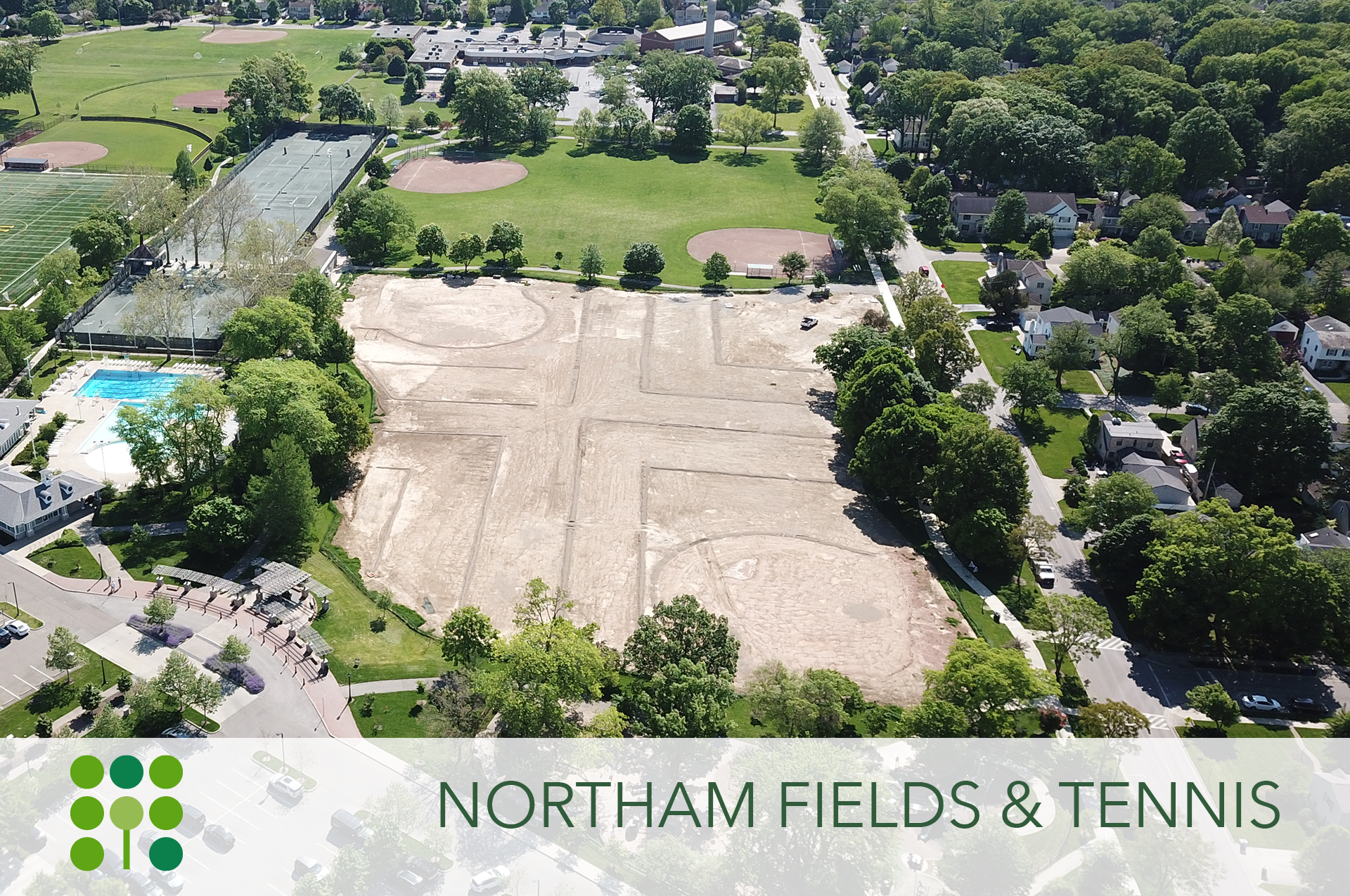 The 2018 Parks & Recreation Comprehensive Plan was developed to serve as a guiding document for future decision-making on how to get the most value from the City's limited park land and the facilities within them, while fulfilling residents' recreational wants and needs. The plan made several recommendations for potential improvements at Northam Park not previously included in past-year upgrades to the Tremont Pool, playground and parking lot.
In response to these recommendations, the Parks & Recreation Department initiated a project for the schematic design of infrastructure improvements to the athletic fields and tennis court complex at Northam Park, and commissioned MSA Sport to lead this process. Given the well-established nature of Northam Park and its existing uses, this project aimed not to redesign or reprogram the park but to study and develop a long-term plan for enhancements to those existing athletic and civic facilities in need of renovation or renovation replacement.
This study process began in January of 2020. At its conclusion in the fall of 2021, MSA provided a "Vision Package" for improvements that include renderings and schematic drawings. It also includes phasing information and cost estimates to assist the Parks & Recreation Department as it schedules improvements within the Parks Capital Improvement Program.
November 2023 Northam Park Improvements Update
City Council is scheduled to review the construction bid results and recommendations for a series of improvements at Northam Park at its Monday, November 13 Meeting. This proposed project includes nine state-of-the-art clay tennis courts with an underground irrigation system, a new service building that will include improved storage and year-round restrooms accessible to all park users, as well as various shade structures, six pickleball courts, enhanced pathway connections, new trees and landscaping improvements.
Funding for a phased approach to Northam Park improvements is included in the 10-year Parks Capital Improvement Program, which was reviewed and approved by City Council in December of 2021.
The first phase of work was for the installation of a new storm sewer to address ponding issues in the northern area of the park and to provide the necessary underground infrastructure for future drainage improvements. This work was completed in the Spring of 2022. Of note, until the athletic fields in the south portion of the park have been regraded/improved with under-drains connecting to the new storm line, it's likely that these areas will still experience standing water following heavy rains.
The City will continue to determine the best approach for implementing future phases of improvements. The 2021 Northam Park Vision Plan will serve as a guide for future improvements, but specific phases may be adjusted based on budgets and impacts to the park.
CONTACT PARKS & RECREATION