Naturalized areas within the City's parks include woodlands, wetlands and prairielands. These areas are an important feature of our parks and provide a number of benefits for both park users and the environment.
Park patrons are able to experience:
The seasonal changes and beauty of natural habitats
Pollinators and other beneficial insects
Wildlife and aquatic life
Environmental benefits include:
Reduction in the maintenance energies required, including staff and equipment
The provision of habitat for pollinators and wildlife
The enhancement of ecological diversity
Mitigation of CO2, the heat island effect, and other urban impacts
Upper Arlington's park system features a range of naturalized areas, including the wooded Smith Nature and Cardiff Woods parks, and smaller pockets within larger parks, such as the Thompson Park wetlands and Miller Park ravine.
In recent years, the Parks & Recreation Department had already begun setting aside additional portions of land within some parks, allowing them to return to a more naturalized state. Resident feedback obtained for the 2018 Parks & Recreation Comprehensive Plan indicated a desire for increasing the availability of naturalized park trails and the provision of nature education programs. In response, the division is working to improve and expand naturalized areas across the park system.
WHY DO WE NEED TO MANAGE NATURALIZED AREAS?
The urban environment and nature are not necessarily enemies, but they are not allies. Most natural areas exist on disturbed soil, or have been affected by neighboring disturbances, such as construction, adjustments to the flow of drainage, and the installation of utilities.
Natural areas are affected by non-native invasive species. Plant competition from aggressively growing non-native plans species – such as winter creeper, buckthorn, honeysuckle, garlic mustard and lesser celandine – inhibits the succession and growth of native species. Impacts can also come from non-native pests, such as Dutch Elm Disease and the Emerald Ash Borer. In these two instances, the loss of tree canopy from the death of American elm and Ash trees has caused an imbalance in the natural ecosystem, providing greater opportunity for other non-native plant and tree species to take over.
A management plan for these naturalized areas is necessary to mitigate the effects of urban disturbance and to restore and maintain a balanced and diverse ecosystem that is better able to withstand the pressures and effects of any new pests that are on the horizon. Periodic inspections are also invaluable for identifying and addressing any physical hazards, sight clearance issues, and any public health and safety concerns.
WHAT IS OUR MANAGEMENT PLAN?
The Parks & Recreation Department is currently developing a holistic plan that addresses how our naturalized areas are managed. This process includes a review of current locations, conditions and maintenance practices, engaging with park user groups, advisory boards and commissions to receive input, and researching best management practices with various conservation groups and authorities.
From the information gathered, a short- and long-term management plan will be developed, with the goals of efficiently allocating City resources, capitalizing on community interest and support through volunteer activities and student projects, while also educating residents on the benefits of preserving naturalized areas within our parks. Built into the plan will be a periodic review of progress made to determine if any adjustments should be made to maintenance plans.
Successfully cultivating naturalized areas that are impactful and sustainable will take many seasons. In the meantime, there are many things that we can do to positively impact these naturalized areas, such as clearing invasive plant species, and planting native trees and wildflowers.
IDENTIFYING AREAS FOR NEW AMENITIES AND IMPROVEMENTS
A goal is to improve these naturalized areas and enhance the experience for park users by creating and enhancing pockets of oasis and respite within our urban environment. Once progress has been made to control and improve vegetation management, it will be possible to explore options for expanding the available amenities within these naturalized areas. This could include the addition of new trails, trail heads and markers, natural seating, nature play features and outdoor classrooms.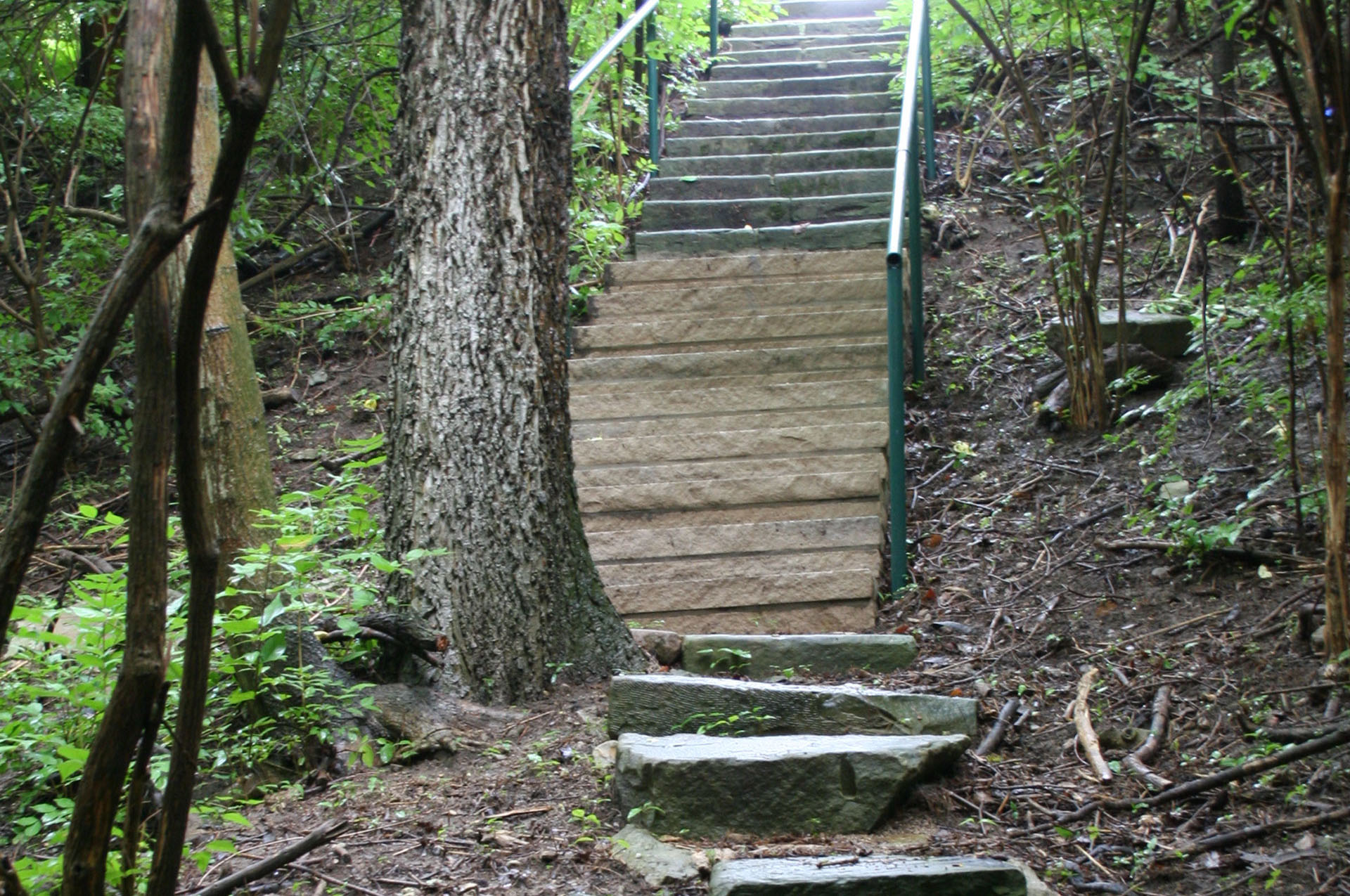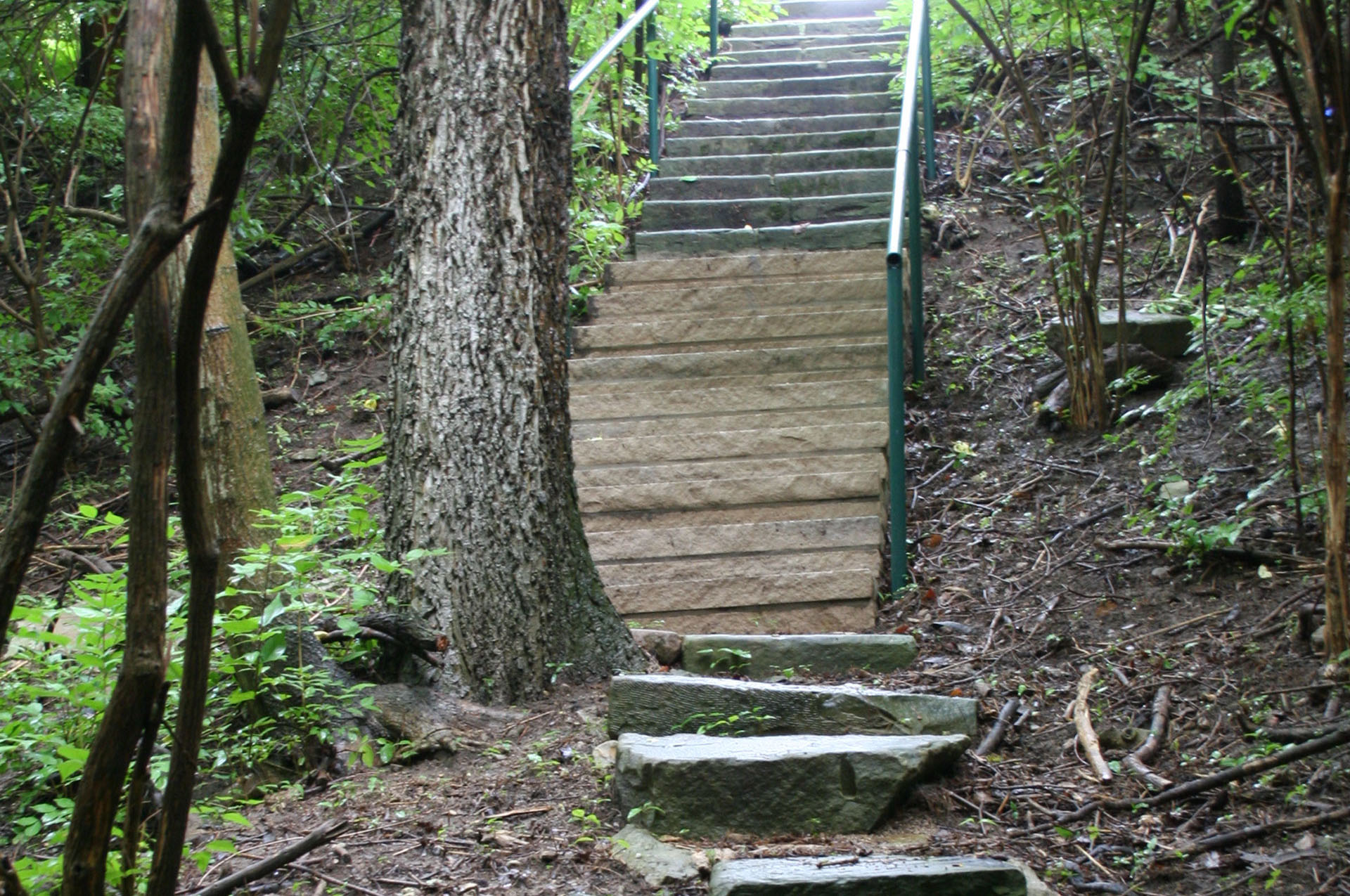 Winter/Spring 2021
Invasive plants and hazardous trees in the naturalized park area at Miller Park were recently removed by volunteers from Friends of Upper Arlington Parks (FOUP), City Staff and contractors, in preparation for a significant replanting of native trees and shrubs, which will occur in the spring of 2021. The planting list includes:
10 White Pine trees
10 Hemlock trees
5 Wildfire Blackgum trees
10 Sycamore trees
10 Redbud trees
5 White Flowering Dogwood trees
10 Bald Cypress trees
15 Button bushes
30 Grow Low Sumac bushes
10 Sumac bushes
15 Ninebark bushes
2 Honey Locust trees
Staff will also be creating and installing new amenities, such as benches and nature play opportunities, using the timber salvaged from some of the recently removed trees.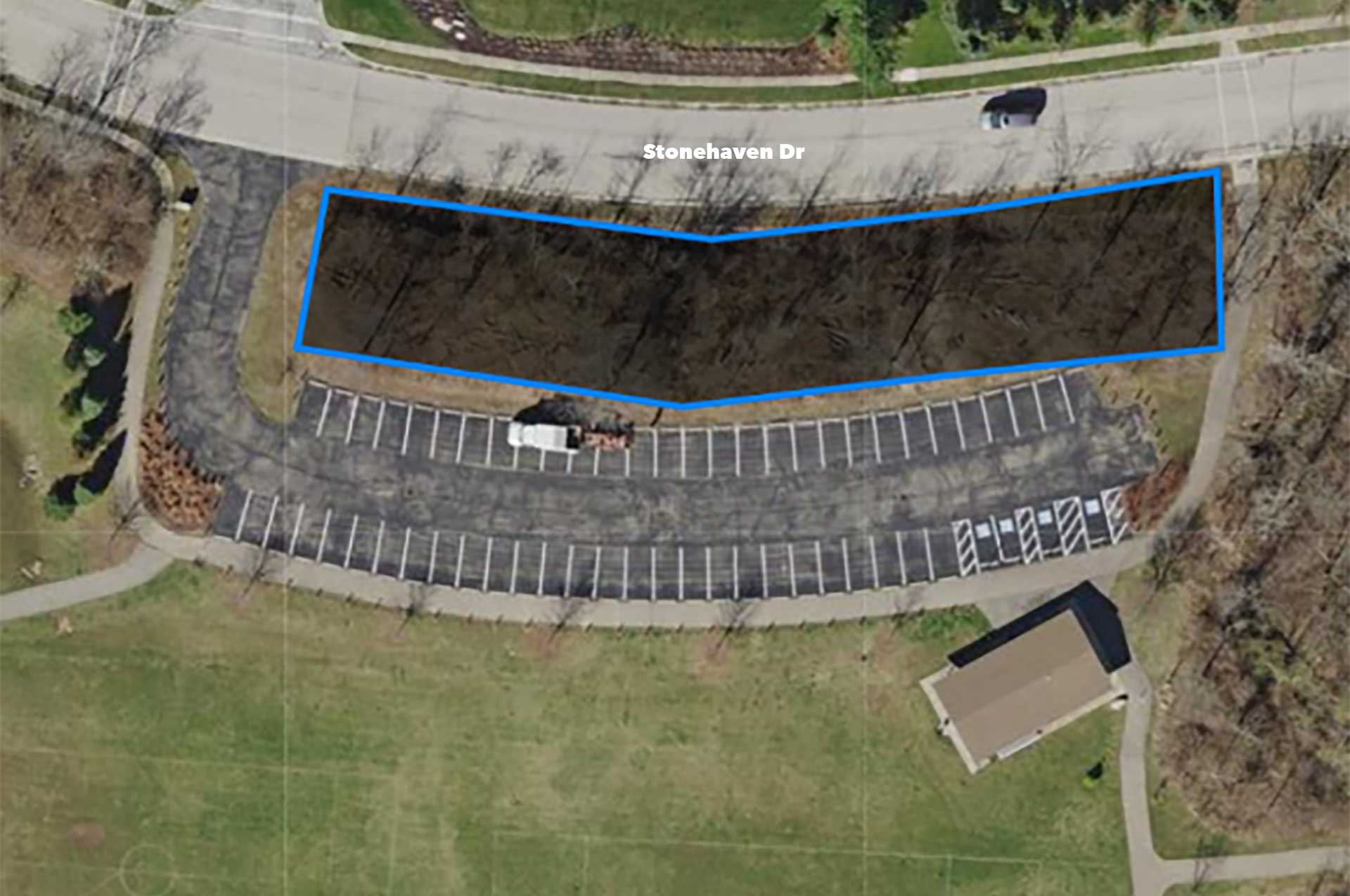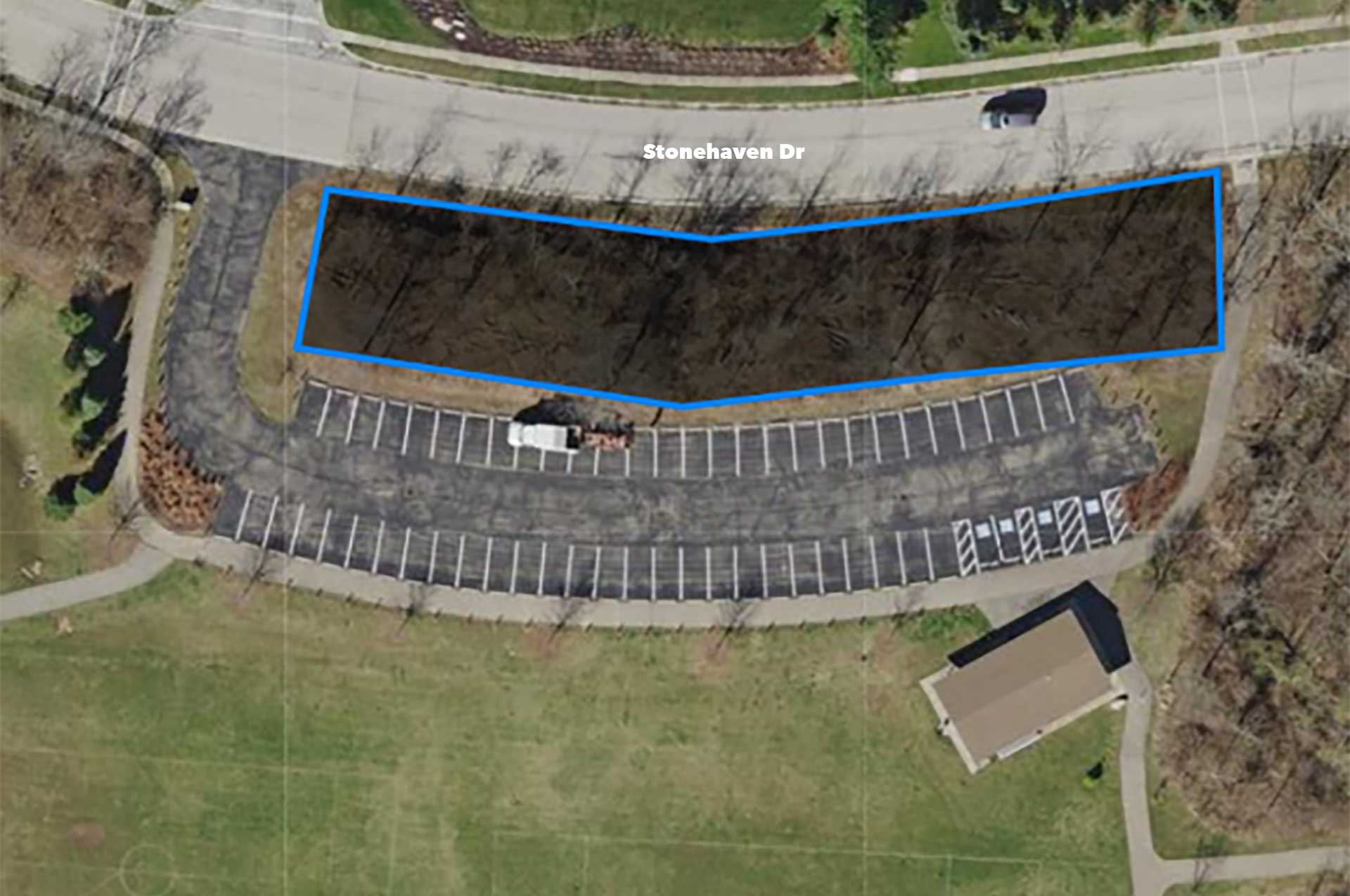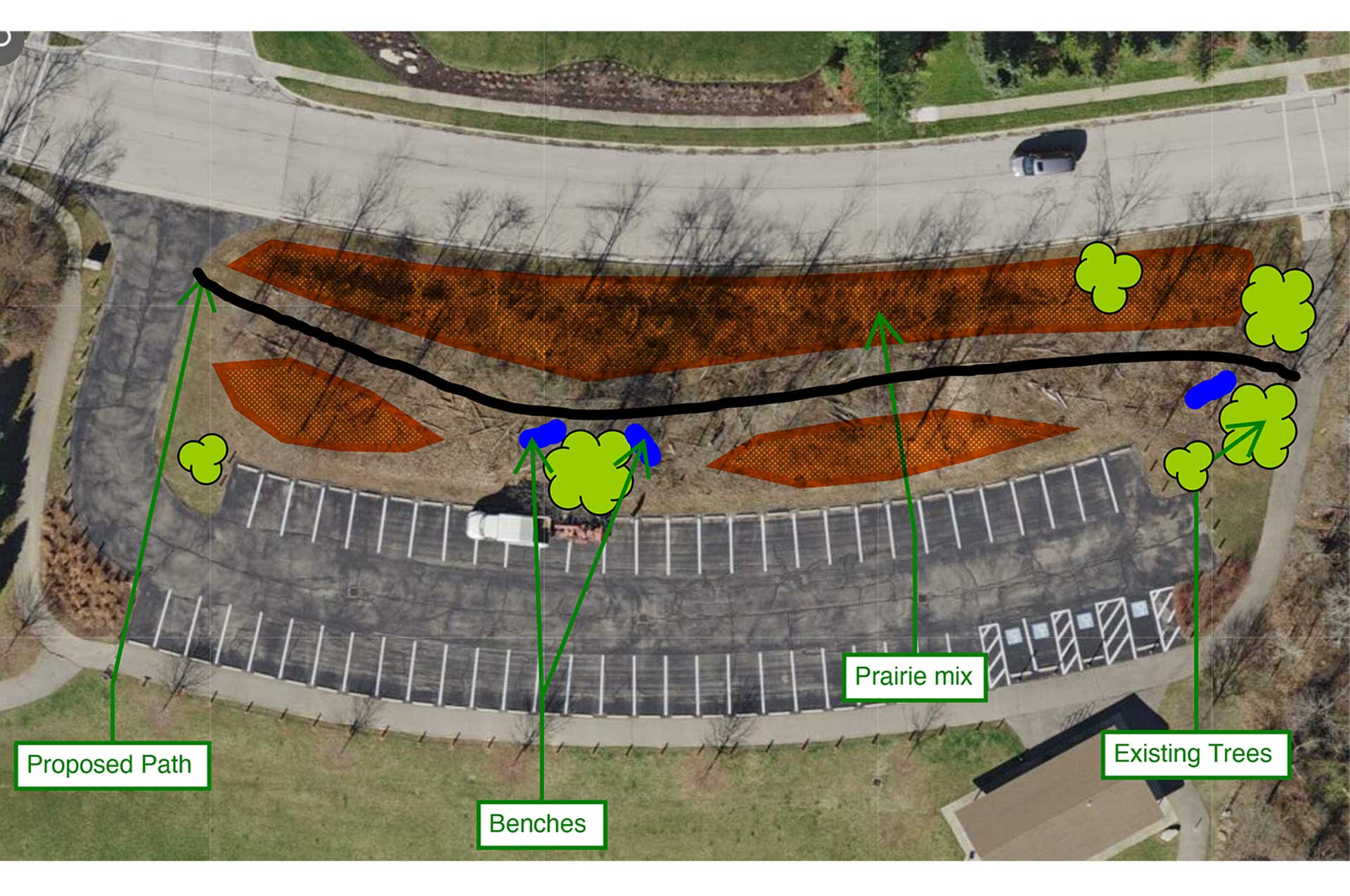 Winter/Spring 2021
The area of Burbank Park (noted by the shaded area in the above image) has been identified for improved natural area management.
This area was once a thriving stand of young Ash trees. Unfortunately, over the last decade the non-native invasive pest, the Emerald Ash Borer, has killed most of these trees. The resulting loss of canopy from this key forest species created an opening for invasive and nuisance species – honeysuckle, grapevine, multiflora rose, and poison ivy – to take hold. The resulting density of this growth obstructs the parking lot and shelter from the view of the street and is causing safety concerns.
This winter and spring season, the Parks & Recreation Department will be clearing most of the woody plant material from this area, converting it to a combination of turf and pollinator habitat, with the addition of a mulched foot path. Our goal is to manage and provide a safe, inviting and more usable natural space.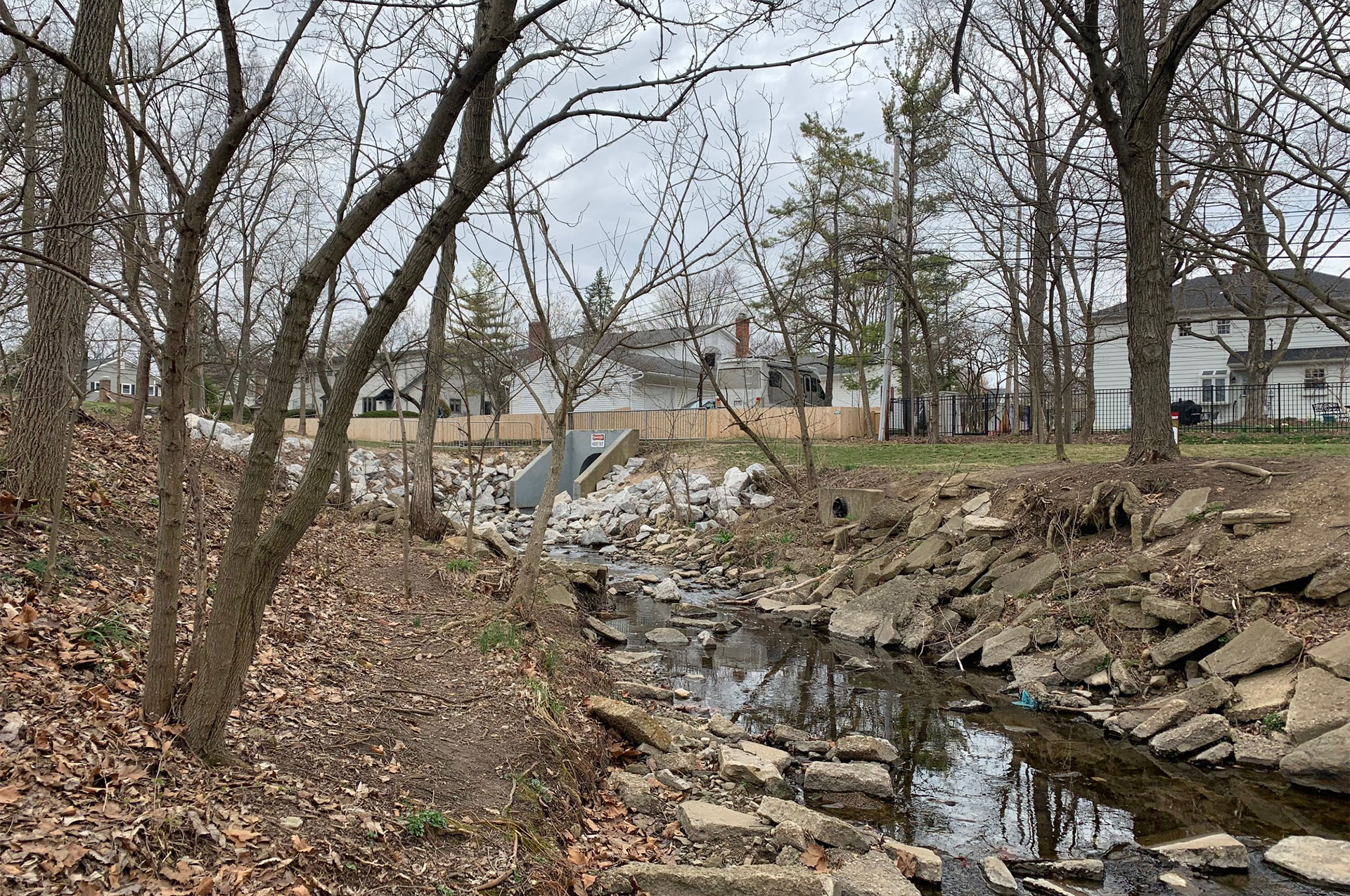 This project will address concerns regarding significant erosion along Turkey Run within Reed Road Park. There will be two phases of construction along this stream segment. The 2021 construction includes water flow reduction and stone and channel protection to stabilize and reduce erosion approximately 100 feet south of the Lytham Road bridge where Turkey Run enters the park near the playground. Phase 2 is anticipated to be constructed in 2022 and will focus on natural methods for stabilizing the banks of the stream immediately downstream from the Phase 1 work. We are anticipating that site work will begin around April 5th and last approximately 90 days. The path connecting the east and west sides of the stream will remain open throughout the majority of the work, except for occasional temporary closures which will be clearly marked.
CONTACT PARKS & FORESTRY DIVISION