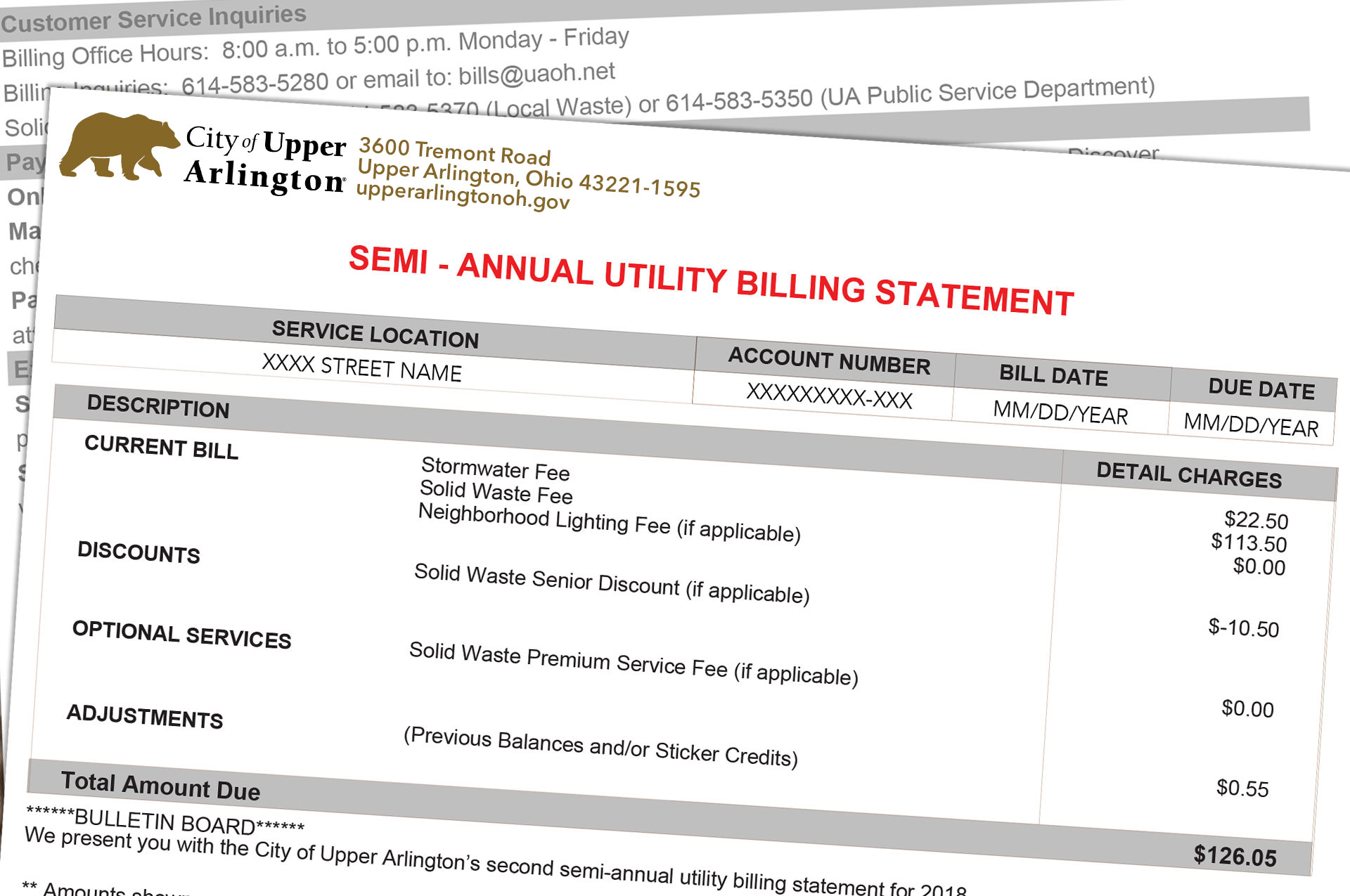 Semi-Annual Utility Bills Heading to UA Households
The first of two semi-annual utility invoices from the City for 2023 will be mailed to UA households at the end of January, with a due date of Friday, February 24. These invoices include the Solid Waste fee, the Stormwater Utility fee, and in some cases a Neighborhood Lighting Utility fee. The 2023 invoice reflects an increase in the Solid Waste fees.
The Finance Desk is open to walk-in customers, however, we ask that you pay online, via mail or using the City's dropbox, per the following details:
Online Payments
Payment By Mail: Use the return envelope provided with your utility invoice (postage stamp required), or mail to Finance Department, City of Upper Arlington, 3600 Tremont Road, Upper Arlington, OH 43221
Payment By Dropbox: Residents can leave payments in the City's drop box, located in the Kenny Road parking lot of the Municipal Services Center, 3600 Tremont Road
The Stormwater Utility fee—a total of $45 for the year but billed at $22.50 every six months—helps to defray the costs of our City's deteriorating storm drainage system.
The Solid Waste Service fees cover the costs for providing trash, recycling, bulk item and yard waste collection services. The standard semi-annual billing amount is $150.25 (including a base fee, community recycling fee and administrative fee). Click here for additional details.
Some other highlights relative to your Solid Waste service:
Applications for new Medical Exemptions and Premium Service are accepted on an ongoing basis.
Premium Service customers may cancel this option at any time.
Senior Discount – Single-unit homeowners who reside at the address and are aged 60 years or above can qualify for a discount on their Solid Waste base fee at any time by completing an online form. The first discount will not take effect until the next semi-annual bill. Once qualified, there is no need to reapply.
Payment of the Utility Invoice is the responsibility of the property owner(s). Similar to property tax, the fees remain attached to the property. The City will not make refunds or prorated adjustments for a partial year. Consult with your realtor and title/escrow closer for adjusting balances between buyers if necessary. Any discounts remain with the property's account until a property transfer is recorded with Franklin County. Any discounts or optional services at the time of transfer will be removed from the property's account due to new ownership.
If you have questions about these fees or your bill, send an email to the Finance Department. Our thanks in advance for your prompt payment.