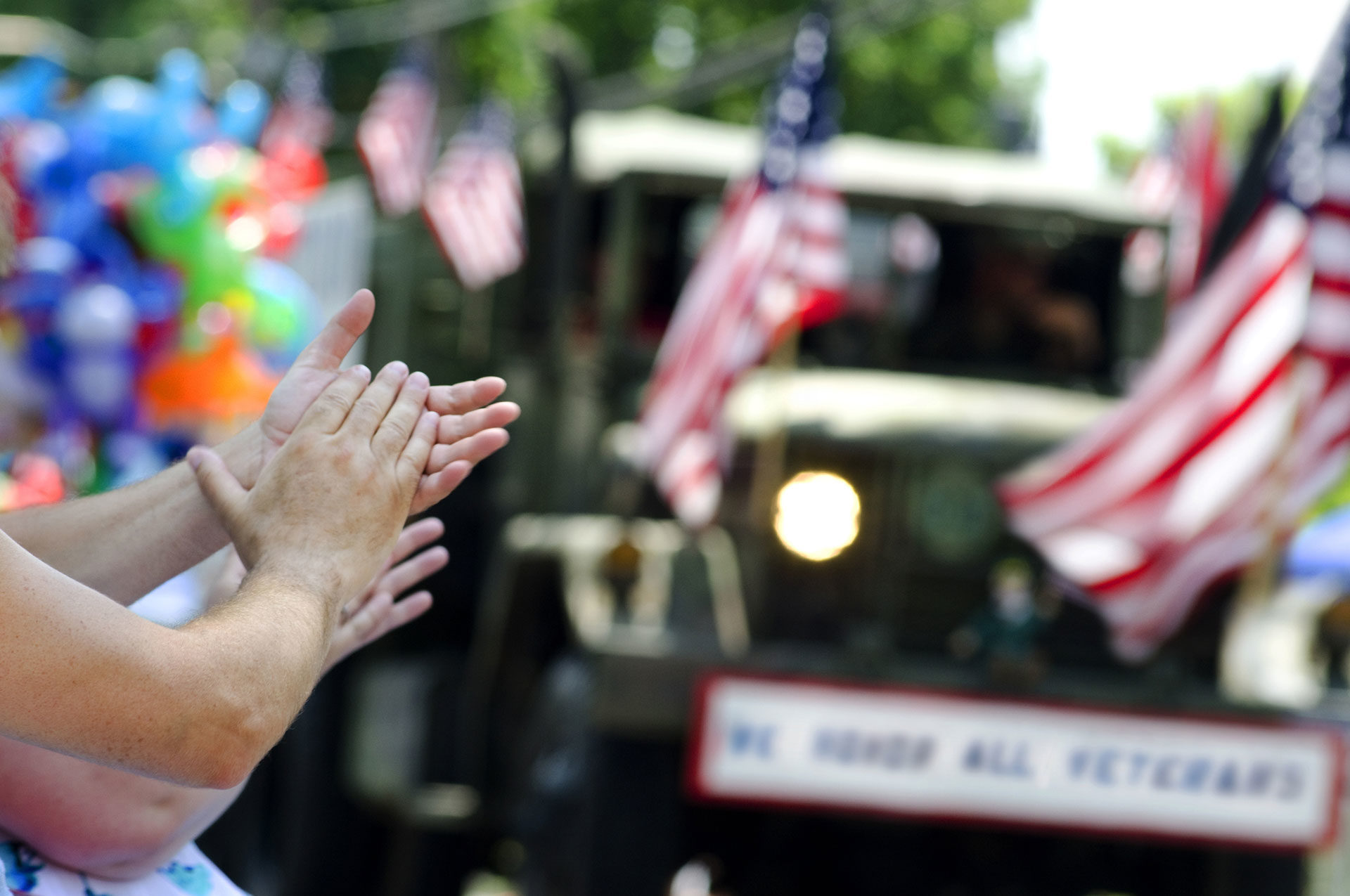 UA's favorite day will be here before we know it. As you ready to celebrate our nation's independence with friends and loved ones, there are a few things to be mindful of to make sure this special holiday is memorable for all the right reasons.
Block Parties
If your neighborhood is planning to host a block party on the Fourth of July, the deadline for submitting your permit application is Thursday, June 27. The $50 fee covers administrative costs and the delivery of barricades. Block parties are not permitted on any of the City's main thoroughfares. Click here to complete a Block Party permit application.
Chairs Along the Parade Route
In the days leading up to the Parade, the route along Northwest Boulevard becomes overrun with lawn chairs and areas taped off by families staking their spectator spot. We ask that you refrain from this practice until just a few days before the parade, but recognize that once the first few chairs go out, more will follow quickly. It's important to note that by placing your property at the curb similar to when placing trash or bulk items out for collection, you run the risk of having your property taken by opportunistic passersby. In such instances, their loss is not considered theft.
Tremont Pool, Northam Tennis and UA Senior Center Holiday Hours
To accommodate Party in the Park and the Fourth of July fireworks, the City's recreation facilities at Northam Park will adopt the following schedule over the holiday period:
Wednesday, July 3

Senior Center – Closes at 3 pm
Northam Tennis – Closes at 3 pm
Tremont Pool – Normal schedule, closing at 9 pm

Thursday, July 4 – All three facilities are closed
Friday, July 5

Senior Center – Opens at 8 am
Northam Tennis – Regular 7 am opening may be delayed by firework cleanup
Tremont Pool – Opens at 1 pm (as long as fireworks/park cleanup is complete)
Fireworks Guidelines and Safety Tips
Local and State laws are in place in Ohio because of the inherent dangers associated with fireworks. Consumer possession and use of any type of firework is prohibited in Upper Arlington. Although the State allows the use of novelties such as sparklers, they are banned in UA because of the risks of injury. Moreover, the City keeps a close eye on public parks during this time of year for enforcement of this law—not just for the immediate fire safety issues they pose when in use, but also to prevent littering that could prove hazardous to members of the public or to our staff.
Regardless of how you celebrate Independence Day, please remember to not only be safe, but to be courteous and thoughtful of those around you. If you have any questions regarding the City's fireworks regulations, contact our Fire Prevention Office at 614-583-5115. Likewise, if you see any suspicious activity in our parks—be it the use of fireworks or otherwise—say something: contact our Police Division, at 614-583-5410.
Golf Carts
Police Division: 614-583-5150
A popular trend in UA is the rental of golf carts for use over the course of the Fourth of July holiday period. It sounds like a fun idea, but as this practice has grown safety issues have increasingly been a concern for our Police and Fire divisions. Effective July 1, 2019 City Code has been amended to authorize the use of code-compliant under-speed vehicles in UA, with a five-day exemption from some of the requirements over the Fourth of July Holiday. Below is a breakdown of this legislation:
Under-Speed Vehicle (USV) Use Requirements
Year-Round
Fourth of July Golf Cart Rental Exemption Period (2 days before–2 days after)
USVs can only be operated on streets with a speed limit of 25 miles per hour or less (the crossing of higher-speed streets at intersections is permitted). NOTE: Upper Arlington's speed requirement is less than State code.

Required

Required

The owner of the USV must have it inspected and authorized for use on public streets by any authorized law enforcement agency (be sure to inform them of UA's additional seatbelt requirement).
Required
Not required
USVs should comply with all Ohio Department of Public Safety requirements, and must include the following equipment:

Adequate brakes and braking system
Working brake lights
Warning/turn signals
Headlights and tail lights
Property working steering mechanism
Windshield
Rear view mirror
Appropriate tires for street use

Required

Encouraged

Seatbelts are an additional requirement and must be located at each designated seating position.
Required
Encouraged
Title and registration must be in compliance with Ohio Revised Code.
Required
Not required
USVs must be operated within the State and Upper Arlington vehicular laws.
Required
Required
Examples of safety violations that will be acted upon by Police Officers over the Fourth of July exemption period include, but are not limited to:
Driving without a valid driver's license or while under suspension
Vehicular assault
Reckless operation
Traffic code violations that result in an accident
Failure to obey traffic control devices
Driving while under the influence
Hanging outside the vehicle
Violations of child restraint laws
Underage drivers
Full details of the City's under-speed vehicle legislation can be found by clicking here.
Dog Safety
More dogs run away around the Fourth of July holiday than any other time of year. For most dogs, the loud sounds and smells of fireworks are strange and scary. Here's how to keep your faithful friend safe this time of year:
Make sure your dog gets plenty of exercise earlier in the day.
Keep your dog safely inside during the evening hours when fireworks are likely to go off, with access to a favorite "safe place." Keep windows and curtains closed. Leave a TV or music on if you go out.
In case your dog is outside when fireworks start going off, leading up to and over the holiday, regularly check that gates are securely latched and there are no escape routes under the fence. Check that your dog's collar is securely fastened and make sure it has an ID tag on it.
If you know your dog is likely to have a particularly strong fear reaction to the sound of fireworks, talk with your vet about options that might help—such as using a thundershirt or calming medication—and the best timing for helping your dog before he gets too stressed.
Parking, Traffic Pattern Changes & Street Closures
Parade Street Closures and Traffic Pattern Changes
Northwest Boulevard, from Five Points to Ridgeview will close by 6:30 am.
Northwest Boulevard, from Ridgeview to Lane Ave. will close by 8:30 am.
Remainder of Northwest Boulevard to North Star Road will close by 8:40 am.
Feeder blocks of the streets leading to Northwest Boulevard will also close as these sections are closed to traffic.
At approximately 9:30 am, North Star Road will become southbound ONLY between Northwest and Tremont.
At approximately 9:30 am, North Star Road will become northbound ONLY between Northwest and Waltham.
Party in the Park Street Closures
Tremont Road will close at 4 pm (except for local traffic), between Northam and Redding.
Tremont Road will be southbound traffic only beginning at 4 pm, starting at Ridgeview. This section of road will close at 5 pm, except for parking passholders and handicapped parking users. Please use the Northam Park parking lot entrance closest to Tremont Elementary.
Dorset Road, between Redding and Tremont will close at 4 pm
Access to the Tremont Center parking lot will be from Redding Road only, starting at 5 pm.
Northam Road will close at 4 pm, between Andover and Tremont.
Ridgeview Road will close at 4 pm, between Andover and Tremont.
Andover Road, between Ridgeview and Northam will close at 4 pm.
All side streets immediately south of Northam Road, between Tremont and Andover, will be closed at 5 pm
Pedestrian Crossings on Tremont Road
There will be two pedestrian crossings into Northam Park: by the Library parking entrance and by the Tremont Elementary School entrance. Please use these crossings as officers will be available to direct traffic. 
No Parking 6 am–1 pm:
The entire length of Northwest Boulevard, both sides of the street
North Star Road from Tremont to Northwest, west side
Trentwood Road from Northwest to Mt. Holyoke
Zollinger Road from Tremont to Mt Holyoke
Tremont Road from North Star to Andover
Stanford Road from Northwest to Elmwood
Mt. Holyoke Road from Fishinger to Trentwood 
No Parking 4 pm–Midnight:
Northam Road, from Redding Road to Northwest Boulevard
Ridgeview Road, from Tremont Road to Northwest Boulevard
Tremont Road, from Redding Road to Zollinger Road
Northam Park entrance Road
Additional No-Parking Zones:
Jervis from Mountview to Tremont, north side
Inchcliff from Mountview to Welsford, north side
Harwitch from Redding to Mountview, north side
Harwitch from Tremont to Welsford, south side
Ridgeview from Redding to Mountview, north side
Mountview from Onandaga to Zollinger, west side
Dorset from Tremont to Mountview, north side
Edington from Redding to Mountview, south side
Farleigh from Redding to Mountview, south side
Farleigh from Redding to Tremont, north side
Wilshire from Tremont to Northwest, south side
Melford from Inchcliff to Zollinger, west side
Sudbury from Inchcliff to Zollinger, west side
Oldham from Inchcliff to Zollinger, west side
Andover from West Lane to Wilshire, east side
Henthorn from West Lane to Northam, east side
Abington from Tremont to Asbury, fire hydrant side
Wexford, Camden, Coventry, Kent and York between Wilshire and Northam, east sides