Since 1966, Upper Arlington Labor Day Arts Festival has celebrated and shared the arts with the community. Each year, more than 15,000 visitors flock to UA on Labor Day to immerse themselves in hands-on art activities, live music, and the opportunity to explore and purchase fine art. We are excited to produce this event in the central hub for the community; the beautifully designed parking lot adjacent to Northam Park and located between the UA Public Library, Tremont Elementary School, and the Tremont Pool.
The Festival is made possible through the hard work of City Staff, a dedicated Coordinating Committee and a cadre of some 100 community volunteers. Interested in being a part of the Coordinating Committee? Reach out to Jodi Osborne, Arts Manager at [email protected].
2023 FESTIVAL DATE AND HOURS:
Monday, September 4 | 10 am – 6 pm
FREE Admission
LOCATION:
Tremont Road and Tremont Parking Lot
2850 Tremont Road
Upper Arlington, Ohio 43221
HOW TO GET TO THE FESTIVAL
Shuttles: Park at the Wellington School (3650 Reed Road) and hop on a shuttle for an effotless ride to the Festival. Shuttles will be running about every 15 minutes.
Bike: Free bike valet service is offered for your convenience. The bike valet is located near the library off Tremont Road.
CoGo Bike Share: Don't have a bike? Grab a bike at any of the CoGo Bike stations and ride to the Tremont Center station.
Ride Share: The best drop-off zones include the intersections of Tremont and Northam or Tremont and Ridgeview.
COTA Bus: Several bus routes are located nearby.
Handicap/Accessible Parking: Spots will be reserved at the Tremont Center (parking lot across from Northam Park). Patrons can access the lot from Redding Road.
Road Closures:
Tremont Road between Farleigh Road and Northam Road
Northam Road from Tremont Road to Coventry Road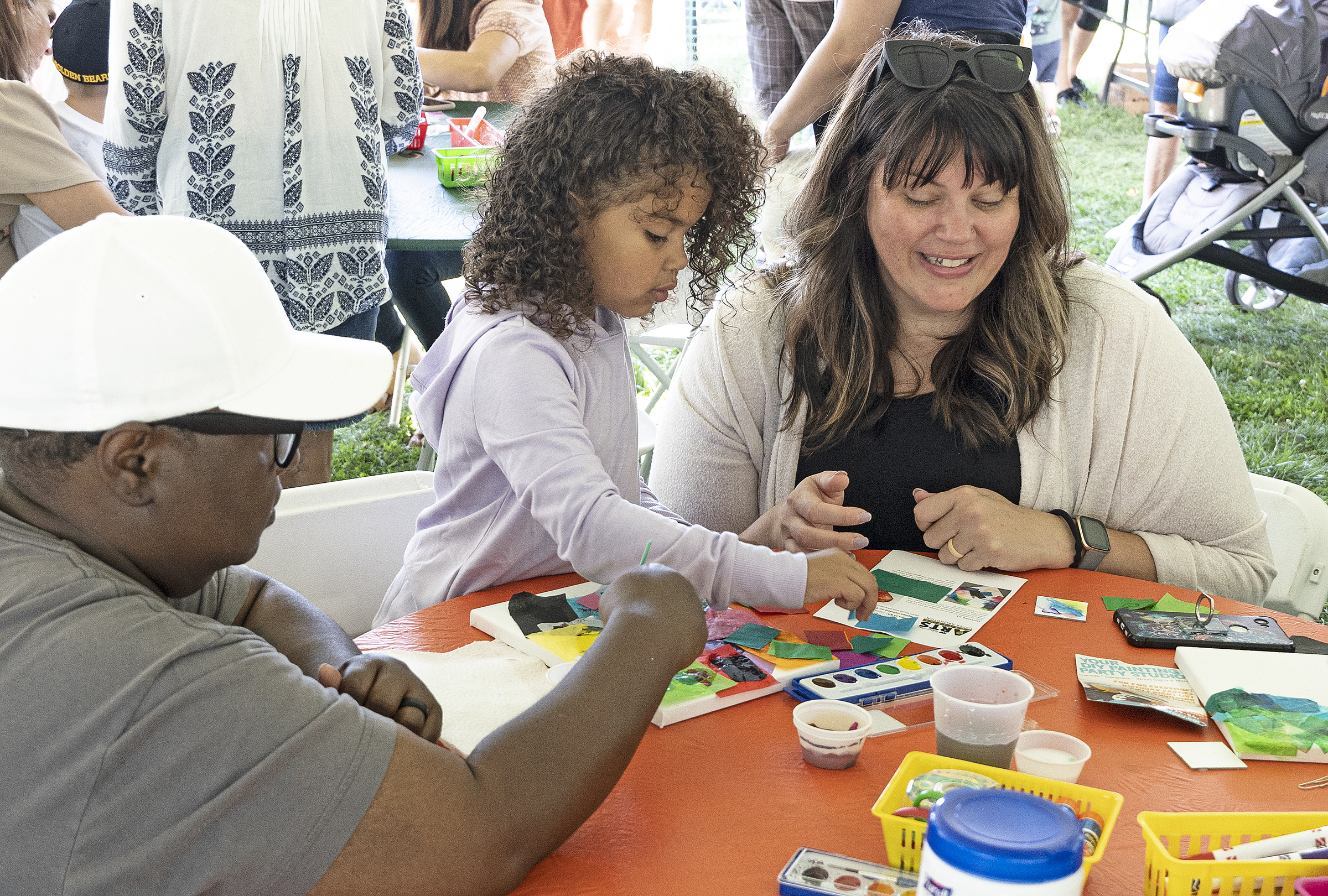 The Art Activities Area this year will be located in the Tremont Parking Lot near Tremont Elementary and next to the Main Performance Stage. Bring your whole family and get creative with a variety of hands on activities. No previous art experience required!
Are you interested in facilitating or providing an art activity for the community? Please contact Jodi Osborne, Arts Manager at [email protected].
Last year's art activities included:
Musical Instrument Craft provided by Musicologie
Suncatchers provided by OSU Department of Arts Administration, Education and Policy
Caricature Portraits
Face Painting
Henna
Painting, drawing, ceramics and jewelry making experiences led by Upper Arlington High School art students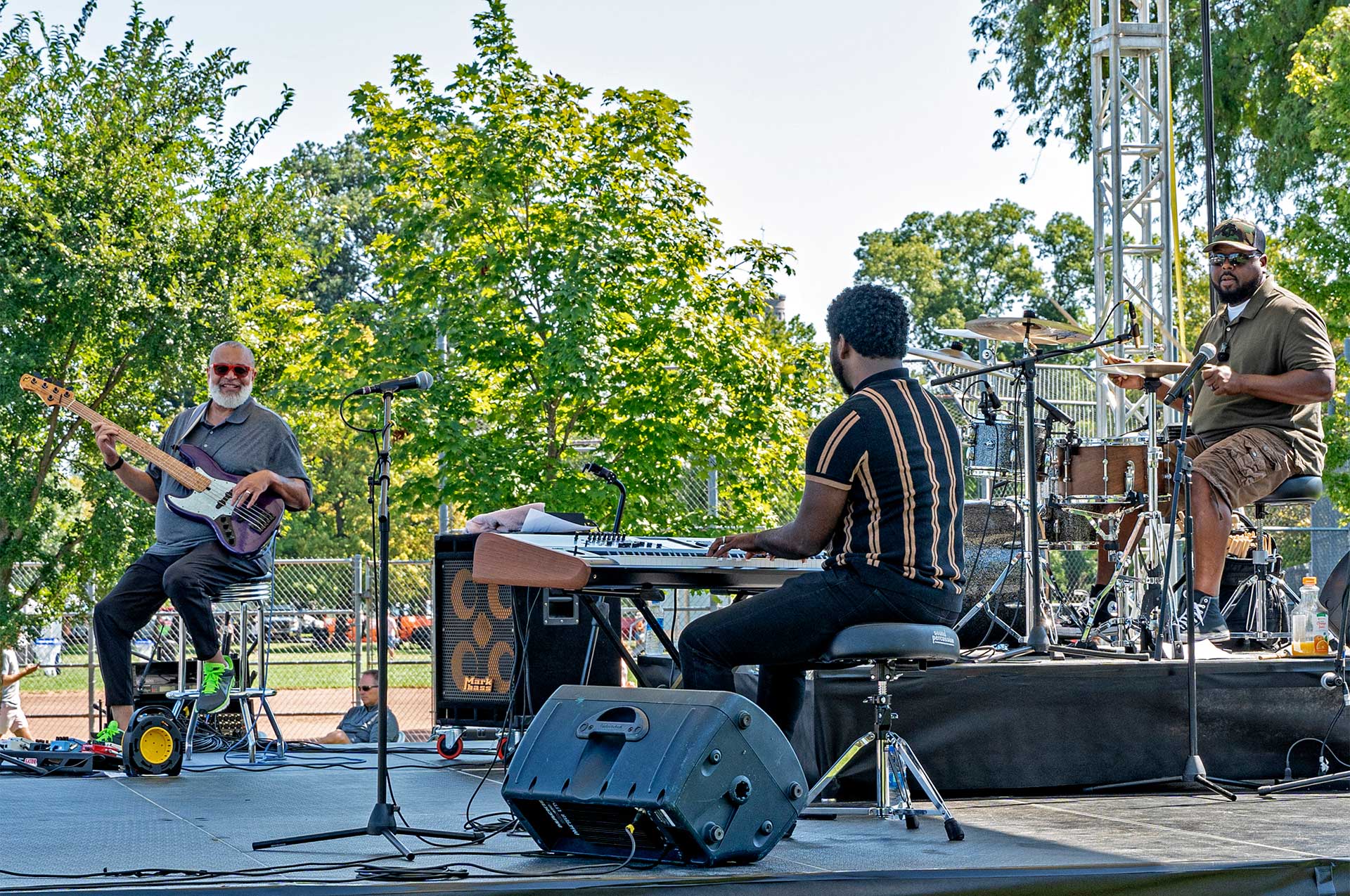 As part of the UA Performance Series, this year's Festival will feature two performance stages; the Main Performance Stage and Tremont Library Reading Garden Stage. In addition to the two performance stages with over 10 performances, the UA Marching Band will kick off Festival again this year beginning at 10 am.
CALL FOR PERFORMERS
Application Deadline: January 6, 2023
Selections will be made no later than January 27
Applications now open for Bands, Singer-Songwriters and Youth Performance Groups for the UA Performance Series including the Labor Day Arts Festival.
Looking for a way to engage with the community and share information about your organization? Limited 10'x10' spaces available for non-profit and for-profit organizations. Applications for community booth spaces will open February 6 and will be taken on a first come/first serve bases. Check back in February for a link to apply.
Fees
Upper Arlington Based Non-Profit Organization: $75*
Non-Profit Organization: $100*
For Profit Organization: $500
10'x10' tent rentals are available for an additional $225
*A copy of the organization's 501 c3 must be attached to application to receive the non-profit rate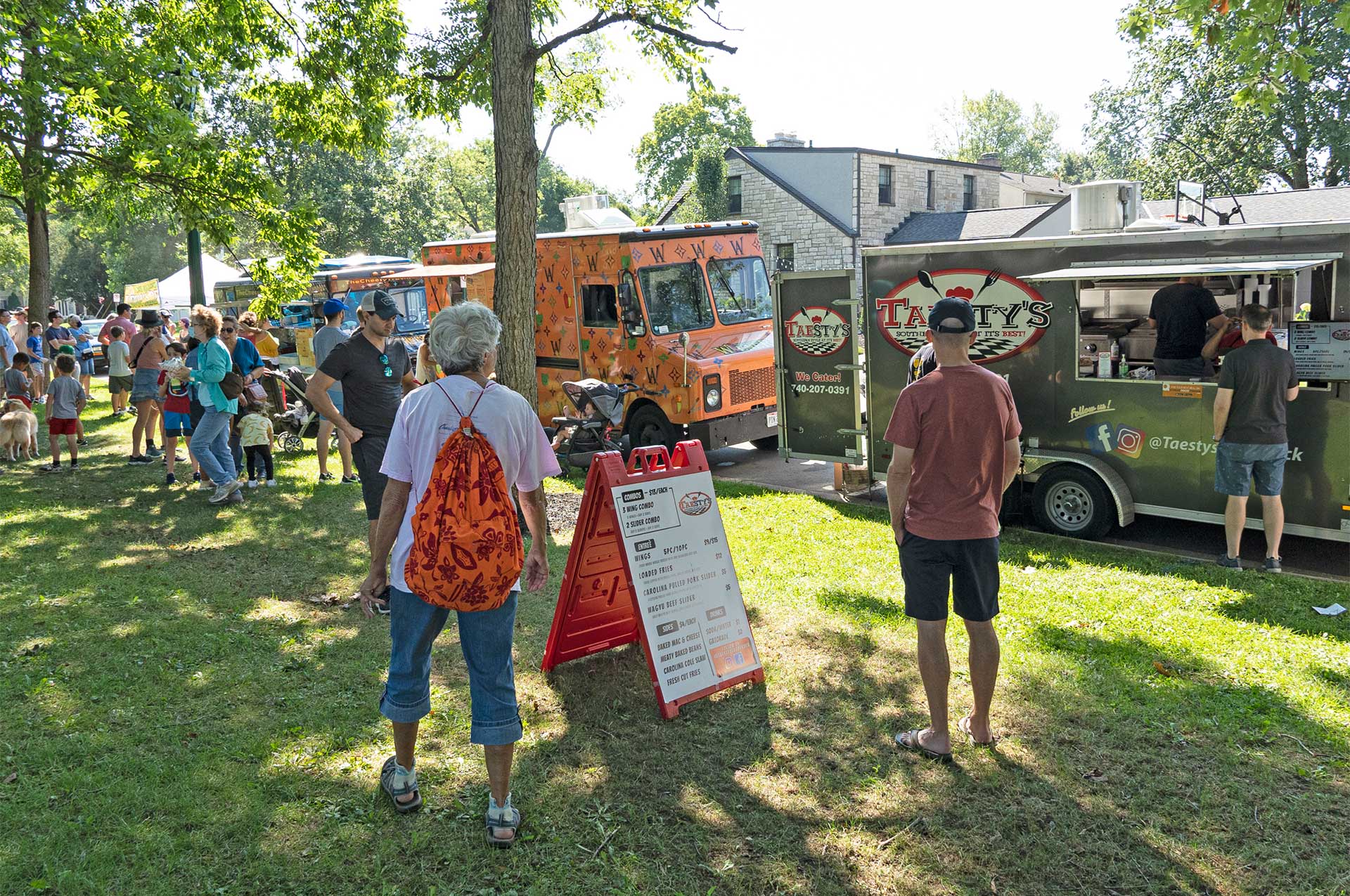 The Festival would not be enjoyable without some great eats for attendees to enjoy! Food trucks for 2023 will be scheduled through the Central Ohio Food Truck Association. COFTA is the non-profit industry association advocating for food truck owners and operators serving Central Ohio. If you would like to participate as a food vendor in the Festival, please reach out to [email protected] to learn about becoming a member.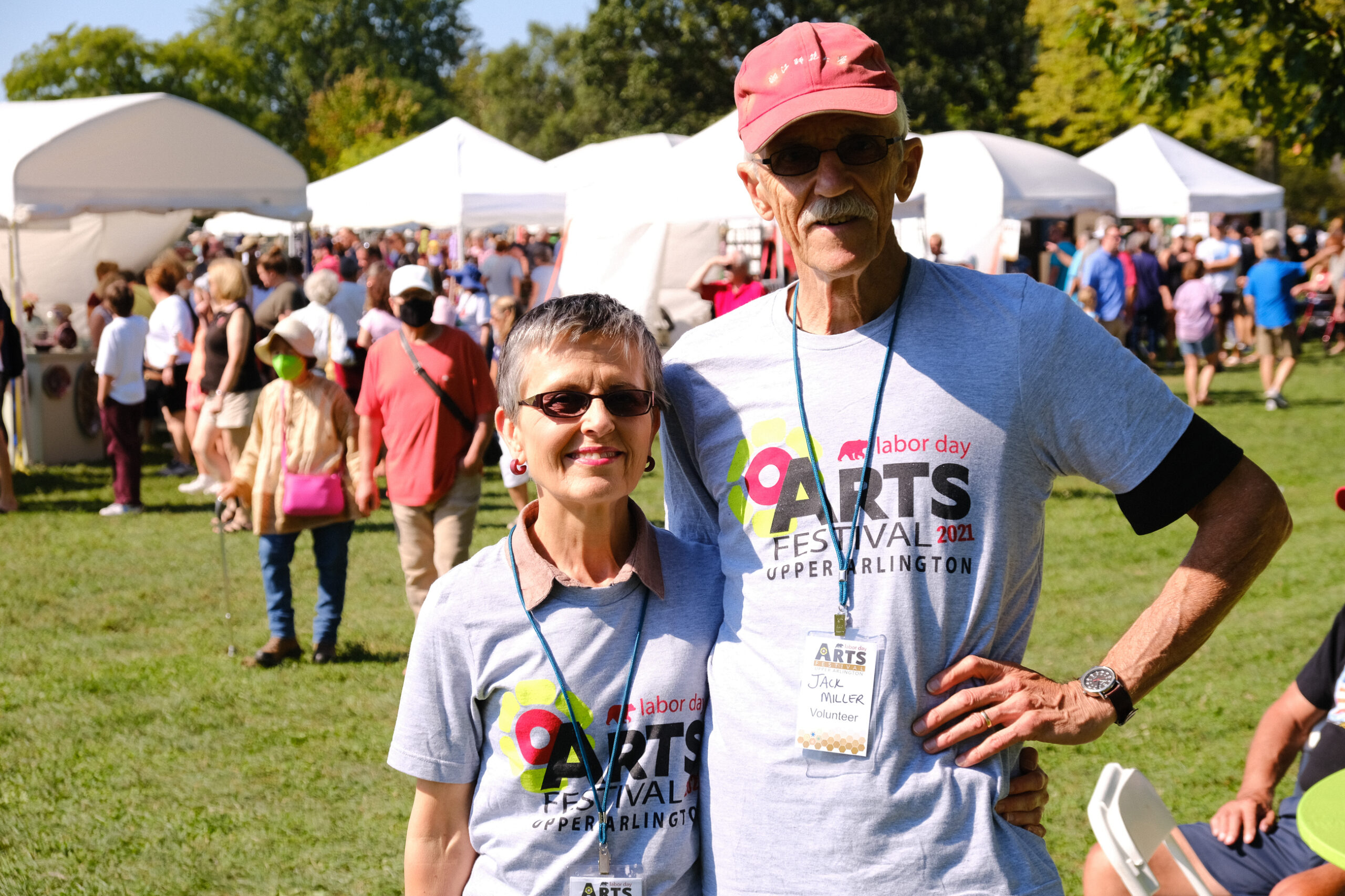 Be a part of the art in Upper Arlington and help make this year's event possible! Earn community service hours (if needed), meet new friends and receive a fashionable Labor Day Arts Festival t-shirt. Various shifts available. Check back in August for a link to sign up for a volunteer shift. See below 2022's volunteer opportunities.
OPPORTUNITY
DESCRIPTION
SHIFTS AVAILABLE
Artist Check-In
Help artists check in as they arrive to setup and direct them to their booth space. Give artists a warm welcome, hand them their packet, and run through a checklist of things they should know.
Sunday: 11:45 am–3 pm
2:45-6 pm
Monday: 6:45–10 am
Artist Breakfast
Greet artists and make them feel welcome as you help distribute packed breakfast and coffee before the start of Festival. Help tear down breakfast items before the start of the event.
Monday: 6:45–10 am
Artist Booth Sitter and General Volunteer
Check in on artists and give breaks as needed. No sale transactions will take place during booth sitting. Simply inform visitors that artist will be back shortly. These volunteers will also assist with a wide range of tasks including keeping the festival grounds clean, clearing and cleaning tables and anything else that might be needed throughout the event!
Monday: 10 am–1 pm
1–4:30 pm
Art Pick-Up
When purchasing a large work of art, attendees can utilize this service to pick up their artwork after they are finished enjoying Festival. Staff members will deliver purchased artwork to a tent setup near Tremont Road where volunteers will monitor the artwork, check purchase tickets, and help customers load the artwork in their vehicles upon pickup.
Monday: 10 am–1:30 pm
1:30-4:30 pm
Festival Greeter
Greeters to be stationed at shuttle stops offsite to welcome attendees, count shuttle users, and pass out festival maps.
Monday: 9:30 am–12:30 pm
12:30-3:30 pm
Art Activities
Assist with Art Activities Area. Clean tables and restock art supplies. Engage with children and families to insure they have an experience of a lifetime creating one of a kind works of art!
Monday: 9:30 am-1 pm
1-5 pm
Festival Setup and Teardown
Festival would not be possible without a strong setup and tear down crew! Help distribute and setup tables and chairs and distribute supplies. This opportunity does require lifting heavy objects and walking a lot.
Sunday: 12 pm – 3 pm (set-up)
Monday: 7 am – 10 am (set-up)
3:45 pm – 6 pm (teardown)
The Labor Day Arts Festival would not be possible without a dynamic team of staff and volunteers. The Coordinating Committee begins work on planning Festival months in advance and put many hours into making sure the event runs smoothly. THANK YOU to the Coordinating Committee and volunteers for their generous donation of time and talents! For more information on volunteering for the Labor Day Arts Festival, please contact Jodi Osborne at [email protected] or 614-583-5312.
2022 Coordinating Committee Members
Arts Activities Area:
Shannon Guy, Amelia Pearson
Artist Management:
Emily Hutlock, Diane Haddad, Judy Yesso
Logistics:
Amy DiFrischia, Matt Stewart, Sam Simmons, TJ Putnam
Performance:
Martin Spencer, Ron Johnson
Refreshments:
Sarah Krosse
Volunteers:
Eliese Kendrick, Trudy Krisher
Accessibility:
Patrick Monaghan
CONTACT CULTURAL ARTS DIVISION