The 2019 road construction season is another busy one for Upper Arlington, representing year six of the City's first 10-year Capital Improvement Program planning process, designed to bring the City's inventory of outstanding infrastructure maintenance needs to an acceptable standard, and setting the stage for staying current with needs into the future. It was made possible by Upper Arlington voter support of an increase in the income tax rate of .5% in 2014—bringing UA's rate to 2.5%—with all funds generated by the increase dedicated to meeting our capital needs.
The 10-Year Capital Improvement Program is updated every year, with the new "Year 10" added as each "Year 1 " is completed. As part of this update, some projects change project year, based on a reassessment of priorities and conditions at the time of a reassessment process. This typically does not affect projects identified for "Years 1-3" but can result in adjustments for "Years 4-10."
STREET RECONSTRUCTION PROGRAM
These projects are comprised of the complete "ground-up" removal and replacement of a roadway—new pavement, new curb & gutter, new drive approaches, and the restoration of any affected lawn areas. This work may also include the installation of new underground utilities. Roadway Reconstruction projects tend to be multi-phased and frequently require the closure of the affected roadway for an extended period.
Cresthill Dr (Mountview Rd to Redding Rd)
Dorset Rd (Asbury Dr to Mountivew Rd)
Fairfax Dr (Middlesex Rd to McCoy Rd)
Grace Ln (Reed Rd to Lyon Dr)
Oakridge Rd (Oakridge Ct to Dead End)
Osborn Dr (Vassar Pl to Dead End)
Shoreham Rd (Surry Hill Pl to Mountview Rd)
Stonehaven Ct N (Cul-de-sac to Stonehaven Dr)
Stonehaven Ct S (Cul-de-sac to Stonehaven Dr)
Stonehaven Dr (Chartwell Rd to Stonehaven Pl)
Wareham Rd (Kirkley Rd to Trentwood Rd)
Woodbridge Rd (Glenmere Rd to Middlesex Rd)
Henderson Road Improvements
Riverside Drive to Sawmill Road
Reconstruction of the roadway, with the addition of curb and gutter and storm sewer and sanitary infrastructure improvements. Pedestrian and bicycle accommodations will be included, as well as intersection improvements at Henderson and Sawmill roads, to be coordinated in cooperation with the City of Columbus.
STREET MAINTENANCE PROGRAM
These projects are comprised of routine repairs designed to prolong the useful life of a street, such as the removal and replacement of the top layer of pavement (mill and overlay), and repairs to small sections of curb and gutter. These projects are typically completed within a few days with minimal restrictions for residents.
Arlington Ave (Suffolk Rd to Tremont Rd)
Canterbury Rd (Asbury Rd to Brixton Rd)
Charing Rd (Canterbury Rd to Leeds Rd)
Inchcliff Rd (Tremont Rd to Mountview Rd)
Mountview Rd (Canterbury Rd to Edington Rd and McCoy to cul-de-sac)
Ridgecliff Rd (Mountview Rd to Redding Rd)
Sheringham Rd (Woodbridge Rd to Shelbourne Ln)
Shrewsbury Rd (Ramsgate Rd to Mountview Rd)
Swansea Rd (Kioka Rd to Sunset Dr)
The replacement of waterlines, service transfer and installation of a full-depth pavement patch.
Ainwick Rd (Zollinger Rd to Eastcleft Dr)
Haviland Rd (Woodbridge Rd to Mountview Rd)
SUSTAINABLE SEWER SOLUTIONS
The Environmental Protection Agency required and has approved a Sanitary Sewer Evaluation Survey to identify the most problematic areas in the City of Upper Arlington when it comes to rainwater getting in to the sanitary sewer pipes. Following this extensive evaluation, the City developed a 12-year remediation plan called the Sustainable Sewer Solutions Program which began in 2017. These projects may include renovation, installation of a liner, cleaning or replacement of main sewer lines, sanitary laterals and manholes, and typically require a detour of the sanitary waste using the structure.
2019 Project Area:

Bickley Pl

Haviland Rd

Kioka Ave

Lytham Rd

Middlesex Rd

Winfield Rd
These projects may include renovation or full replacement depending on the condition of the structure.  These projects typically require a detour of the traffic using the structure.  Construction may last as long as a month or an entire construction season.
Dorset Road Bridge – on Abington Road between Mountview Road and Ashbury Road – completed
STORM DRAINAGE IMPROVEMENTS
Improvements to the City's stormwater system, which is the underground network that drains rainwater runoff from our streets into natural waterways.
Sandover Ct Spillway
Farleigh Rd – box culvert replacement at Avalon Rd
STREETLIGHT REPLACEMENT PROJECTS
These projects may include replacement of wooden street light poles with steel poles, installation of additional poles at appropriate spacing and installation of conduit for new wire to replace buried wires.  These projects typically require a detour of the traffic using the structure.
These projects may include repair or replacement of traffic signals, installation of conduit for new wire to replace buried wires.  These projects typically require a detour of the traffic using the structure.
Guilford Rd at Andover Rd

McCoy Rd at Reed Rd
PARKS CAPITAL IMPROVEMENTS
Devon Pool
Timeline: Began August 20, 2018, complete by 2019 swim season
Starting in the fall, a new, 25,000 square foot bathhouse will be constructed to replace existing indoor facilities. Included in this project are men's and women's restrooms, a family restroom, concession stand and offices. Facility fencing will also be replaced.
Centennial Legacy Project
Timeline: March-June 2018, project complete
Installation of a "Centennial Plaza" and "History Walk" Legacy Project at Northam Park in celebration of the community's 100th anniversary. The Centennial Plaza features three climbable bronze bear sculptures, benches, tables and chairs, landscaping and trellis. The History Walk features 10 markers detailing highpoints in Upper Arlington's history, with upgrades to the pedestrian walkway into Northam Park from Tremont Road, including brick pavers and tree islands with landscaping.
Masters Drive Pathway
Timeline: Began August 15
New pathway connecting McCoy Road to Wyandot Park, via Masters Drive and along US 33 into Wyandot Park. The path is part of a long range plan to connect to other regional bikeways in the future.
Drainage Improvements
Timeline: Fall 2018
An engineering assessment for drainage improvements to athletic fields at Reed Road Park. Actual improvements are scheduled for 2019.
Westover Park Playground Renovations
Timeline: Fall 2018
New playground to meet current design and ADA standards
Reed Road Park Ball Diamond Upgrades
Timeline: 2019 project
New backstops, dugouts and fencing.
Northam Park Tennis Courts
Timeline: complete for summer 2018 season
New patio and observation deck furniture.
Fancyburg Tennis Courts
Timeline: Fall 2018, began September 4
Courts resurfacing.
Nicklaus Park Improvements
Timeline: Fall 2018
Installation of a commemorative display providing the history of Jack Nicklaus' golf accomplishments as a youth in Upper Arlington.  A committee has raised private funds and designed the display.
SIDEWALK MAINTENANCE PROJECTS
The Sidewalk Maintenance Program provides for periodic inspections of existing sidewalks to determine if repairs or replacement work is necessary to keep the network in good working order. The maintenance and repair for sidewalks is the responsibility of the adjacent property owner. The City will make repairs when damage has been caused by the roots of City-owned trees in the public right-of-way, defects caused by utility manholes or valves, and any curb ramps.
Visit Engineering Division – Sidewalk Maintenance Program for full details.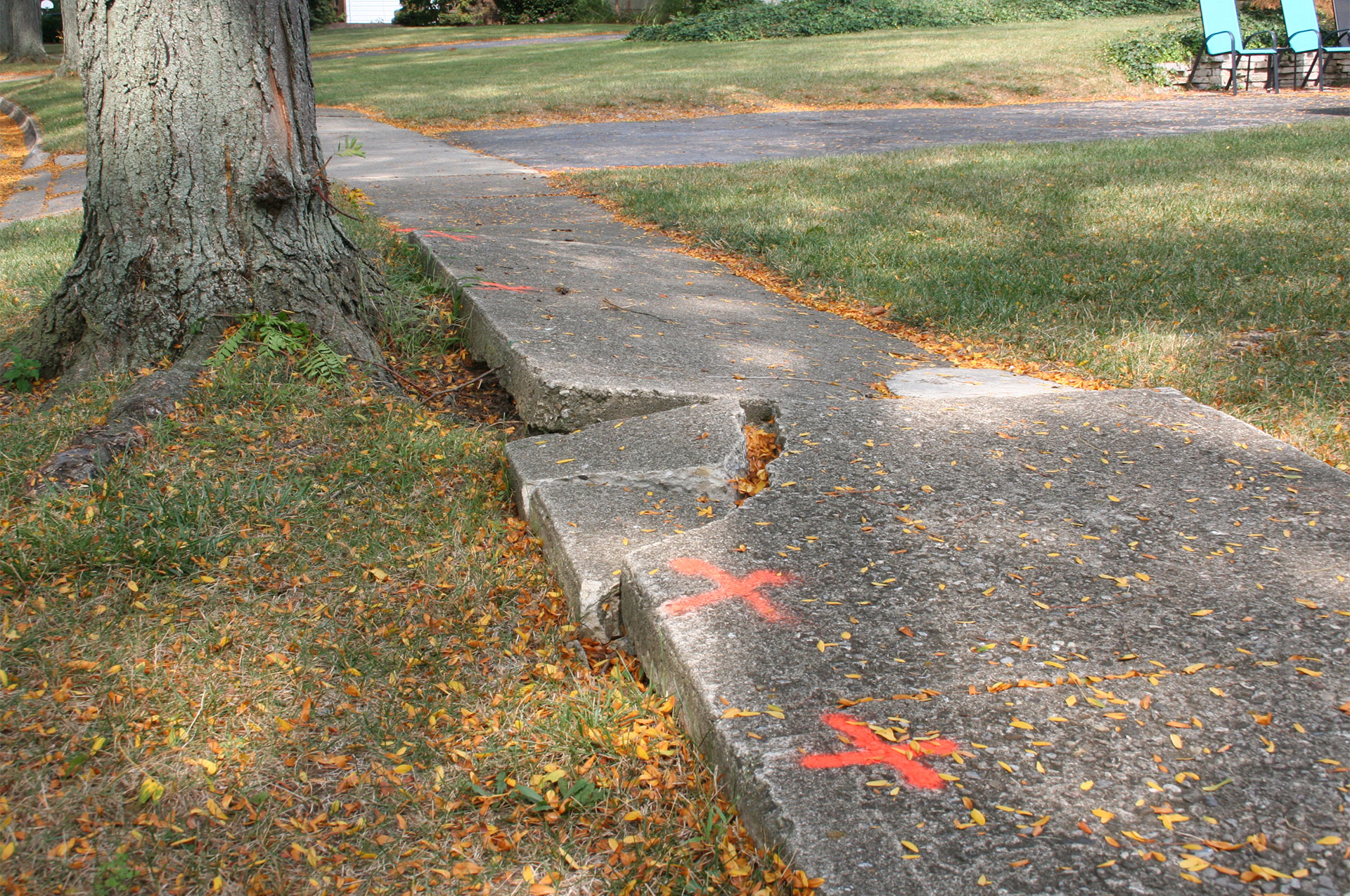 NON-CITY RELATED PROJECTS
Construction projects can and do occur within Upper Arlington's corporate boundaries that are not the responsibility of the City, typically by utility companies such as Columbia Gas, AEP and cable/telecommunications companies. When these projects have a noticeable impact for our citizens, the City takes a more active role in oversight and helping to communicate project updates to residents as appropriate.