The Upper Arlington Police Division provides 24-hour service and is an integral part of developing and maintaining a safe and secure community through the cooperative efforts of many departments and community organizations.
The division proudly provides a wide range of police services and programs to residents, visitors and members of the business community. The division is staffed by sworn officers who are professionally trained and certified by the State of Ohio; and, by law, are also declared to be law enforcement officers of the State and conservators of peace with the authority to arrest. In addition to sworn staff, there are several full-time and part-time civilian staff who provide other support to the division's operations.
The Chief of Police is the chief executive officer for the division and is responsible for the planning and research functions, preparation of the division's budget, supervising internal expenditures and the overall administration of the selection of personnel. The division is further divided into three bureaus, each supervised by a lieutenant who reports directly to the chief. 
Click on the map to see criminal activity or to leave an anonymous tip.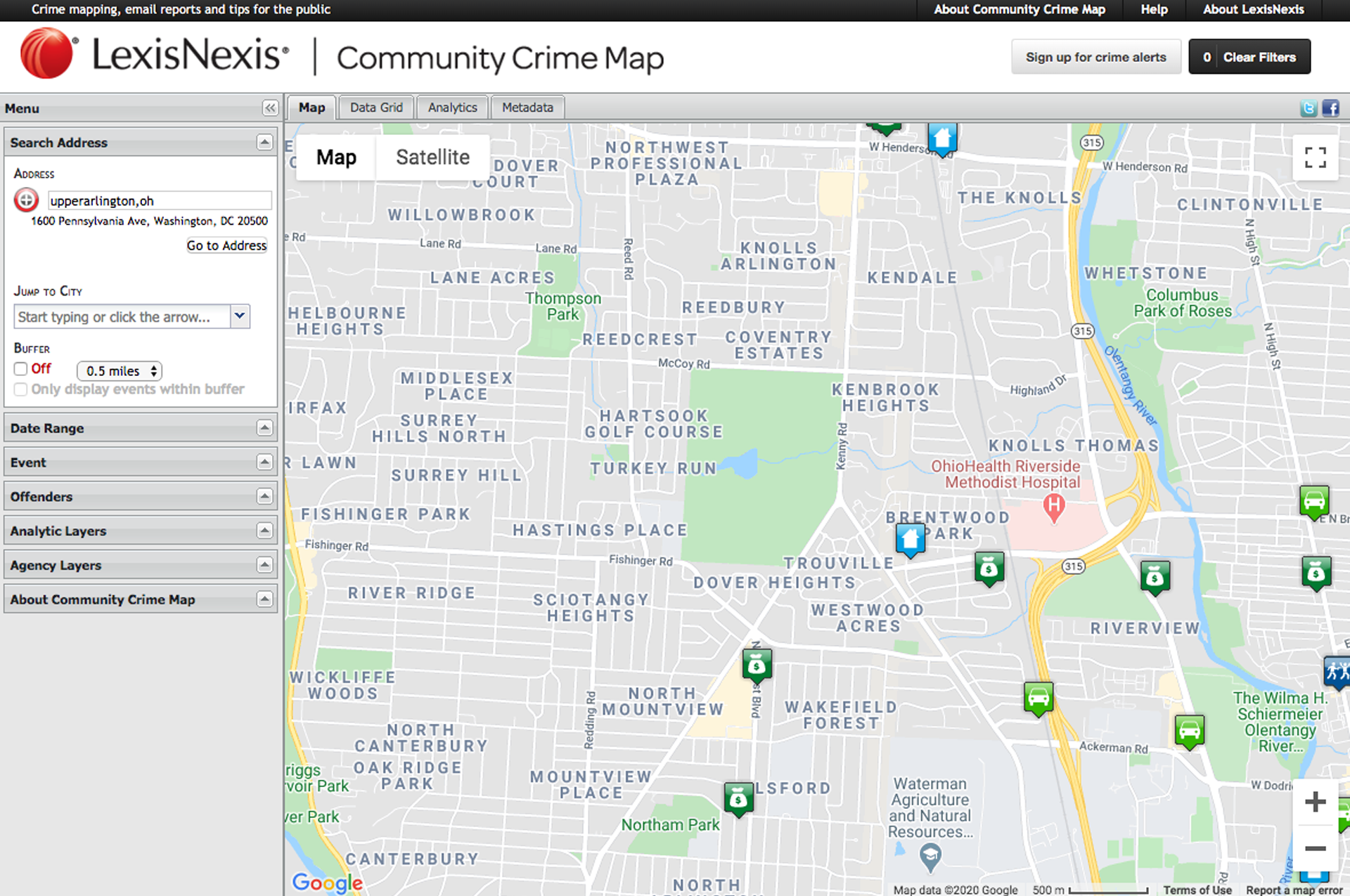 Our Staff & Investigative Bureau oversees criminal investigations against persons, property, juveniles, financial and vice/narcotics/intelligence complaints. In addition our Court Liaison Officer serves as Bailiff during Upper Arlington Mayor's Court.
Our Patrol & Operations Bureau provides 24-hour, seven-day-a-week emergency and non-emergency law enforcement response and special event planning (i.e., Fourth of July and Labor Day events) to the community.
Our Support Services Bureau is responsible for maintaining the division's accredited status and for overseeing a variety of safety-related and crime prevention programming to the community.
2:30 pm Update We are pleased to report that our regular Police Non-Emergency number is back in service. If you need service assistance, please call: 614-459-2800.
The Halloween decorations adorning homes in UA each year hold their own against the Christmas holidays. From houses covered in eerie cobwebs to porches decorated with jack-o-lanterns, gravestones in front…
In the fall of 2021, the Police Division launched its Body Worn Camera program, following many months spent researching best practices and developing a robust set of program policies, guidelines, and training requirements. The program meets a State goal for every Ohio police agency to be equipped with body worn cameras to protect police officers, protect the public, and provide transparency. In addition to enhancing transparency, the program provides a new level of appreciation relative to the professionalism and level of training demonstrated by our officers.
The body worn cameras have been implemented in addition to in-vehicle cameras, providing additional coverage of events. The cameras are typically affixed to an officer's chest or shoulder and are used to record officer contact with others when on patrol – in both audio and video.
Program Benefits
Provides compelling evidence in criminal prosecutions
Promotes accountability and transparency
Enhances police community relations
Supports good citizen and officer conduct
Facilitates quicker resolution of citizen complaints
Provides a useful tool for monitoring officers for training and review purposes
Operational Guidelines
Many policy and procedural considerations are associated with a program of this magnitude, such as adherence to public records laws, privacy issues, operational guidelines for officers, and community collaboration. The team developing UA's body worn cameras operational handbook studied existing programs to develop a plan that reflects best practices. Operational guidelines for the Body Worn Camera Program include:
Guidelines for when to record (which law enforcement activities qualify)
Guidelines for when to stop recording
Clarity on officers' obligations
Guidelines for flagging video that should be retained (for investigative purposes, officer accountability, etc.)
Policies for protecting/retaining flagged video
Policy for deleting video deemed to be unnecessary
Data security standards and auditing process to prevent improper access
Policies regarding inter-agency sharing of videos
Guidelines for video review prior to a public records release (including possible exceptions/delays for criminal investigations)
Guidelines for reviewing/redacting video prior to fulfilling a public records request
Guidelines for releasing video to the media following a critical incident
CITIZEN CAMERA PARTNERSHIP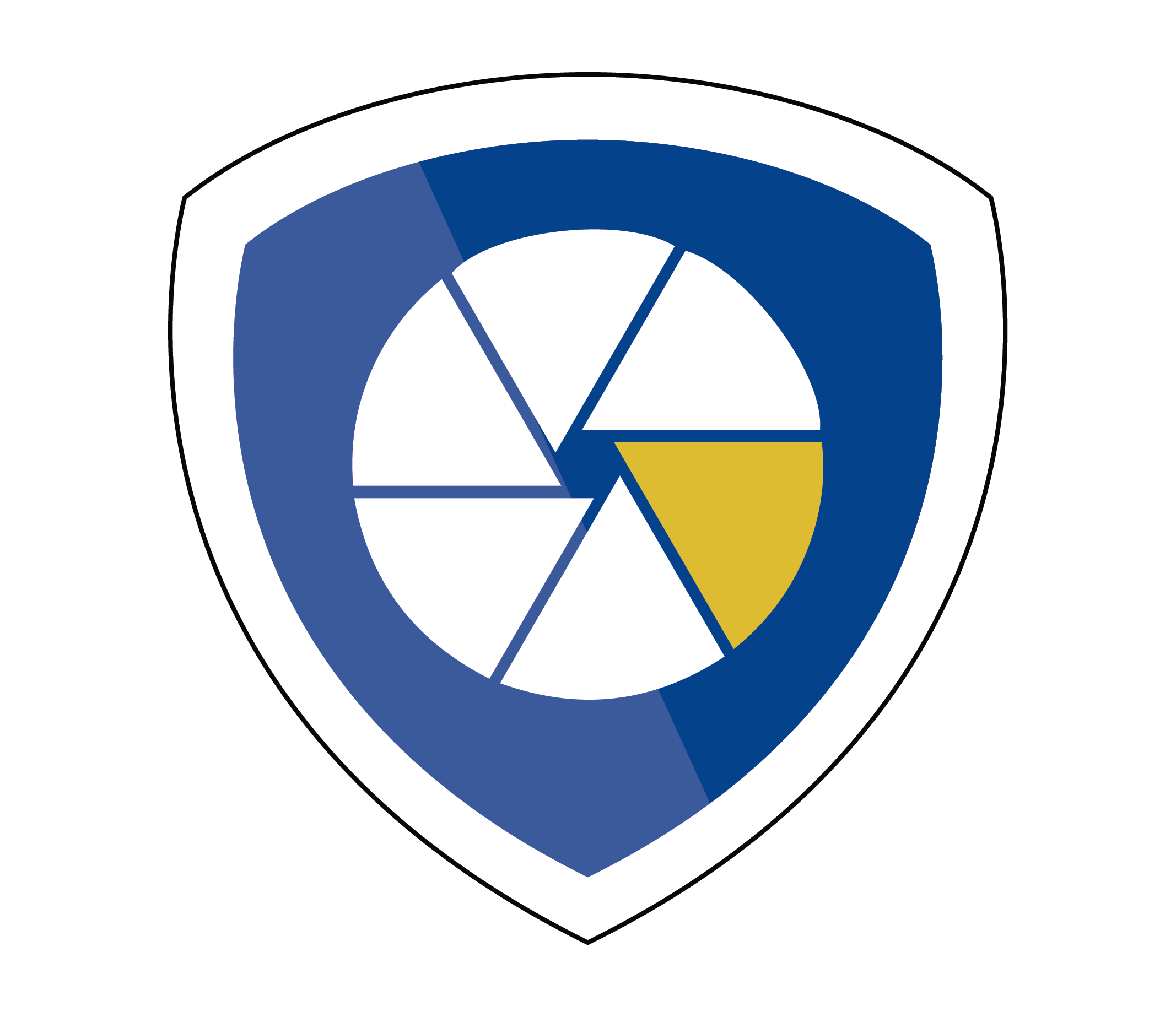 As homeowners and businesses increasingly invest in home security video cameras, the Police Division has been able to successfully identify and prosecute a number of incidents using video footage. Many cameras also capture footage of activities adjacent to a property, which might prove of use to police when investigating a nearby incident, such as the theft of items from a parked car or a burglary at a neighbor's home.
Recognizing the value of these technologies in preventing and solving criminal activity, the division's Citizen Camera Partnership is an opt-in program designed to build a database of properties with video cameras. Should a crime occur, officers refer to the database to see if there are registered properties in the area that could assist with their investigation.
By registering with the Citizen Camera Partnership program, residents and businesses are simply letting the UA Police Division know these cameras are in use on their property, with no remote access desired or required. Owners retain full control of any recordings and are under no obligation to provide any requested images or video footage to the Police Division.
The registration process is short and simple, gathering address and contact details, and some basic information about camera locations. The Citizen Camera Partnership database is secure,
with registered participants' information kept private and confidential.
The division encourages residents and businesses with home security video cameras to take an active role in the safety of their neighborhoods by registering with Citizen Camera Partnership.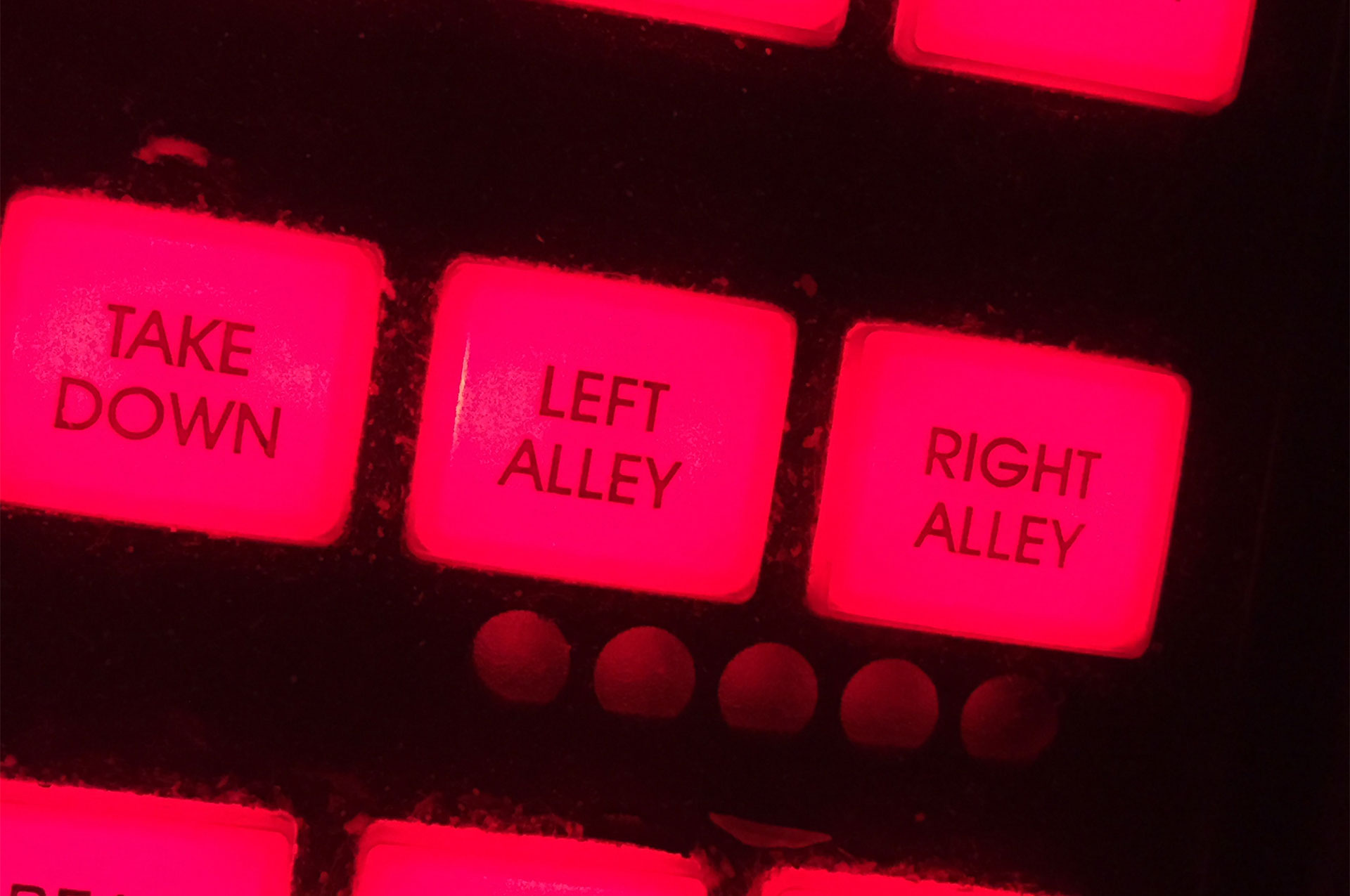 As a testament to the division's exceptional service, it has been an accredited agency through the Commission on Accreditation for Law Enforcement Agencies (CALEA) since 1993. In fact, when the division was re-accredited in 2005, it was selected as one of eight (out of 100) to be a "Flagship Organization," and was further selected to serve as the model division for other departments seeking certification.
"Contendite Ductum" is the Latin inscription on the seal of the Upper Arlington Police Division patch. This motto means "Strive for Leadership," and it represents the attitude held by those associated with this agency.
ALERT FRANKLIN COUNTY
The City is part of the Franklin County emergency notification system, an online tool that can quickly dispatch texts, emails and voice messages to citizens, notifying them of extreme weather conditions and other breaking emergency situations.
For residents to receive the most benefit from this notification tool, you are advised to register and tailor your account relative to how you would like to receive updates, and to include the devices of other family members.
UAALERTS
An extension of ALERT Franklin County, UAAlerts is a timely and reliable alert system to deliver important Upper Arlington information directly to your cell phone via text message. No registration or app download required, simply text UAAlerts to 888-777 to receive important public safety updates from the City including breaking emergency situations, mosquito spraying, hydrant flushing, large event cancellations, major construction updates and traffic delays. Text STOP to 888-777 to cancel at any time. Message and data rates may apply.
DON'T TEXT & DRIVE
Texting while driving is a primary offense in Upper Arlington. State law already bans texting, but it is only a primary offense for those under 18 (those over 18 must have committed another offense). Upper Arlington's ban allows Police to pull drivers over and cite them for texting while driving without having to guess their age.
PEDDLING/SOLICITATION PERMITS
The City has guidelines and requirements for groups or individuals wishing to go door-to-door in the community for the purposes of selling items or services, or canvassing residents. This includes securing a peddling/soliciting permit. Click on the link below for full details of these requirements and to see the list of current peddling/soliciting permit holders.
If you believe you have been approached by a group or individual that does not have a permit, contact Police by calling 614-459-2800 as soon as possible so that an officer can be dispatched to the area.
REGISTERED SEX OFFENDERS
City legislation requires convicted sexual offenders to register with the City's Police Division if they live and/or work within the City's boundaries. It also prohibits convicted sexual offenders from living or working within 1,000 feet of any school premises, licensed daycare facility, preschool, public park, swimming pool, library, or playground.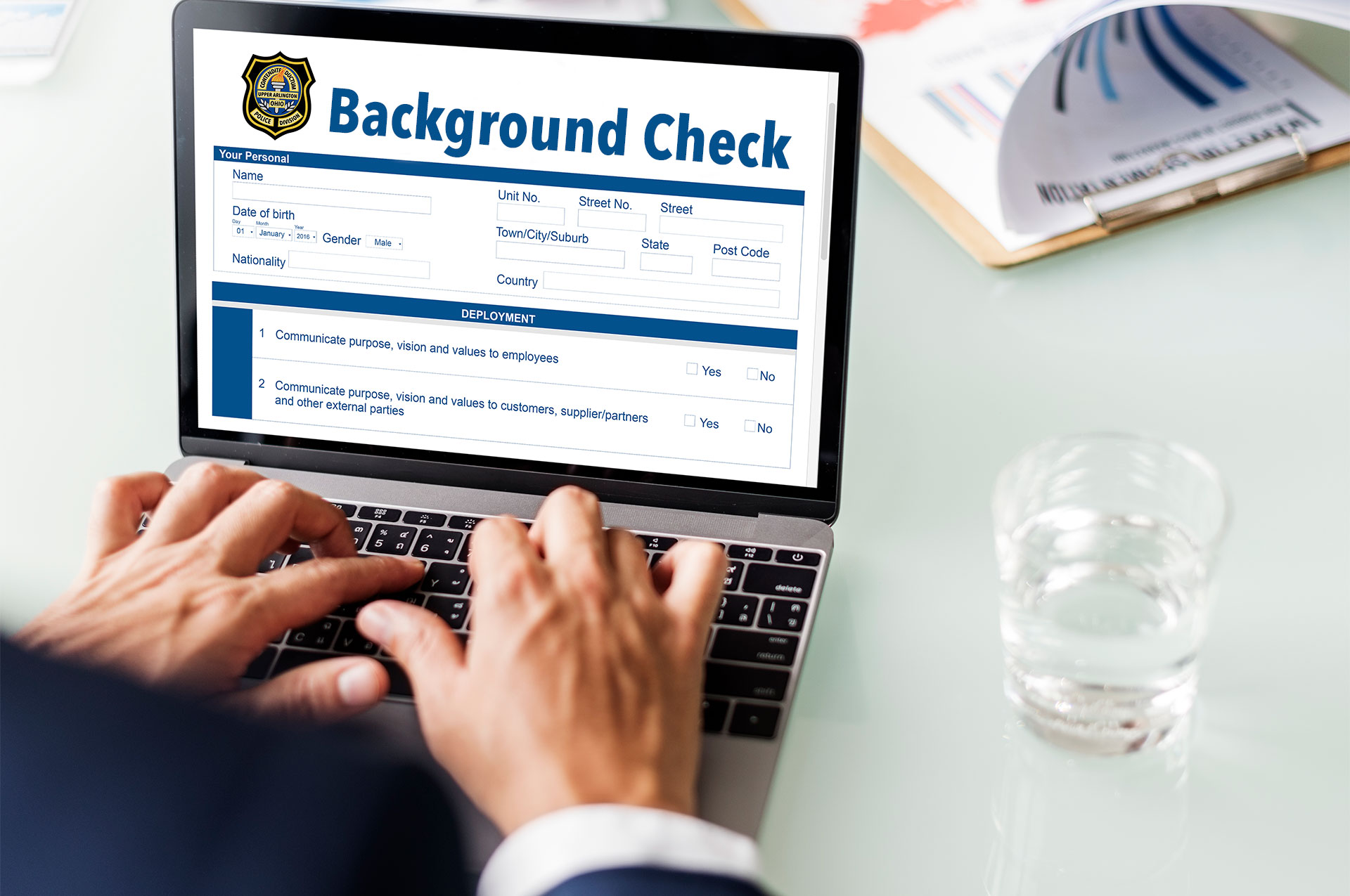 The Upper Arlington Police Division offers background check services to those who need it for a job, licensing, volunteer work, etc.  The City will only conduct WebChecks between the hours of 10 am-4 pm, Monday-Friday. You can pay for the WebCheck at the Kiosk located in the foyer of the Municipal Services Center (3600 Tremont Road), near the main entrance.
For requests for 1-4 individuals – no appointment is necessary to start the WebChecks process, however, you must complete the process in person.
For groups of five or more – an appointment is required and all the individuals must attend this appointment in person to complete the process. Contact Finance to schedule an appointment by completing the email form at the bottom of this page, or by calling 614-583-5291.
Please complete and print the Request for a Background Check via Electronic Fingerprinting form (below) and bring it to the Finance Department Customer Service Desk, with your paid receipt from the Kiosk. Please note: you must sign this form in the presence of the employee taking your fingerprints.
There are two types of WebChecks offered:
BCI ($40)– This background check is filed through the State of Ohio's Bureau of Criminal Investigation for fingerprint search only searches.
FBI ($40)– This background check is a national search base.
If you do both the total cost is $70.
What you need to bring with you:
Company information or licensing information
A photo ID (a government issued passport will work)
Information about where the results should be sent
If under 18 years of age, you must have a parent/guardian with you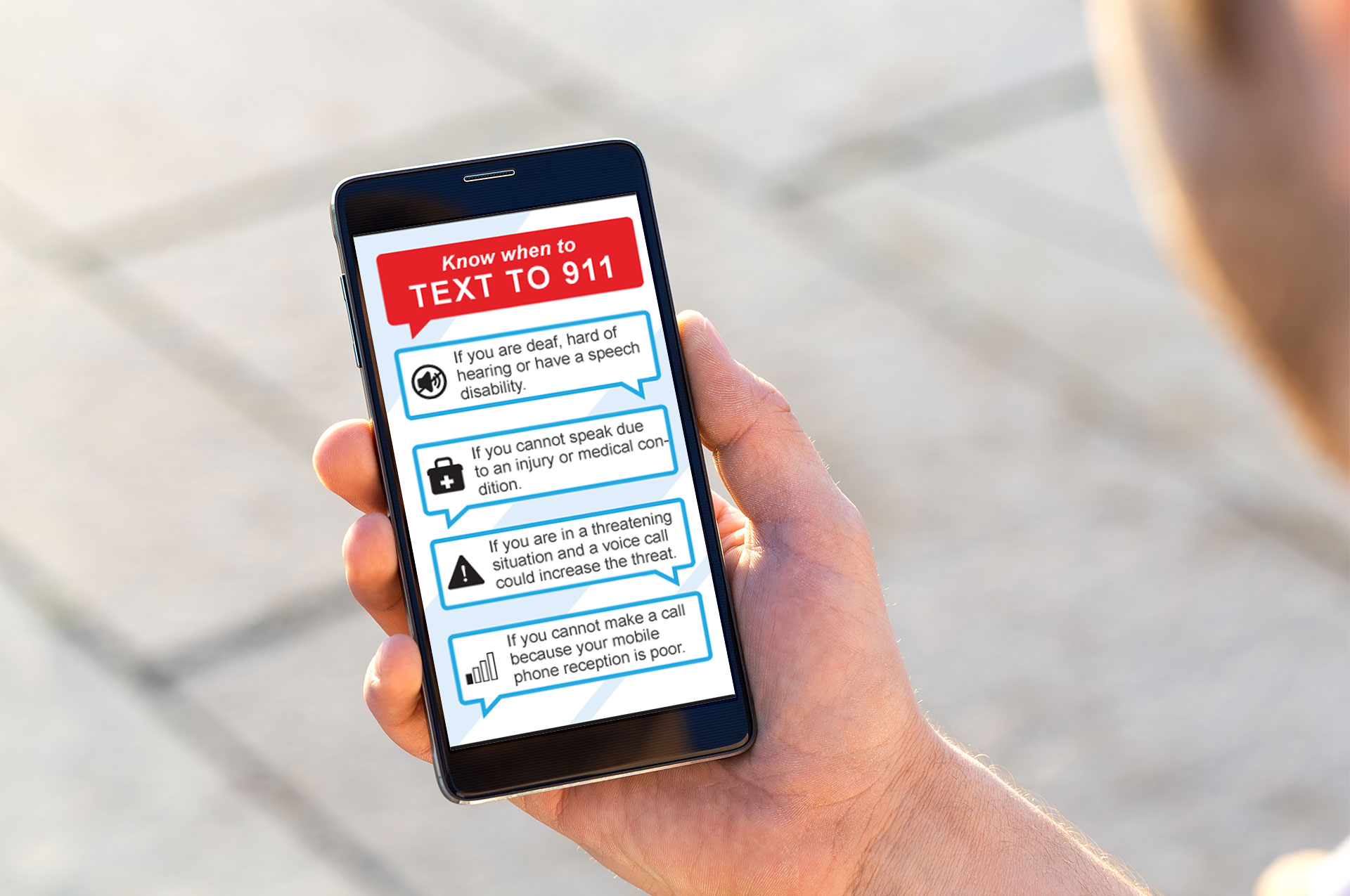 Franklin County's Emergency Communications Centers—including the City's provider, NRECC, at the City of Dublin—now offer a Text to 911 feature, enabling residents to send a text for assistance if necessary.
This new option should only be used under certain circumstances:
If you are deaf, hard of hearing or have a speech disability.
If you are unable to speak due to an injury.
If you are in a threatening situation and a voice call would increase the threat.
If mobile phone reception is poor.
If you do need to send a text for emergency assistance, type in the numbers 911 in the "to" field. Then type a brief but informative message that includes your location and the type of emergency. Then press "send."
Some other useful information about this emergency option:
Be aware that cell phones' location information that accompanies a text is not as sophisticated as wireless voice call location technology.
A text or data plan is required on your cell phone to use this option.
The delivery of 911 text messages may be slightly delayed or could even fail.
Photos and video cannot be sent at this time.
The text for emergency assistance cannot go to more than one recipient. Do not copy any other contacts on your text.
Once your text has been received, you will be sent a response from the 911 call center.
Do not send a text to 911 as a prank—be aware that your phone can be identified and you may be prosecuted for misuse, according to local regulations.
At this time, Delaware County is the only other jurisdiction using Text to 911 in Central Ohio—should you send a text that can't be delivered, you will receive a message from your wireless carrier notifying you that this service is not available at your location.
Do not text and drive.
In all other circumstances it is advisable to call 911 because a two-way conversation between you and a trained dispatcher is typically a more efficient means to provide the help you need during an emergency.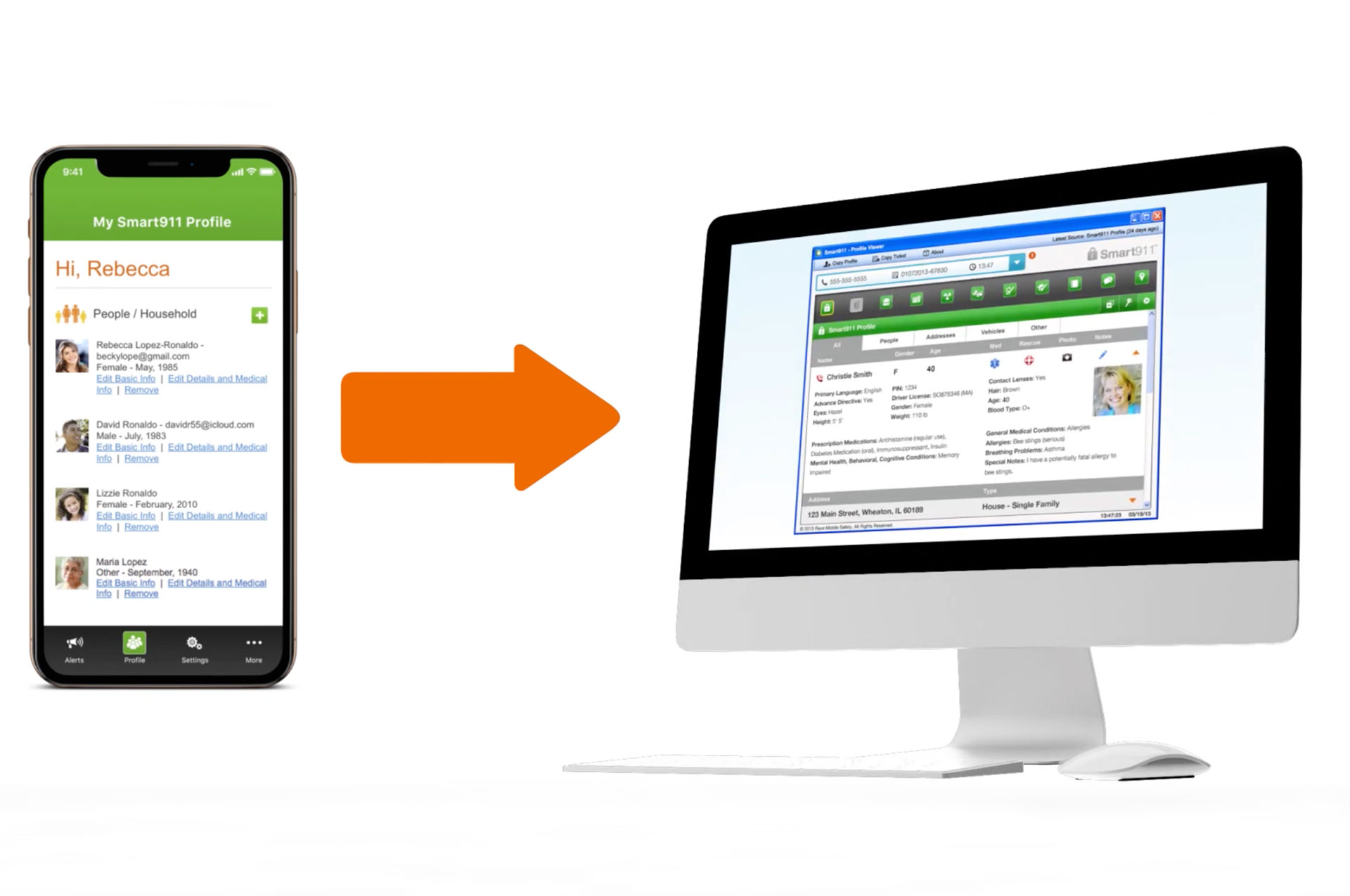 The City's emergency dispatching provider—the Northwest Regional Emergency Communications Center (NRECC) at the City of Dublin—has enhanced the level of service our emergency responders can provide to residents by becoming a Smart911TM agency.
Smart911TM is an online tool enabling residents to create a household "Safety Profile" that is directly shared with NRECC dispatchers in the event that you call 9-1-1 for assistance. Once registered, should an emergency occur at your home or to a family member whose information and phone number is included in the Safety Profile, dispatchers will immediately have access to information that could prove invaluable to first responders and, ultimately to those in need of assistance.
When you register your household with Smart911TM, you decide what information to include in your Safety Profile, such as:
Details about your home – in the event of a fire emergency, this information would help firefighters in their response, by knowing in advance the number and location of bedrooms and exit points.
Details about your family members – this includes the option to upload a photograph of each person, and to provide basic information such as age, weight, hair and eye color. Should one of your children or an elderly loved one go missing, police officers will be sent the photograph and pertinent information to help them in their search. It also gives firefighters critical information about the number of people to search for in a fire rescue situation.
Details about your pets – for safety reasons, it's helpful for police officers responding to a burglary report to know if a home has dogs. Plus, if firefighters know how many pets live in your home, they are better positioned to rescue them in an emergency situation. And, if one of your family members has a service animal, emergency responders would know that this companion should accompany the family member in a transport situation.
Details about medical conditions or other special needs – by sharing details of any medical conditions, prescription medications, disabilities or other special needs pertinent to each family member, emergency responders will be able to provide the best possible care and make sure this vital information is shared with medical professionals in the event of a transport to hospital.
Even if an emergency situation occurs outside of your home, if the phone number of the person making the 9-1-1 call is associated with your Safety Profile, this will give emergency responders additional information, helping them pinpoint and inform other family members of what's happened.
Your Safety Profile is private and secure, and you control what information is made available to emergency 911 dispatchers. Once registered, Smart911TM will prompt you to review and update your Safety Profile every six months, to help you keep your information current.
For all police, fire and EMS emergency responders, whenever they answer a call for help, they face many unknowns. The more they can know in advance, the better prepared they can be to provide the right assistance quickly and effectively. The information that can be made readily available to emergency responders through a household's Safety Profile, can bring some clarity and insight to an otherwise chaotic and stressful situation.
We encourage you to register your household today.
How to Register
Register for Smart911TM by clicking here, or download the Smart911TM app on the Apple Store or Google Play . Your Safety Profile is private and secure, and you control what information is made available to emergency 9-1-1 dispatchers.
The Staff/Investigative Bureau oversees the Criminal Investigations Section, which is broken down into specialized units.  Detectives assigned to these units can investigate crimes outside of their specialization but are highly trained to investigate specific types of crime.  The specialized units include:  crimes against persons, crimes against property, juvenile crimes, financial crimes, and vice/narcotics/intelligence complaints
The Staff/Investigative Bureau is responsible for internal affairs complaints, central records functions and maintaining various reports. The Court Liaison Officer serves as Bailiff during Upper Arlington Mayor's Court and attends hearings in Franklin County courts on behalf of Upper Arlington Police Officers.
RECORDS REQUESTS
Residents can request a report on an accident, incident or other police matter. The Police Division may charge a small fee depending on the type of record requested and the format in which it is provided. These requests can be made in person at the Police Desk, 8 am-4:30 pm, Monday-Friday or by completing the email form below.
More detailed records requests (local records check, cruiser video, 911 call tape, etc.) require completion of a Public Records Request form.
INTERNET SAFETY
The Franklin County Internet Crimes Against Children Task Force is a multi-agency task force dedicated to the fight against computer facilitated crimes against children. The task force investigates cases of online child enticement and the possession or distribution of child pornography. The Upper Arlington Police Division participates in this task force, along with other suburban police agencies, Franklin County Sheriff's Office, Columbus Division of Police, Immigration & Customs Enforcement, Ohio Internet Crimes Against Children Task Force and Delaware County Sheriff's Office.
Since the task force was formed in 2009, investigators have arrested over 746 sexual predators and identified 317 child victims of sexual abuse and exploitation.
To educate parents and teachers of the potential dangers of the Internet on their children, task force investigators offer Internet safety presentations. To schedule a presentation, contact our Community Relations Officer, at 614-583-5197 or complete the email form below.
c

Expand All
C

Collapse All
In public parks, dogs must be on a leash from 8 am to 8 pm during Daylight Savings Time and 8 am to 5 pm during Eastern Standard Time. At all other hours, dogs must still be under control by the owner. Additional responsible pet ownership guidelines can be found by linking to our Animal & Wildlife Resources page.
JUNE 2022 UPDATE: With the start of renovations to the Police Division offices at the Municipal Services Center, the Drug Collection Unit has been decommissioned and the division is no longer accepting old or unused prescription drugs. The closest alternative is at the CVS pharmacy at Kingsdale.
DEA Drug Take Back Events
Each fall and spring, the Police Division takes part in national drug take back events coordinated by the Drug Enforcement Agency (DEA). These events provide an easy way for residents to drop-off old and unused prescription drugs drive-thru style at the Municipal Services Center parking lot. Dates are posted on our event calendar and published in City newsletters.
Visit the Police Support Services Bureau – Drug Disposal section of our website or call 614-583-5150 with questions.
Upper Arlington does not have an Animal Control officer. You can call the suggested numbers below for any issues.
Capital Area Humane Society: 614-777-7387
SCRAM! Wildlife Control: 614-763-0696
Visit Animal & Wildlife Resources regarding animal Laws and Lost pets.
The City does not accept applications for Policy Officer or Firefighter positions through our website. Both positions must first schedule a test with National Testing Network. The process to apply for Police Officer or Firefighter positions are detailed in each posting.
Contact the Police Division at 614-583-5150.
If the matter is a pending case, you need to file for discovery. If the matter is completed you may obtain a copy through our public records requests process.
Safety Town is coordinated by the Police Division, in cooperation with the Fire Division and Parks & Recreation Department. Program details can be found in the Spring/Summer Parks & Recreation catalog or by visiting the Police Division – Support Services Bureau – Safety Town section of our website.
24 Hours. Motor vehicles parked on the street are a Police Division matter. Please call the Upper Arlington Police Division Non-Emergency number at 614-459-2800 to report.
Contact the Police Division at 614-583-5150.
It is always best to work out issues related to neighbors in a positive manner. If you have exhausted positive communication methods, the City Attorney's Office has a Diversion Programs that may assist. Or you may contact the Police Division with questions using the form below.
You should contact the Police Division at 614-583-5150.
Beggar's Night typically falls on October 31 each year, unless that date falls on the weekend. Beggar's Night hours in UA are 6-8 pm. View our annual calendar of events for additional details of Beggar's Night activities in Upper Arlington.
You may call the Probation Officer with appointment and scheduling questions at 614-583-5022.
ACCREDITATION PUBLIC COMMENT
The Upper Arlington Division of Police is accredited by the Commission on Accreditation for Law Enforcement Agencies (CALEA). The Division uses the CALEA process as a guide to ensure the overall quality of operations. The process helps the agency ensure that quality and comprehensive policies are in place, that appropriate reports are compiled to assist leadership in decision-making, and that regular quality checks are conducted on agency operations. Police continually use the standards provided by CALEA to evaluate internal operations in pursuit of continual improvement to enhance public safety services for the city. The accreditation process consists of three major activities: statistical and annual reporting, annual file review and leadership interviews, and an on-site assessment.
CALEA provides a portal for the public to provide feedback on agency operations specific to standards compliance, which can be accessed HERE. Feedback goes directly to CALEA, who will send a copy to the Chief of Police; the comments will be reviewed by CALEA Assessors as part of the next on-site assessment in 2024.