The Support Services Bureau of the Police Division is proud to offer various safety resources, education programs and events, as well as tips on how to stay safe in your homes, businesses and the community at large.
The Support Services Bureau is responsible for maintaining the division's accredited status, is responsible for overseeing the Reserve and Auxiliary Programs, operates a six-hour temporary holding facility, and is responsible for receiving and processing all evidence as well as lost/recovered property. 
2:30 pm Update We are pleased to report that our regular Police Non-Emergency number is back in service. If you need service assistance, please call: 614-459-2800.
The Halloween decorations adorning homes in UA each year hold their own against the Christmas holidays. From houses covered in eerie cobwebs to porches decorated with jack-o-lanterns, gravestones in front…
2023 Program Details
6-9 pm, Thursday evenings, September 14-November 9
A two-hour ride along with a police officer on either the weekend of October 20/21 or October 27/28
Participants must be able to attend each week
APPLICATION DEADLINE: Extended Until July 17
Any UA resident or business owner/leader over the age of 21 can apply for this free program.
If you have ever wondered how much fiction and how much reality plays into the various crime shows on TV, each fall the Police Division offers some insight for those residents selected to participate in the Citizen Police Academy. On Thursday evenings, participants (must be 21 years or above) go behind the scenes for a hands-on learning experience with local law enforcement.
Topics covered include:
Crime scene investigations
Police Division Structure and Community Relations
Computer and Social Media crime investigations
Legal Considerations and the Laws of arrest
Use of Force and De-Escalation
Firearms safety and training
Patrol tactics and traffic stop practices
Ride along with a police officer
Academy graduates can become part of the Citizen Police Academy Alumni Association, providing volunteer support to various Police Division activities and helping to raise community awareness on safety issues.
Complete an online application or download the form from the Resources & Links below.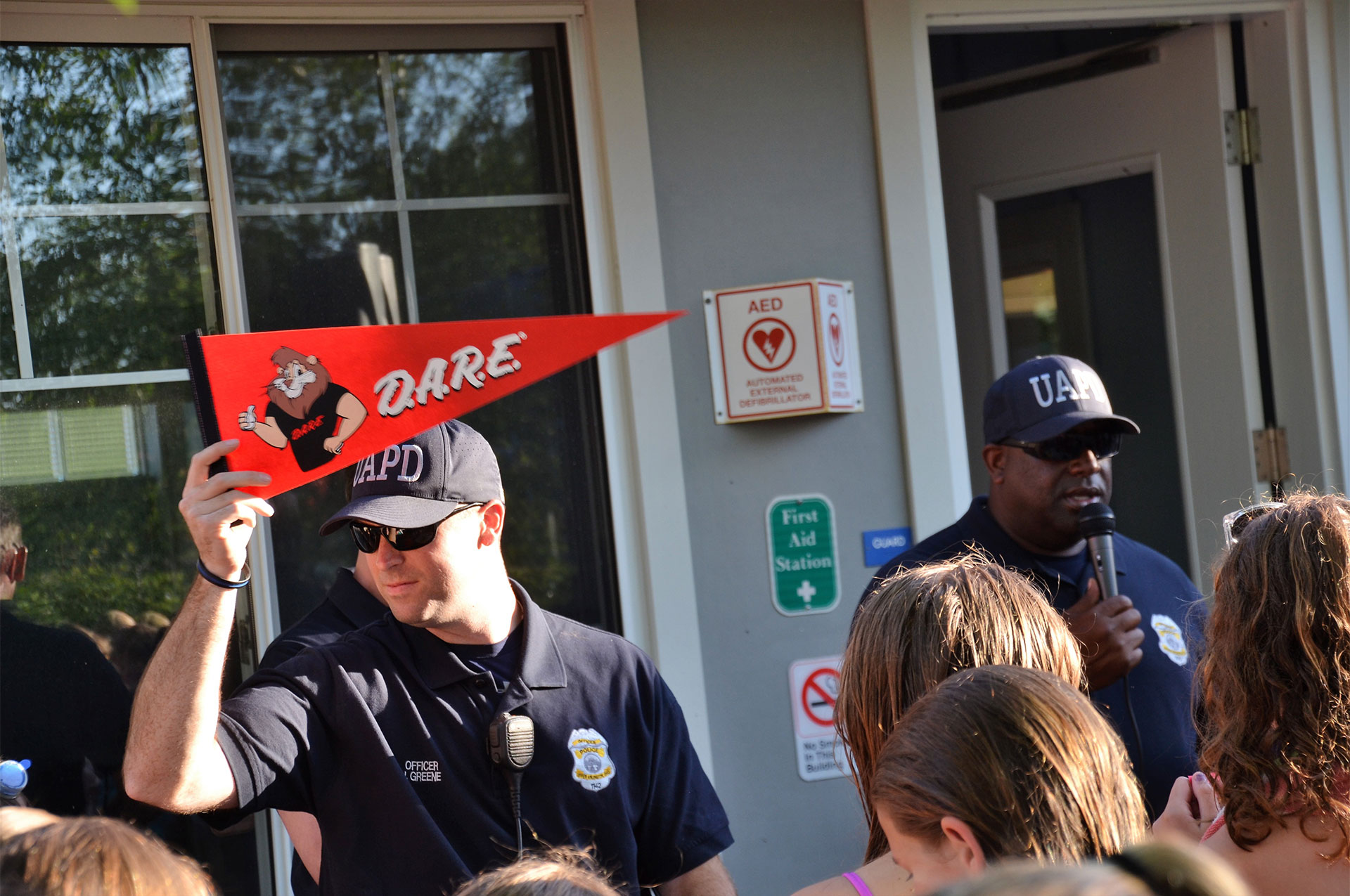 Drug Abuse Resistance Education—or D.A.R.E.—is a preventive program aimed at equipping students with the tools needed to make informed decisions about alcohol, nicotine products and drugs.
The program is offered to elementary and middle school students in the Upper Arlington City Schools, as well as the private and parochial schools within the City.
The program includes topics about self-esteem, interpersonal and communication skills, decision-making and positive alternatives to drug use.
JUNE 2022 UPDATE: With the start of renovations to the Police Division offices at the Municipal Services Center, the Drug Collection Unit has been decommissioned and the division is no longer accepting old or unused prescription drugs. The closest alternative is at the CVS pharmacy at Kingsdale.
DEA Drug Take Back Events
Each fall and spring, the Police Division takes part in national drug take back events coordinated by the Drug Enforcement Agency (DEA). These events provide an easy way for residents to drop-off old and unused prescription drugs drive-thru style at the Municipal Services Center parking lot. Dates are posted on our event calendar and published in City newsletters.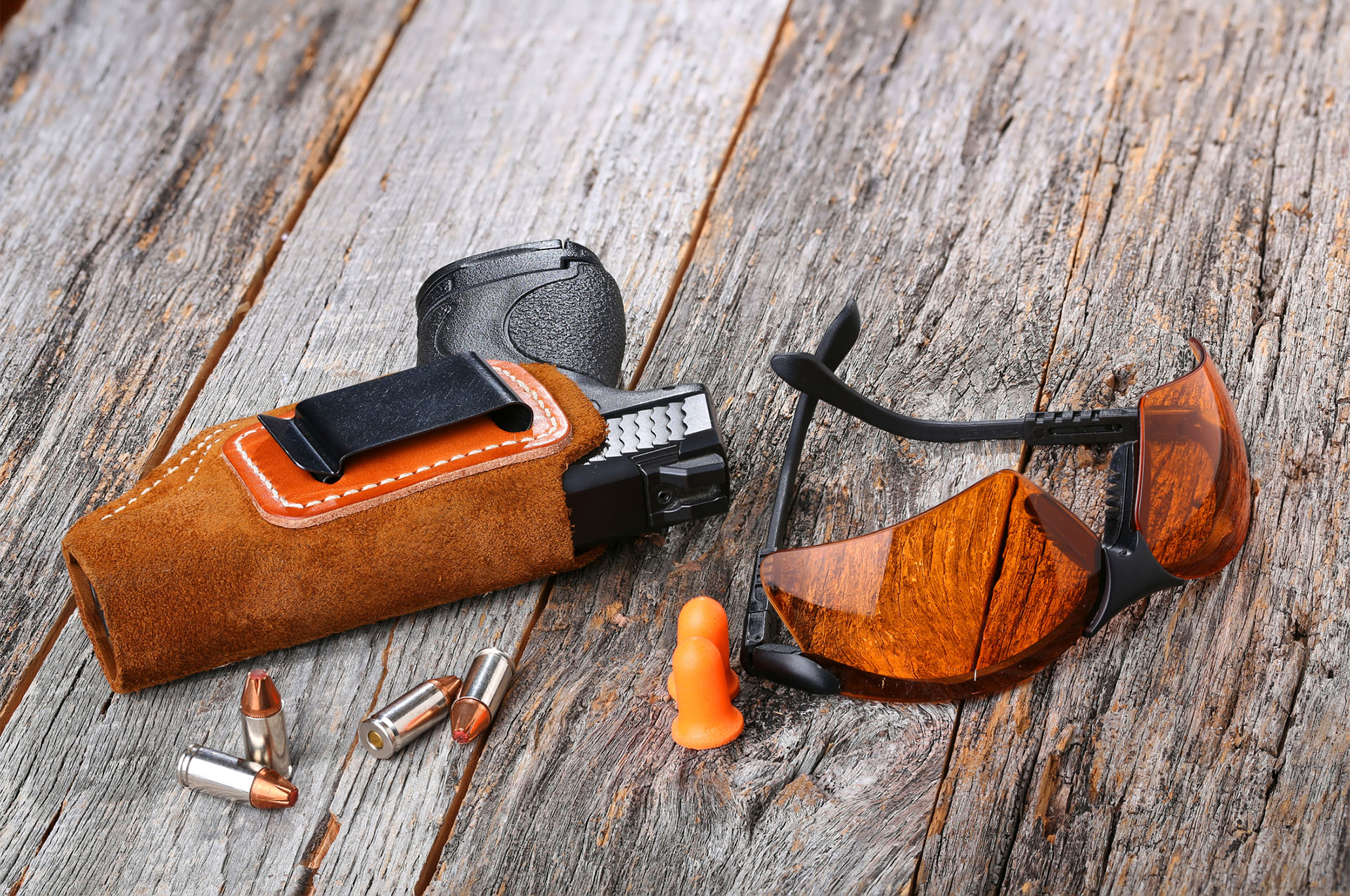 Upon request, the Police Division can provide firearms safety programs for various groups, focusing on gun ownership topics and safety.
The division has free gun locks available to assist residents in keeping firearms secure and out of reach of children.
The Police Division provides firearms safety programs to various community groups. These programs focus on gun safety and ownership. In addition to these safety programs, the Police Division has partnered with Project Child Safe to provide a gun lock to anyone who would like one.
For more information on firearms related topics, or to request a gun lock, complete the email form below.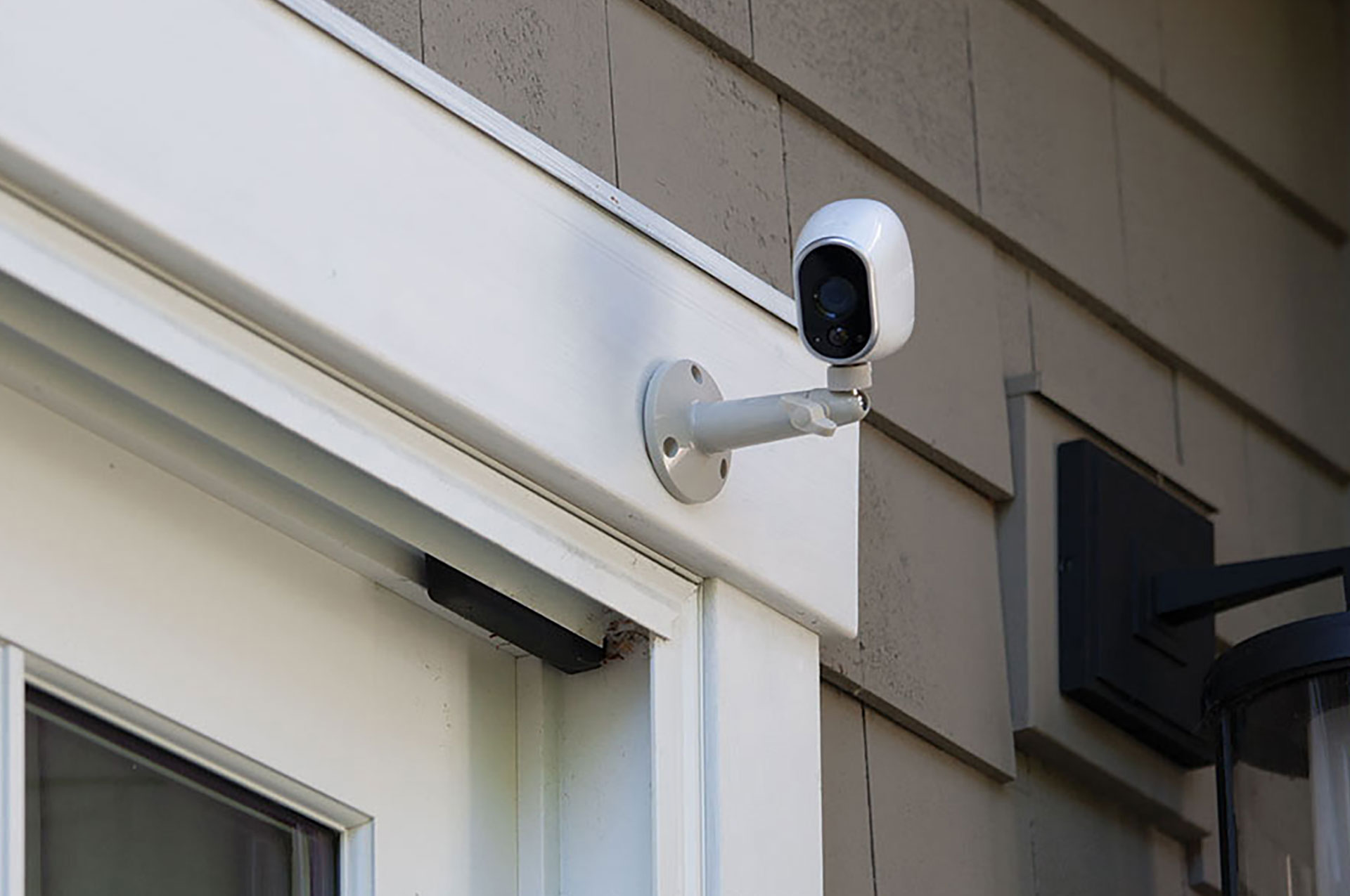 Upon request, a police officer will visit and assess your home's level of security free-of-charge. This includes assessing the effectiveness of door/window locks and security lighting.
Home security systems work well at deterring crime and speeding up Police response. Check with several companies before you buy so you can decide what level of security fits your needs. Do business with an established company and check references before signing a contract. Make sure your system is monitored.
Alarm Permit
Households with home security systems are required to obtain a license from the Police Division. The one-time $50 fee is non-transferrable and covers both Police and Fire services. Households are allowed up to three false alarms per calendar year—any false alarms thereafter are subject to a $50 fine to offset the costs for emergency response.
I Am Fine is a free, telephone check-in program for any resident that can save lives and help many maintain independent living in their own homes.
Call frequency is set by each participant, and once enrolled, a computer calls the number provided as scheduled. If everything is okay, the resident simply answers and hangs up the phone—the computer registers that the resident has answered.
If the resident does not answer, the computer calls a pre-established contact who has a key to the home (typically a relative or neighbor). The key holder is alerted that the resident has not responded and instructed to visit the home to check on the resident. Should the key holder fail to answer this call, police and paramedics are dispatched to the resident's home.
If the resident does not have a "key holder," other options are available.
I Am Fine is funded by the Senior Services Levy through the Franklin County Office on Aging, with the cooperative efforts of the City's Police and Fire divisions, Upper Arlington Commission on Aging and the Upper Arlington Rotary Club.
For more information about I Am Fine or to join the program, call 614-583-5326 or visit uacoa.com.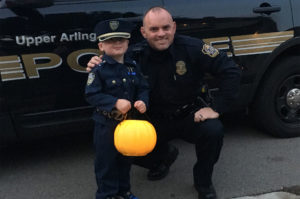 Our Police Division will have officers making their usual patrols through neighborhoods and assisting children if they become lost or scared but they will not pass out candy this year. Check here for additional details and safety recommendations.
In typical years, each Beggars Night, the Police Division coordinates Pumpkin Patrol, sending out marked City vehicles with assistance from the Citizen Police Academy Alumni Group to patrol neighborhoods and assist children if they become lost or scared while trick-or-treating with their friends. The trucks have two-way radios to contact emergency personnel, and are also "equipped" with candy to pass out along the way.
Beggars Night is a community-wide activity, with the recommended event date established by the Mid-Ohio Regional Planning Commission (MORPC) on behalf of Central Ohio communities. It is not organized by the City of Upper Arlington.
Parents are advised to use discretion when deciding if it is appropriate for their children to be out trick-or-treating based on inclement weather conditions.
Beggars Night Dates
The City observes Beggars Night on dates set by the Mid-Ohio Regional Planning Commission (MORPC), for the hours of 6-8 pm:
2023 – Tuesday, October 31
2024 – Thursday, October 31
2025 – Thursday, October 30
Beggers Night Safety Tips
Tips for Kids
Plan your route in advance and show your parents
Wear a costume that does not block your vision
Trick-or-treat in a group or with an adult, and stay together
Only accept treats outside or at the door
Never enter a stranger's house
Walk, don't run and stay on sidewalks
Look both ways before crossing the street and cross at crosswalks
If you are wearing dark clothing, carry a flashlight or add something reflective
If it's cold, dress warmly underneath your costume
Consider face paint in place of a mask so that your vision is not impacted
Make sure your costume is not too long that it might trip you
Wear shoes that are good for walking
Be cautious of dogs, they may be unsure of your appearance and act aggressively
Do not trick-or-treat at houses that have their porch light off
Stay away from candles or fires
Don't eat the candy until your parents have checked it for you
Tips for Parents
Know where your child will be trick-or-treating
Have them take a cell phone
Avoid costumes that are flammable, obstruct vision or movement
Supply your child with light colored clothing, something reflective or a flashlight
Check candy before your child eats any. If you think it has been tampered with, notify Police
Quiz your child on all the safety rules
Tips for Homeowners
If you are planning to pass out candy, keep your home well lit
If you aren't home, keep the lights off so that kids don't approach your property
Keep your front yard, path and driveway clear of items that could trip young children
Use battery-powered Halloween decorations, don't use a real flame
Motorists should drive slowly through neighborhoods on Beggars Night and watch for groups of children in costumes.
The Upper Arlington Police Division Ride-Along program is designed to educate citizens about police duties and allow them to observe day-to-day activities of a police officer. Citizens, students and other interested community members may participate in this program to promote education, awareness and communication about police department operations.
To request a ride along with a member of the Upper Arlington Division of Police, you must be a resident of Upper Arlington and at least 16 years of age.
The Upper Arlington Police Ride-Along program is open to non-residents under the following circumstances:
Law Enforcement or Criminal Justice students who are currently enrolled in a post-secondary accredited institute, which requires a ride-along component
Members of Criminal Justice related agencies, who are participating in the course of their employment
Those having specific interest in the Upper Arlington Division of Police such as:

Police officer applicants
Upper Arlington Citizen Police Academy members
City of Upper Arlington employees
Others at the discretion of the Chief of Police
Ride along applications must be received two weeks before the date of the request to allow time for processing. Click link below for the Ride-Along Application and Waiver.
Participation in the Ride-Along Program shall generally be limited to two times per year per participant, unless approved by the Chief of Police. There is a four hour time limit per ride-along. Juveniles will only be allowed to ride during daytime hours with consent of a parent or legal guardian.
All requests for "Official Observer" status are subject to a background check and approval by the Chief of Police. An individual's request to ride-along may be denied for the following reasons: excessive participation in the program, the individual's criminal record, prior problems with the individual, inappropriate dress, any other just cause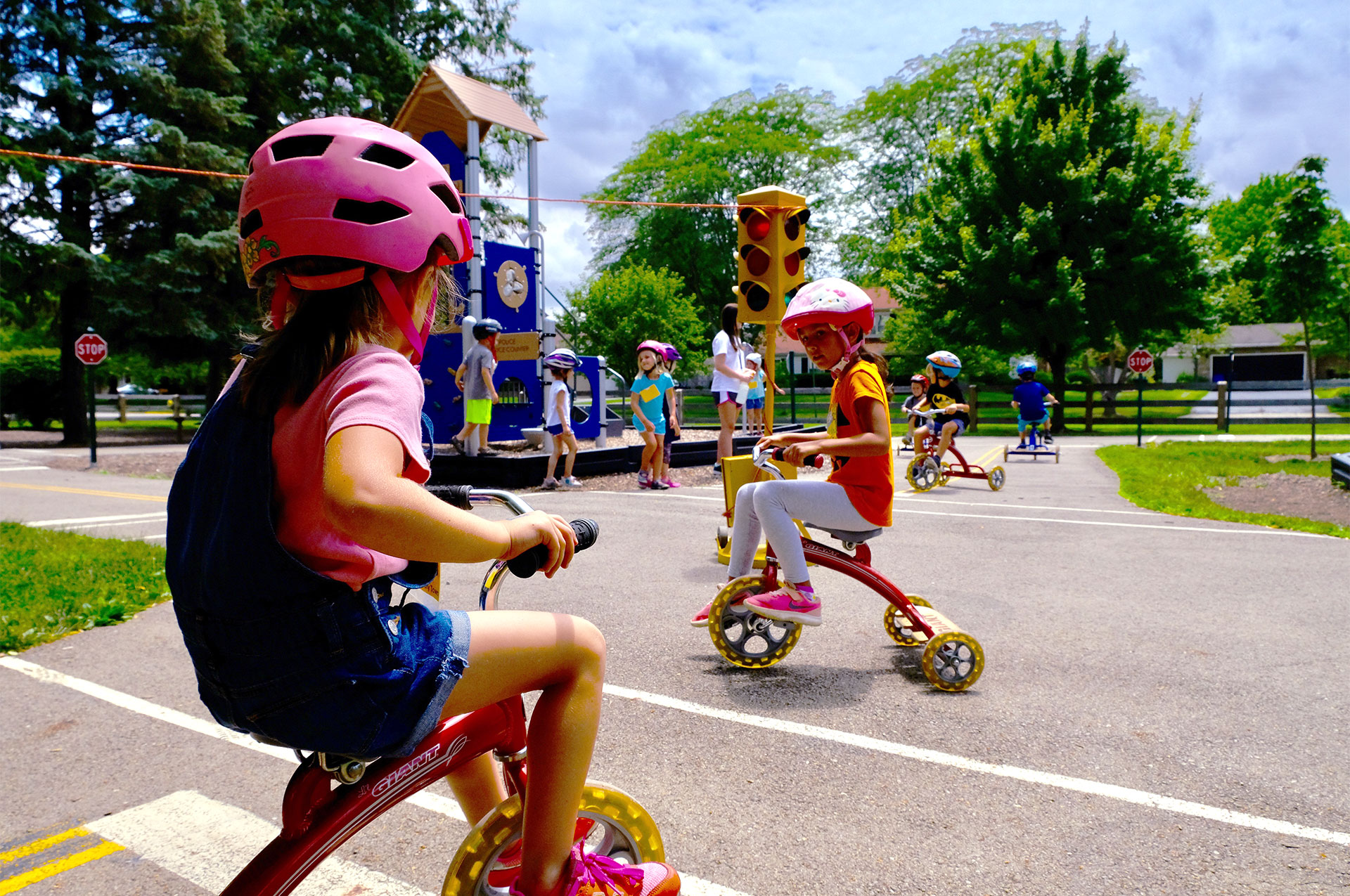 Safety Town is a summer preschool program held at a local elementary school that teaches children all aspects of child safety. Founded in 1971, approximately 400 children attend Safety Town each year, learning how to make wise decisions in potentially dangerous situations, and how to handle emergencies in their young lives. Students learn about pedestrian and traffic safety by tricycling about a miniature village, complete with streets, sidewalks, buildings, stop signs and a working traffic signal. Additional instruction is provided on fire prevention, school bus safety, poison/substance avoidance, animal safety, personal safety, and water safety.
Eight, half-day sessions of Safety Town are typically offered each June/July—9 am-Noon OR 1-4 pm, Monday through Friday. Children enjoy a graduation ceremony following completion of each session, and receive a Certificate of Achievement. To be eligible, children must be entering Kindergarten or first grade and be five years of age prior to September 30 of the program year.
2023 Session Dates
1st session: June 12-16
2nd session: June 26-30
3rd session July 10-14
4th session July 17-21
Resident Registration: 6 am, Wednesday March 22
Non-Resident Registration: 6 am, Friday March 24
The program is taught by certified teachers in a classroom setting, while high school and college students supervise their activities in the miniature village. City safety specialists visit to provide demonstrations in their areas of expertise. The Police Division's Community Relations Officer and D.A.R.E. Officer are onsite throughout the program.
If you have questions about the program, contact Police D.A.R.E. Officer, at 614-583-5196 or complete the email form below.
Registering for Safety Town
Safety Town registration is run through the Parks & Recreation Department. Program details, dates and pricing can be found in the Spring/Summer edition of the Activity Guide. Registration is accepted on a first-come, first-served basis and classes fill quickly. If there is a specific session you wish to enroll your child in, it is advisable to register as soon as possible to receive priority placement.
If you have questions about registration, contact the Parks & Recreation Department, at 614-583-5300 or complete the Parks & Recreation contact form.
If you plan to be out of town for a period of time, you can notify the Police Division by completing the the Notice of Temporary Vacancy form below. Include your name, contact information, address, dates you will be away, and any emergency contact information (i.e., family member, friend or neighbor).
Officers will periodically check on your home during your absence.
Secure Your Home Before You Leave
Make sure your home looks lived in. Stop mail and cancel deliveries or ask a neighbor to make daily collections. Hide empty garbage cans. Leave shades and blinds in normal positions. Put an automatic timer on at least two lights.
Leave a key with a trusted neighbor
Store valuables in a safe deposit box
Tell a trusted neighbor your departure and return dates. Supply an itinerary with phone numbers where you can be reached in an emergency.
Lock all windows and doors
Test your smoke and burglar alarms
c

Expand All
C

Collapse All
In public parks, dogs must be on a leash from 8 am to 8 pm during Daylight Savings Time and 8 am to 5 pm during Eastern Standard Time. At all other hours, dogs must still be under control by the owner. Additional responsible pet ownership guidelines can be found by linking to our Animal & Wildlife Resources page.
Safety Town is coordinated by the Police Division, in cooperation with the Fire Division and Parks & Recreation Department. Program details can be found in the Spring/Summer Parks & Recreation catalog or by visiting the Police Division – Support Services Bureau – Safety Town section of our website.