The Community Development Department coordinates the many aspects involved in Upper Arlington's growth, development and preservation, with the goal of enhancing the aesthetic appearance and economic vitality of the community.
The department is comprised of three divisions:
The Building Division works with residents, businesses, schools, contractors and design professionals to ensure new and remodeled buildings are constructed in compliance with State of Ohio and City of Upper Arlington minimum building codes and standards. Staff reviews residential and commercial construction plans, issues permits, and provides onsite inspections of these buildings and mechanical systems. The division is also responsible for the administration of annual General and Trade contractor registrations.

The Planning Division works with residents, businesses, contractors and developers to ensure that home or business improvement projects meet the City's zoning requirements, primarily in terms of use and location. Planning Staff works closely with the Board of Zoning and Planning (BZAP) and City Council to ensure proposed developments are appropriate for the community.

The Property Maintenance Division ensures that all residential and commercial properties are properly maintained over time.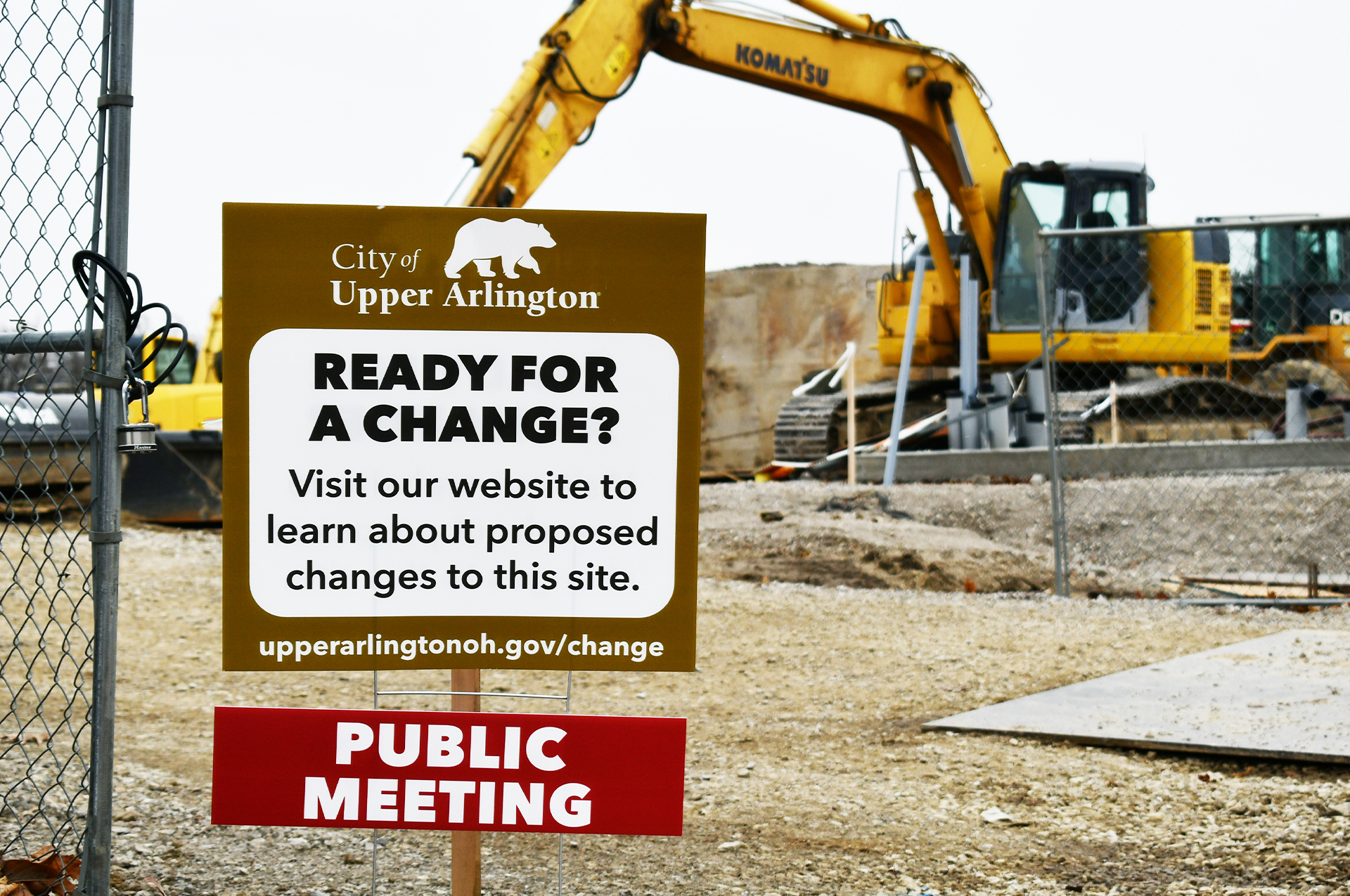 READY FOR A CHANGE?
"Ready for a Change?" signs will be appearing at specific sites as certain proposed development projects, park improvements or significant road construction projects are up for a review. Typically, these signs will be placed in the public right-of-way or in our parks two weeks in advance of a scheduled public meeting or hearing, or as a heads up to residents that a study process is in its beginning stages.
The City's Geographic Information System (GIS) maps can provide you with convenient, 24/7 access to:
The City's zoning map
Parcel information
Identification of historically significant properties within the Historic District
Identification of City trees
Subdivision plats
In 1985, a portion of Upper Arlington south of Lane Avenue, known as "Old Arlington," was designated the "Upper Arlington Historic District" and placed on the National Register of Historic Places. The area was recognized for its high-quality Twentieth Century American Colonial and English Revival Style homes. Many buildings in the district contribute to the unique character of the area, and if this built environment were to be significantly altered, the City could lose an irreplaceable asset—its visible historic identity. That said, there will always be a demand for newer, more modern homes.
In an effort to preserve the City's historic structures while allowing them to be upgraded, City Council adopted legislation in 2009 designed to discourage, but not prohibit, total demolition. The regulations apply to total or extreme demolition cases that directly affect the historical significance of a home. A six-month delay period provides an "intermission" so that alternatives to total demolition can be thoughtfully considered. These regulations are found in Articles 5, 6, and 7 of the Unified Development Ordinance.
UNIFIED DEVELOPMENT ORDINANCE
The Unified Development Ordinance (UDO) combines zoning, subdivision and all related development provisions into a single ordinance. The result is a simplified development approval process, streamlined administrative procedures and a more user-friendly process for developers.
The UDO establishes an appropriate framework for preserving and enhancing Upper Arlington's residential nature, while encouraging redevelopment that meets Master Plan goals, by providing:
Overlay zoning districts for commercial areas
Residential conservation guidelines
Street and walkway connectivity and pedestrian orientation
Commercial design standards and guidelines
Zoning incentives
Multi-family design standards
Increased landscaping and screening standards for commercial development
The UDO streamlines procedures and timelines for anyone wishing to undertake a construction project in the community, from professional developer to homeowners:
It allows non-controversial applications to be placed on a consent agenda, expediting the review process.
It is sensitive to developers, streamlining the process for projects that are consistent with the Master Plan.
It simplifies the regulatory environment, and consolidates development standards and regulations into a concise document.
It affords stability and predictability for an appropriate pattern of land uses.
It creates more opportunities for administrative review, thereby reducing cases that go before the Board of Zoning and Planning.
Quick Links to UDO
c

Expand All
C

Collapse All
Building, Planning & Zoning
(1)
Typically a permit is required from the Engineering Division when sidewalks are replaced in the public right-of-way. However, the February 2021 sidewalk repair notices mailed to non-compliant properties also function as the permit for purposes of the Sidewalk Maintenance Program. A free permit from the Parks & Forestry Division is required when excavation is performed within 10 feet of a street tree. Permits are not required for leveling or grinding of existing concrete sidewalks.
CONTACT COMMUNITY DEVELOPMENT